Marlins again put in extra effort without results
Club loses second 14-inning game in three days despite key rallies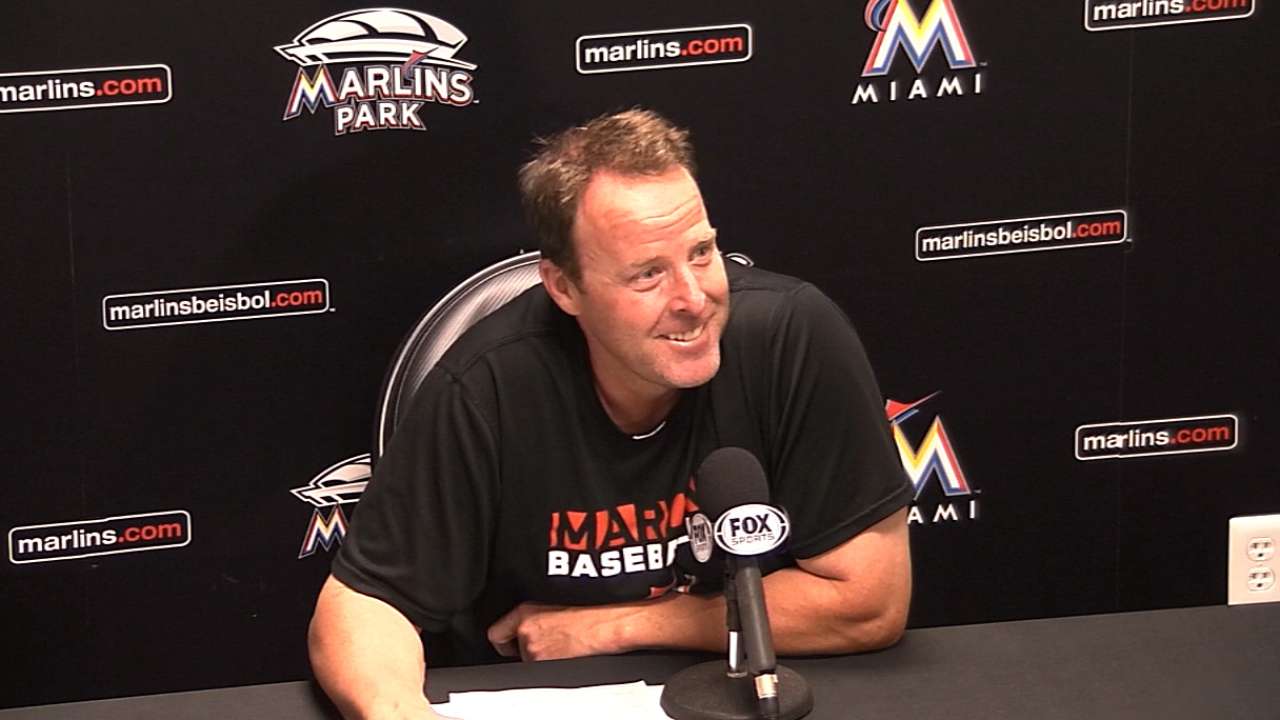 MIAMI -- Another endurance test ended in another gut-wrenching loss for the Marlins.
Josh Donaldson's two-out RBI single off Jacob Turner in the 14th inning lifted the A's to a 7-6 victory over Miami at Marlins Park on Saturday.
For the Marlins, it was their second loss in 14 innings in three days, going back to Thursday's 5-3 setback at Philadelphia. At 4 hours and 47 minutes, it was the longest game of the season for Miami, eclipsing the 4 hours and 39 minutes they played against the Cubs that lasted 13 innings on June 16.
Since June 6, the Marlins have played five games that lasted at least 13 innings, and they have dropped each one.
"It's been frustrating," Miami manager Mike Redmond said. "I'm sure as frustrated as I am, the guys are as frustrated or more. You lose a tough game. You battle and you come back and just can't seem to get that big hit or make that great play. Or we make a mistake."
The Marlins have the distinction of being 19-11 in one-run games, but just 4-8 in extra innings.
The long, grinding games have taxed the bullpen. In the last three days, the Marlins have played 37 innings, with the starters working 16 of them.
"This is definitely a first for me," Redmond said of the wear and tear on the 'pen. "To see these guys, really, night after night suck it up and eat up the innings and get outs and keep us in the ballgame, they've done a great job. It's been tough on them. I know guys are getting a lot of work."
The Marlins also received an injury scare when Marcell Ozuna's right leg cramped after he lined out to left field in the seventh inning. Ozuna was replaced by Jake Marisnick.
"It's a little cramp, but I'm OK," Ozuna said.
Ozuna said he should be ready for Sunday, but whether he plays will be a game-time decision.
Saturday came down to the bullpens. In the end, the A's got 2 1/3 scoreless innings from Jim Johnson.
After falling behind by a run in the top of the 14th, Miami loaded the bases off Johnson in their half. Lefty Jeff Francis entered and struck out Jarrod Saltalamacchia looking at a 2-2 fastball. On the next pitch, Donovan Solano lifted a routine fly ball to right, and Francis had his first Major League save.
"That's a pretty tall order to ask," A's manager Bob Melvin said. "Coming in with the bases loaded and one out, in a game where guys have been playing their hearts out for so long. He kind of holds the balance of the game in his hands there."
In his third inning of relief, Turner got off to a quick start in the 14th, striking out John Jaso and Yoenis Cespedes. But with two outs, Brandon Moss doubled, and Donaldson's single to center was the clincher in Miami's third straight loss.
The Marlins forced extra innings with a rally in the ninth inning off lefty Sean Doolittle, who hadn't allowed a run in 26 2/3 innings. Giancarlo Stanton doubled with one out and scored on Casey McGehee's single. McGehee has 13 RBIs in "close and late" situations, which is one behind Stanton, the National League leader.
"It's not easy. We had chances," McGehee said. "You could argue the last three nights we had opportunities to win the game. We weren't able to do it. But at the same time, it's three days in the grand scheme of things. We've been having a little bit of a tough go."
Miami has dropped three straight and 14 of its last 20 at Marlins Park.
Nathan Eovaldi amassed a season-high 113 pitches over seven innings. The right-hander recovered nicely from a four-run first inning, which required 29 pitches. On May 10 at San Diego, he tossed 112 pitches.
"It will all come around, that's just how baseball is," Eovaldi said. "We've got to do a better job [at doing the small things]. I just feel like that's what it comes down to."
A's right-hander Sonny Gray worked five innings, giving up five runs on seven hits with four strikeouts and three walks in a no-decision.
"Whatever happens, we're just not able to do that enough to get on the other end of these," Redmond said. "You play 13 innings, 14 innings and you don't win, it takes a toll on you for sure, no doubt."
Joe Frisaro is a reporter for MLB.com. He writes a blog, called The Fish Pond. Follow him on Twitter @JoeFrisaro. This story was not subject to the approval of Major League Baseball or its clubs.