Another late rally falls short for Blue Jays
Stroman strong but 'pen falters; comeback attempt not enough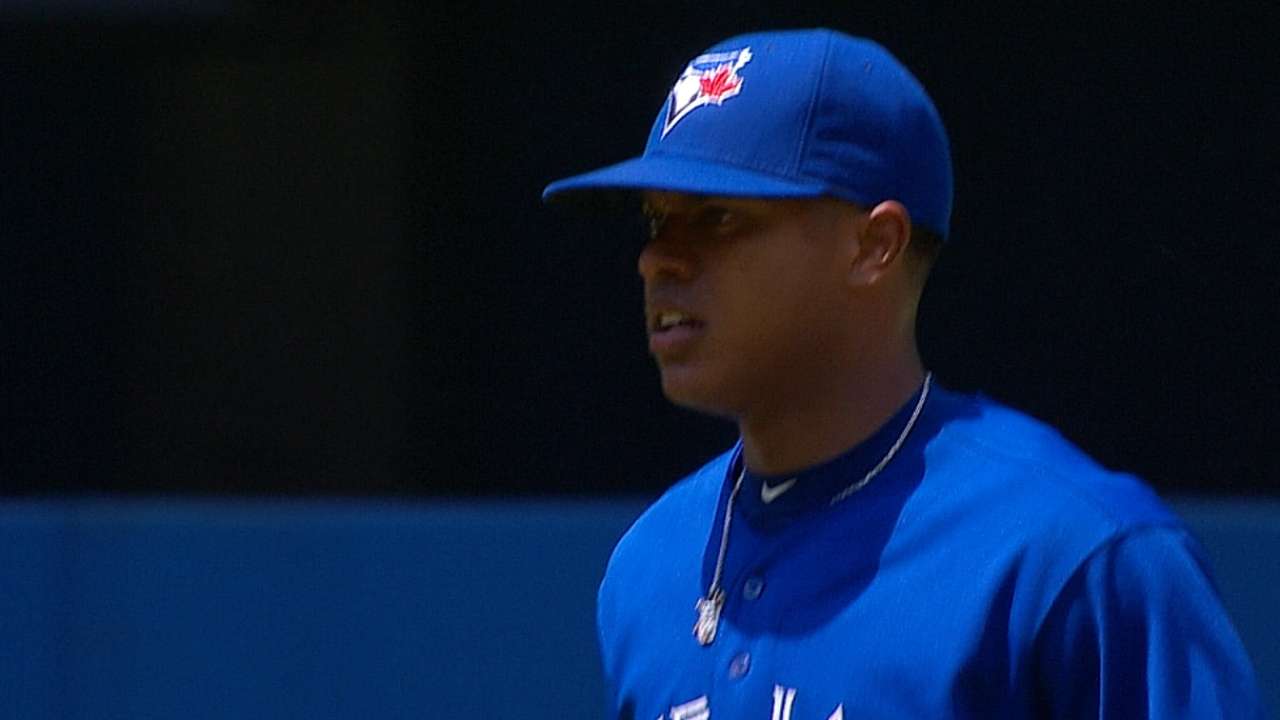 TORONTO -- John Gibbons doesn't typically second-guess himself, but the Blue Jays' manager couldn't help but run through his decision-making process on Saturday afternoon.
With a pair of runners on and the Blue Jays clinging to a two-run lead in the seventh inning, Gibbons decided to pull right-hander Marcus Stroman from the game. Gibbons called upon the normally reliable Dustin McGowan, but it didn't take long for the move to backfire.
McGowan's first pitch was sent over the wall in left field by Dayan Viciedo, and the three-run shot offset yet another quality start by Stroman in the Blue Jays' 4-3 loss to the White Sox at Rogers Centre.
"If you could do things over, you leave him in," Gibbons said of Stroman. "But my thinking was, he pitched his butt off, it was kind of uncharted territory, I don't want him to lose the game right there. That's the way it goes. But you always look back on things like that. I had a plan and it just didn't work."
Stroman was borderline dominant through six innings as he allowed two baserunners while striking out six. He began the seventh by retiring a pair of batters, but an obstacle came when Jose Abreu hit a double into the gap in left-centre field.
The Blue Jays then made the decision to approach Adam Dunn with extreme caution as they essentially pitched around the White Sox slugger. Following the walk, Gibbons came to get the rookie Stroman, who was making the sixth start of his career. He appeared to be well on his way to career victory No. 5, but McGowan was unable to shut things down.
McGowan's first pitch of the game was a poorly located slider that Viciedo crushed to left field. The no-doubter was Viciedo's eighth home run of the season and gave the White Sox a lead they would not relinquish.
"It's tough, because obviously I want to be out there," said Stroman, who threw 53 of his 96 pitches for strikes. "I felt strong but I'm also young, so that was Gibby's choice.
"Dustin has been great for us all year, so it's not like I was mad about coming out of the game. I had 100-percent confidence for Dustin to come in and get that out. Just one of those things and I'm sure he'll be right back to it."
For all the talk about how the Blue Jays need to upgrade their starting rotation, it's actually the bullpen that has struggled more this season. Toronto's relievers rank 26th in the Major Leagues with a 4.45 ERA and now have 10 blown saves on the season.
A lot of those problems came earlier in the year, but the results are still a far cry from last year when the Blue Jays had one of the best relief corps in baseball.
McGowan has become a vital piece, but he's struggled lately and has a 4.11 ERA on the season. His other disappointing performance came on June 24 when he did not retire a batter while allowing two runs on two hits and a walk against the Yankees.
"Hanging slider," Gibbons said. "He has been really good, he settled in out there. It's one of those games where you come in, cough it up and move on."
The ending wasn't ideal, but there are plenty of positives for Stroman to build upon as he continues to make an impact since joining the rotation in late May. Stroman has yet to allow more than three runs, and all but one of his outings have been quality starts.
The past two starts have been even more impressive. Stroman's best outing came during his last time out when he allowed one run over eight innings vs. the Yankees. He was almost as effective vs. the White Sox and deserved a win, but he knew all along it would be a tough match-up with left-hander Chris Sale pitching for Chicago.
Sale was equally as dominant with the exception of one mistake he made in the fourth inning. Darin Mastroianni, who was promoted from Triple-A Buffalo prior to the game, sent a 3-2 offering over the wall in right-centre field for his first home run of the season. That lead held up until the seventh as Sale allowed four hits but walked five batters over his seven innings.
"That [homer] is a game-changer," Sale said of Viciedo's shot. "Down two runs, Stroman, he was great tonight. He threw better than I did. Obviously you throw like that you deserve to win. The road trip hasn't gone our way, but to keep fighting and moving forward, it shows what kind of team we have."
The Blue Jays made some noise in the ninth inning for the second consecutive game, but once again they came up short. Pinch-hitter Anthony Gose led off with a double and later came around to score on an RBI single by Munenori Kawasaki. But Jose Reyes, Melky Cabrera and Edwin Encarnacion were then retired in order to end the game as Zach Putnam picked up his first save of the season.
Toronto will have to win on Sunday afternoon to finish its four-game set against the White Sox with a split. The Blue Jays will then have an off-day before opening a mini two-game series against the Brewers in a matinee affair on Canada Day at Rogers Centre.
Gregor Chisholm is a reporter for MLB.com. Read his blog, North of the Border, and follow him on Twitter @gregorMLB. This story was not subject to the approval of Major League Baseball or its clubs.