Viciedo's blast, Sale's arm lead White Sox
Lefty goes seven strong as bullpen staves off Toronto's rally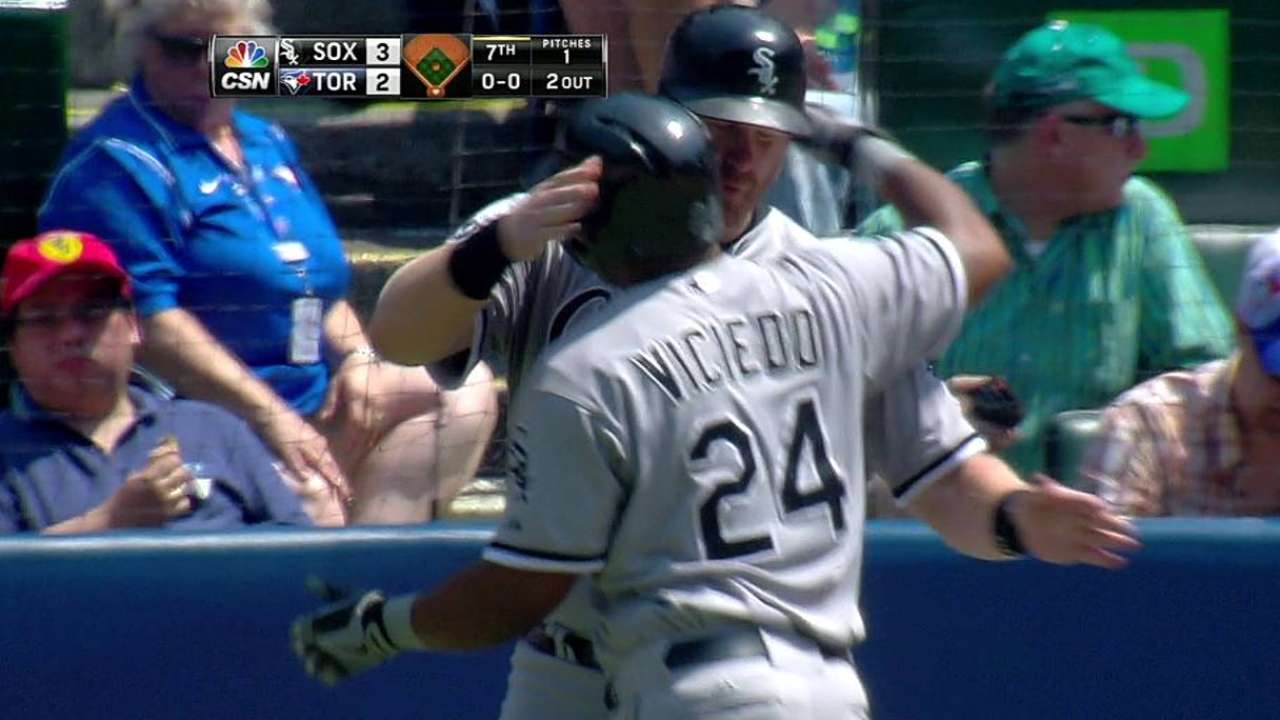 TORONTO -- It may not have been flashy, but Chris Sale continued to get the job done for the White Sox on Saturday afternoon.
The 25-year-old left-hander, who's been one of the American League's best pitchers this season, earned his seventh win despite issuing a career-high five walks as the White Sox won their second straight against the Blue Jays at Rogers Centre.
Sale went seven innings and threw his ninth quality start of the season, Dayan Viciedo cracked a three-run shot and the bullpen shut down another late rally from the Blue Jays as the White Sox earned a 4-3 victory, improving their record to 3-7 on the current 11-game road trip. They'll go looking for the series victory on Sunday.
"Viciedo coming up with that big hit, our bullpen locking it down, that's the dichotomy between good and bad baseball," said Sale, who has limited opponents to two earned runs or less in eight of his 12 starts this season. "When you're going, good stuff happens. Luckily for myself, we had some fight in us, and Viciedo flat out won the game for us."
For the second straight night, the White Sox carried a lead into the bottom of the ninth, only to have the Blue Jays threaten a late comeback. On Saturday, with the score 4-2, Anthony Gose led off the Blue Jays' ninth with a pinch-hit double off reliever Zach Putnam. He scored on a Munenori Kawasaki single, putting the tying run aboard with no outs. But Putnam was able to settle in as he retired the top of the Blue Jays' batting order to record his first career big league save.
"It was nice to be able to lock it up and get us two in a row," said Putnam, who worked 1 1/3 innings. "... Part of being the closer pitching in the ninth inning with a save opportunity is you have to battle through and make pitches."
The White Sox got an elusive road win for the second straight game after dropping their previous seven out of eight away from home.
The long ball was once again crucial for the visitors, who rode four homers to victory on Friday before relying on Viciedo's three-run shot to get them the win on Saturday.
The homer came on the first pitch Dustin McGowan threw after relieving Toronto starter Marcus Stroman in the seventh inning. Viciedo took the slider to the second deck in left field to score three, and Alexei Ramirez provided some padding with a pinch-hit RBI single in the eighth.
"Viciedo was a big shot in the arm for us," said manager Robin Ventura. "That was a good spot to do it."
McGowan was charged with the loss after allowing three hits and two earned runs over an inning of work. It was his second blown save of the season.
"That [homer] is a game-changer," Sale said. "Down two runs, Stroman, he was great tonight. He threw better than I did. Obviously you throw like that you deserve to win. The road trip hasn't gone our way but to keep fighting and moving forward, it shows what kind of team we have."
Toronto got on the board first in the bottom of the fourth. After Sale issued a two-out walk to Colby Rasmus, Darin Mastroianni, who was recalled prior to the game, hit his first homer of the season to left-center field to give the Blue Jays a 2-0 lead.
Stroman, meanwhile, held the White Sox off the board through six innings, during which he only allowed a single hit. The rookie right-hander almost made it out of the seventh, but surrendered a two-out double to Jose Abreu before walking Adam Dunn to put two on before Viciedo came to the plate and went yard off McGowan with his eighth homer of the season.
Stroman was charged with two earned runs on two hits with a pair of walks and six strikeouts over 6 2/3 innings.
"It's tough to deal with," Stroman said of turning the game over to the bullpen, only to watch it slip away. "It's part of baseball. I have 100-percent faith in Dustin to come in and get that out every time. If he makes a pitch like he knows he can, we're not even having this conversation. I know McGowan's going to be right back to it. He's been great for us all year coming out of the 'pen so I'm not stressing it at all."
Jamie Ross is an associate reporter for MLB.com. This story was not subject to the approval of Major League Baseball or its clubs.