Errors, bullpen lead to Phils' demise in matinee
Hernandez solid in seven-inning stint, picks up first career RBI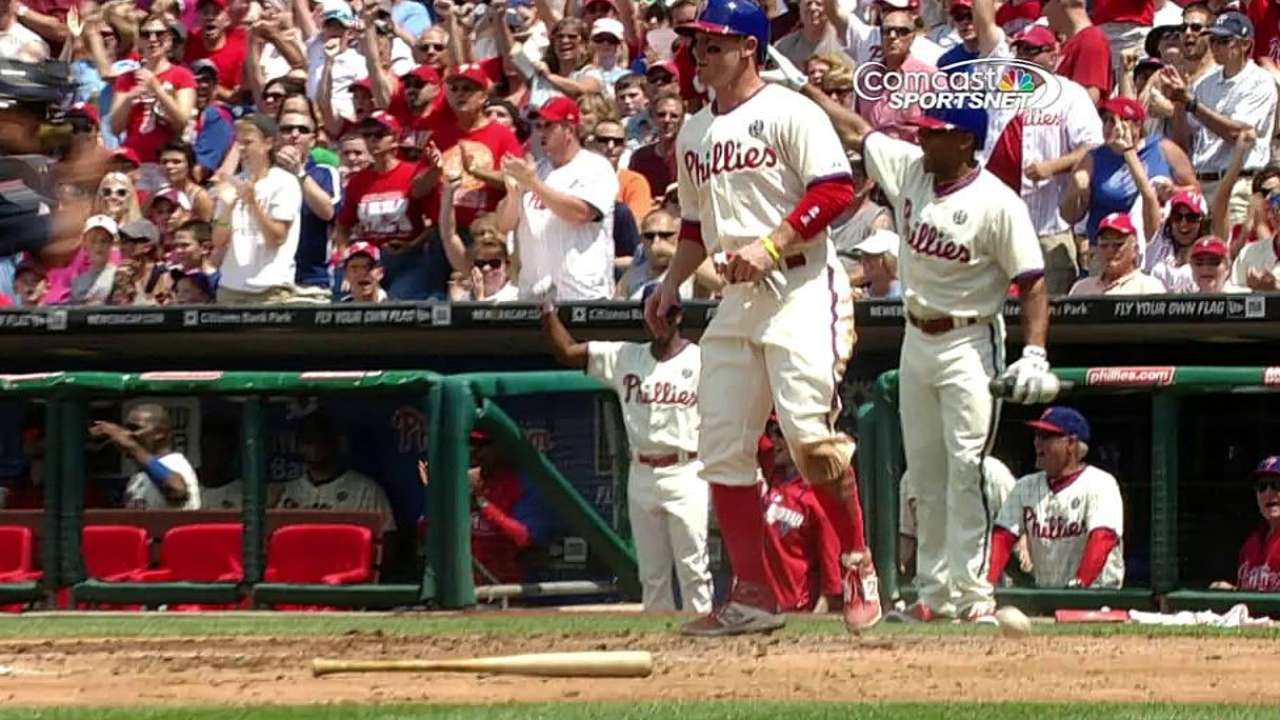 PHILADELPHIA -- The Phillies hoped to scrape together enough offense with a mishmash lineup to win Game 1 of Saturday's doubleheader.
But offense at home has been terribly difficult to find.
The Phillies entered the afternoon one of just two teams in baseball with a 3.20 ERA or lower at home and a losing record. Phillies pitchers have received the fourth-lowest run support in baseball this season, and it continued in a 10-3 loss in Game 1 at Citizens Bank Park. But it wasn't just the offense that fell short. Two big errors in the fourth inning changed the tone of the game, and the bullpen turned a two-run deficit into a blowout loss in the final two innings.
"We just have to play fundamentally sound baseball," Phillies manager Ryne Sandberg said. "That's giving you a chance to win. Pitching and defense. You have to play the field and make the defensive plays, especially with our lack of putting a whole lot of numbers up on the board. Yeah, we have to tighten up on the defensive end of things."
Sandberg tried to rest some of his regulars on a long day. So Marlon Byrd and Jimmy Rollins sat in favor of Tony Gwynn Jr. -- who had been hitless in 22 at-bats since May 22 and held without an extra-base hit in 54 at-bats since April 26 -- and Ronny Cedeno, who had just two plate appearances since June 15. Koyie Hill, a career .206 hitter, also made his season debut, with Carlos Ruiz and Wil Nieves on the disabled list with a concussion and strained right quadriceps, respectively.
But the Phillies jumped to an early lead. Gwynn tripled and scored on a single by Ryan Howard in the first to make it 1-0. Hill doubled and scored on a single by Phillies starter Roberto Hernandez in the second to making it 2-0.
Hernandez started his big league career 0-for-40 before picking up a hit in his first at-bat in his previous start on Monday against the Marlins.
His second-inning single gave him an improbable two-game hitting streak.
"I'm doing better," Hernandez said.
But after Hernandez allowed a one-out single to Andrelton Simmons in the fourth, Howard let a potential inning-ending, double-play ground ball by Freddie Freeman get past him to put runners on second and third. Justin Upton followed with another ground ball to Howard, who booted it to score Simmons.
Jason Heyward's fielder's choice scored Freeman to tie the game.
"That changed the whole game," Sandberg said.
Hernandez then put two runners aboard with one out in the sixth before Justin Upton ripped a double to left-center field to score Simmons and Freeman to hand the Braves a 4-2 lead.
"Hernandez [had] better stuff," Sandberg said. "Threw better than his line indicated. Defense let him down in the fourth inning with a possible double-play ball out of the inning with no runs in. He hung in there and pitched pretty well."
The veteran right-hander allowed four runs (two earned) on three hits and three walks, while striking out two over seven innings. It was just the second time in 15 starts he pitched seven or more innings, and just the third time he pitched more than six innings.
"I think it was a good game," Hernandez said. "I can't control winning. I can only control pitching, but I think I pitched a good game. I kept the ball down, got some ground balls and didn't have too many walks."
Hernandez pitched well, but the offense and defense let him down to that point. Antonio Bastardo and Luis Garcia took care of the rest. Bastardo allowed five runs in the eighth and Garcia allowed another run in the ninth.
The Phillies' bullpen had an MLB-best 1.08 ERA since June 2 and an 11-inning scoreless streak prior to Bastardo's appearance.
"The bullpen let us down for the first time in quite a stretch," Sandberg said.
Todd Zolecki is a reporter for MLB.com. He writes a blog, called The Zo Zone. This story was not subject to the approval of Major League Baseball or its clubs.