Missteps on bases, in outfield sink Dodgers
Offense limited as three runners cut down; Gordon has three hits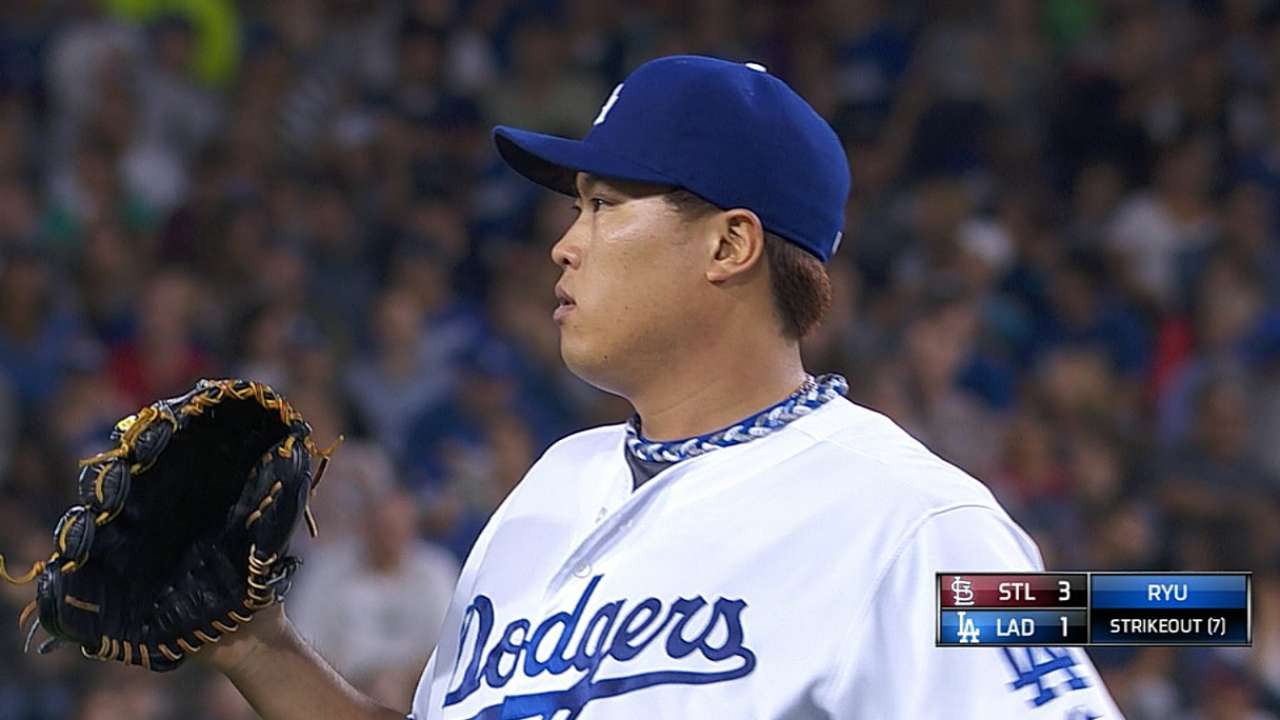 LOS ANGELES -- After three weeks of tight defense and clean execution that coincided with three weeks of winning baseball, the Dodgers got messy Friday night and lost to the Cardinals, 3-1.
With Hyun-Jin Ryu seeking a 10th victory and the club its first four-win streak of the season, a two-run gap double in the fifth inning by Jhonny Peralta fell between outfielders Scott Van Slyke and Yasiel Puig, and the Dodgers and Ryu (9-4) fell, too.
Van Slyke's problems weren't over. In the sixth inning, he was ejected for the first time in his career for arguing from the dugout after being called out on strikes.
But the play in the field was decisive. Van Slyke, at 6-foot-5, is a logical first baseman. He's athletic enough to play the two outfield corner spots and has been stretched into center-field duty this year with the move of Matt Kemp to left field. That's where Van Slyke was when Peralta sent his drive into the gap.
As Van Slyke sprinted full speed toward where he thought the ball would be, he saw the Wild Horse sprinting full speed toward him. Neither called the other off the ball. Van Slyke hesitated when he saw Puig and the ball fell as two runs scored.
"He looked like he had a chance to get the ball and he has not been known to give up on a ball," Van Slyke said of Puig. "It was just one of those weird, in-betweeners. It was really too close to call it early, and by the time you realize you have a play on it, it's too late. Obviously, you're going full speed and look up and see Puig equidistant."
Said Puig: "We did the best we could with the play. Neither him nor I could get that. Neither could make that play."
Manager Don Mattingly absolved both of blame.
"Well, that's a ball where there's not going to be communication because two guys were pretty much full out," Mattingly said. "It's one of those balls that Yasiel's not going to get to it, and Scott could've gotten to it, but he definitely feels Yasi coming in. If that ball happens, and we end up tying the score later, you guys wouldn't ask me about it. I think that play gets magnified in the sense that it's a close game and every play counts."
The Dodgers offense -- without injured Hanley Ramirez for a fourth consecutive game -- was equally at fault, scoring only one run off Cardinals hard-throwing reliever-turned-starter Carlos Martinez, who didn't even make it out of the fifth inning. The St. Louis bullpen pitched 4 2/3 scoreless innings; the Dodgers offense scoring one run for the second consecutive night.
The Dodgers stranded six runners, and the only hit in seven chances with runners in scoring position was Dee Gordon's second-inning RBI single, the first of his three hits.
They had three runners erased on the bases -- Miguel Rojas was out at the plate trying to score on a pitch in the dirt, A.J. Ellis was thrown out trying to stretch a single into a double and Kemp was gunned down by Yadier Molina trying to steal second base.
Ramirez nearly entered the game with a chance to tie it. He was preparing to bat for No. 8 hitter Rojas after Juan Uribe's one-out walk in the ninth inning, but the game never got to Rojas' spot, as No. 7 hitter Ellis bounced into a game-ending double play.
It was the second DP turned by the Cardinals, who also got a run-saving diving catch from their center fielder, Jon Jay, on Uribe's liner to the warning track in the sixth inning. That was soon followed by the ejection of Van Slyke for complaining from the dugout to plate umpire Bill Miller about his called strikeout earlier in the inning.
Ryu went seven innings, charged with three runs, including Molina blasting a changeup off the left-field foul pole in the fourth inning for his seventh home run. Ryu had won six of his previous seven starts.
"It really came down to Yadi and Jhonny putting together the blows that we need," said Cardinals manager Mike Matheny. "That's really what this comes down to in any of these big games. Today we got a couple of them, getting the right hit at the right time."
Ken Gurnick is a reporter for MLB.com. This story was not subject to the approval of Major League Baseball or its clubs.