Contenders step up as ASG vote winds down
Freeman goes 3-for-5, Trout goes long and three reach 25 home runs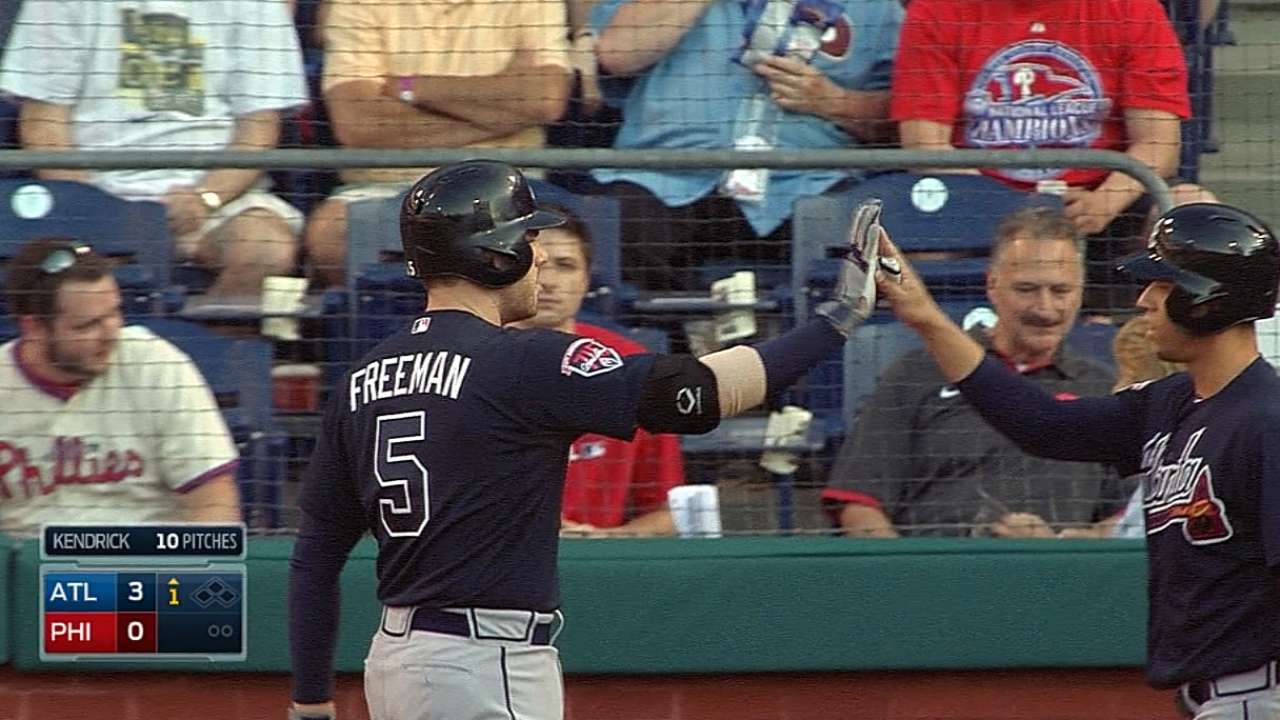 With fan voting for All-Star Game set to end in less than a week, the Majors' best players have been trying to earn starting spots for the Midsummer Classic in Minneapolis on July 15.
Here's a look at what the vote leaders and contenders did on Friday.
Braves first baseman Freddie Freeman impressed with a 3-for-5, four-RBI night in Atlanta's 4-2 win over Philadelphia. Freeman, who sits in third place behind leader Paul Goldschmidt and Adrian Gonzalez, added his 13th home run and a double.
In Kansas City, Mike Trout dropped chins across the country with a home run to center field that was estimated at 489 feet by ESPN Stats and Info, which would make it the longest in the Majors this season, though Royals media relations announced an estimation of 445 feet. Either way, it was long, and the 18th home run of the year for Trout, who trails leading vote-getter Jose Bautista in the American League outfield but is still in line to be one of the three starters.
Bautista missed another game because of a hamstring strain, but the National League's top vote-getter, Rockies shortstop Troy Tulowitzki, went 1-for-4 and now has hits in seven of his last eight games.
Ryan Braun lifted the Brewers to a Major League-leading 50th win with a walk-off single in the bottom of the ninth. Braun finished the day 1-for-4 with two RBIs and sits in fifth place among NL outfielders, nearly 500,000 votes behind third-place teammate Carlos Gomez.
Miami's Giancarlo Stanton, in an effort to sneak into the NL's top three outfielders, went 2-for-4 with a run scored and an RBI. Yasiel Puig and Andrew McCutchen, Nos. 1 and 2, combined to go 2-for-7.
Derek Jeter celebrated turning 40 on Thursday's off-day by going 2-for-4 in a 6-0 win over the Red Sox on Friday. Jeter, who leads AL shortstops in votes, also scored a run. In second-place White Sox shortstop Alexei Ramirez knocked in two runs with a homer, while Baltimore's J.J. Hardy (in third place) went 1-for-8 in a doubleheader against the Rays.
Hardy's teammate Nelson Cruz also went 1-for-8 in the twin bill, but his one hit was his 25th home run of the season, which put him in a three-way tie with Jose Abreu and Edwin Encarnacion for most in the Majors. Abreu hit two long balls in Toronto while Encarnacion, not to be shown up, smacked one of his own.
Cruz, at designated hitter, is the only one of the trio leading his position in votes. Abreu, at first base, is second, while Encarnacion is fourth among AL DHs.
Oakland's Josh Donaldson, who leads AL third basemen, collected his second triple of the season and drove in three runs during the Athletics' 9-5 win over Miami. Among those chasing Donaldson are Adrian Beltre and Manny Machado. Beltre hit his ninth homer of the season and drove in three runs, too, while Machado had a multihit game in Game 1 of Baltimore's doubleheader.
Fans can cast their votes for starters at MLB.com and all 30 club sites -- online or on a mobile device -- using the 2014 All-Star Game MLB.com Ballot Sponsored by Experian until Thursday, July 3, at 11:59 p.m. ET.
Fans may submit up to 25 online ballots, but they can also earn a one-time bonus of 10 additional online ballots. To access these additional online ballots, you must be logged into your MLB.com account when you submit any online ballot. If you do not have an MLB.com account, register on the site in accordance with the enrollment instructions for a free MLB.com account.
Fans this year once again can participate in the Home Run Derby Fan Poll. Fans will have the opportunity to select three players in each league who they would most like to see participate in the Home Run Derby. The 2014 Gillette Home Run Derby will be broadcast live on ESPN, ESPN HD, ESPN Deportes and ESPN Radio in the United States beginning at 8 p.m. ET on Monday, July 14.
The 2014 AL and National League All-Star teams will be unveiled on the 2014 MLB All-Star Game Selection Show during the weekend of July 5-6, with further details to follow on MLB.com. Immediately following the announcement of the AL and NL All-Star rosters, fans can begin voting to select the final player for each league's 34-man roster via the 2014 All-Star Game MLB.com Final Vote Sponsored by Experian. Fans will cast their votes from a list of five players from each league over the balloting period.
And the voting doesn't end there. The final phase of All-Star Game voting will again have fans participating in the voting for the Ted Williams All-Star Game Most Valuable Player Award presented by Chevrolet. During the Midsummer Classic, fans will vote exclusively online at MLB.com via the 2014 All-Star Game MLB.com MVP Vote Sponsored by Pepsi, and their voice will represent 20 percent of the overall vote that determines the recipient of the Arch Ward Trophy.
MLB.com will provide extensive online coverage of the All-Star Week festivities.
The 85th All-Star Game will be televised nationally by FOX, in Canada by Rogers Sportsnet and RDS, and worldwide by partners in more than 200 countries via MLB International's independent feed. ESPN Radio and ESPN Radio Deportes will provide national radio coverage of the All-Star Game. MLB Network and SiriusXM will also provide comprehensive All-Star Week coverage. For more information, please visit allstargame.com.
Matthew DeFranks is an associate reporter for MLB.com. Follow him on Twitter @MDeFranks. This story was not subject to the approval of Major League Baseball or its clubs.