Treinen tallies first victory as Nats sweep twin bill
Four-run fifth inning supports rookie starter after rain delay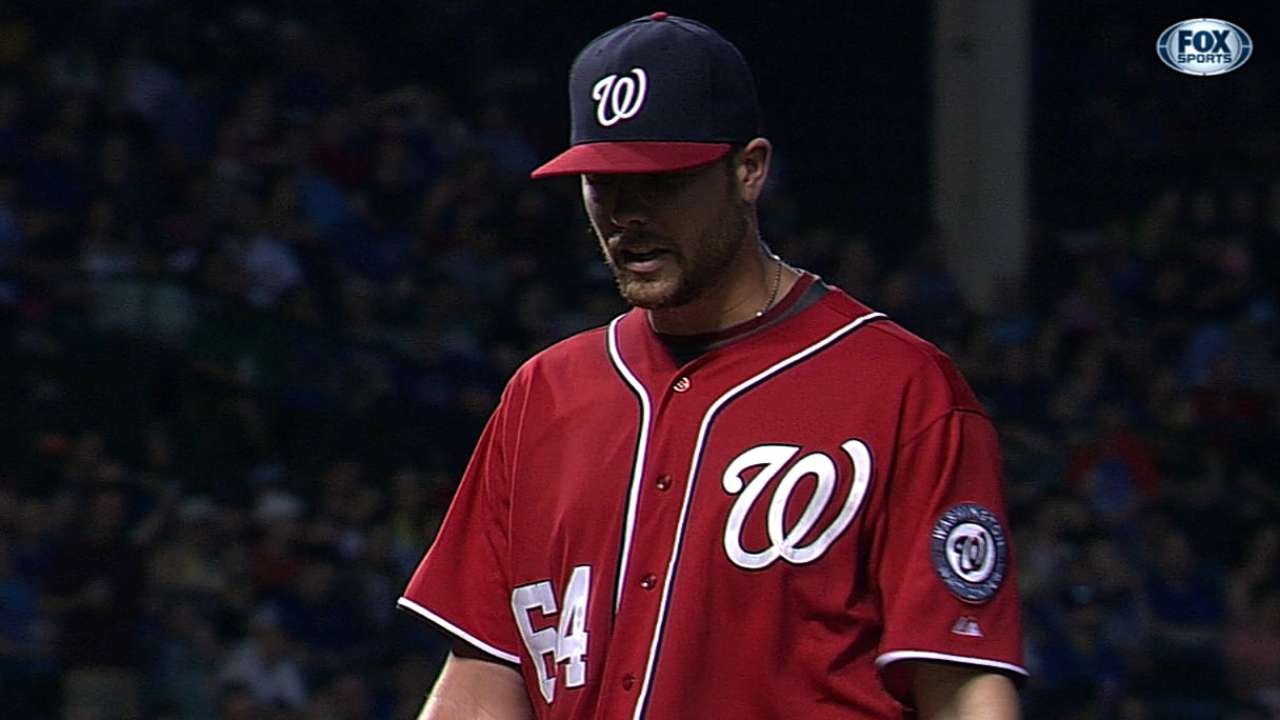 CHICAGO -- They say good things come to those who wait. Blake Treinen knows all about that.
Treinen has been a valuable fill-in starter when the Nationals needed him, posting a 2.49 ERA in four starts between May and June. He hadn't allowed more than two earned runs in any of those starts, but he didn't have a win to show for it.
So how bad could an extra 55 minutes be?
Called up as the 26th man for Saturday's doubleheader, Treinen will return to Triple-A Syracuse riding high. He picked up his first Major League win with five innings of two-run ball that was interrupted by a 55-minute rain delay Saturday night at Wrigley Field. Treinen's outing propelled the Nationals to a 7-2 victory over the Cubs in the nightcap to complete a doubleheader sweep, after they took the opener, 3-0.
"It was kind of a bizarre game, really, with the rain delay. I'm just glad I was able to go five, I guess," Treinen said. "It feels great. … It means a lot. I'm definitely excited, that's for sure."
In front of a "caravan" of family and friends, Treinen worked through the first three innings with relative ease. He needed just 35 pitches, while allowing just two singles in the second.
In the fourth, he surrendered a two-run homer to Luis Valbuena that tied the game at 2, his only blemish of the evening. Then came the rain, and Treinen got Welington Castillo to tap back to the mound. With a 1-2 count on Nate Schierholtz, it began to pour, the players scattered for the dugouts and the grounds crew rolled out the tarp.
Treinen said it was the first time he had dealt with a rain delay mid-start in his career. Complicating matters was the ballpark's lack of a cage where pitchers can throw in the event of delay.
"The rain delay and all, went out there, his fastball velocity dropped quite a bit," manager Matt Williams said. "It's hard when you're the starting pitcher and you're not used to stuff like that. … Got him through five innings and it's nice to see him get a 'W.'"
Treinen and the Nats came back out following the delay, and he struck out Schierholtz to end the fourth. Williams pulled Treinen after five innings, saying he thought it was time to get Treinen out of the game given the delay-caused dip in velocity.
Cubs starter Jeff Samardzija also came back out after the rain delay, and the Nationals greeted him rather rudely in the fifth.
Washington batted around and scored four times in the frame. Wilson Ramos led off with his second homer of the year, Kevin Frandsen and Jayson Werth hit back-to-back run-scoring singles on the ground and Frandsen scored on Anthony Rizzo's error to put the Nats ahead, 6-2.
"We put up some good at-bats," Adam LaRoche said. "I think drew a walk there, hit a few singles. Don't get me wrong, [Samardzija's] pretty good. It's not a comfortable at-bat. Even though I've had some success against him, he's got some really good stuff. We just hit it where they weren't, but it was nice.
After celebrating his first big league win, Treinen will return to the Minors. It seems a bit anticlimactic, but Treinen isn't complaining.
"You can't be upset for even just being a spot starter," Treinen said. "This is the big leagues. It's what everybody dreams to do, and I kind of know my role to do. I know it's whatever they ask me to do any given day, and I'm OK with that."
The Nationals jumped ahead in the second on LaRoche's 11th home run, a no-doubter leading off the inning. Anthony Rendon made it 2-0 with a one-out sac fly in the third that scored McLouth, who began the inning with a double.
LaRoche drove in another run with a single in the ninth, bringing home reliever Ross Detwiler, who picked up his first career save with three perfect innings.
With the win, the Nats finished a seven-game road trip -- an eventful one at that -- 4-3, ahead of an eight-game homestand. Washington won a 16-inning game at Milwaukee and then lost the next three before rebounding in Saturday's scheduled doubleheader.
The Nationals get a rare, well-deserved Sunday day off because of Chicago's Pride Parade.
"Well, it's nice to win the last two. It started out really well, and then the middle part was not so good," Williams said. "To come back and win -- generally, it's difficult to sweep a doubleheader anyway, so it's nice to end it on that note."
Joe Popely is an associate reporter for MLB.com. This story was not subject to the approval of Major League Baseball or its clubs.