Gio spins gem as Nats blank Cubs in Game 1
Lefty allows just two hits over seven; Rendon, Span provide boost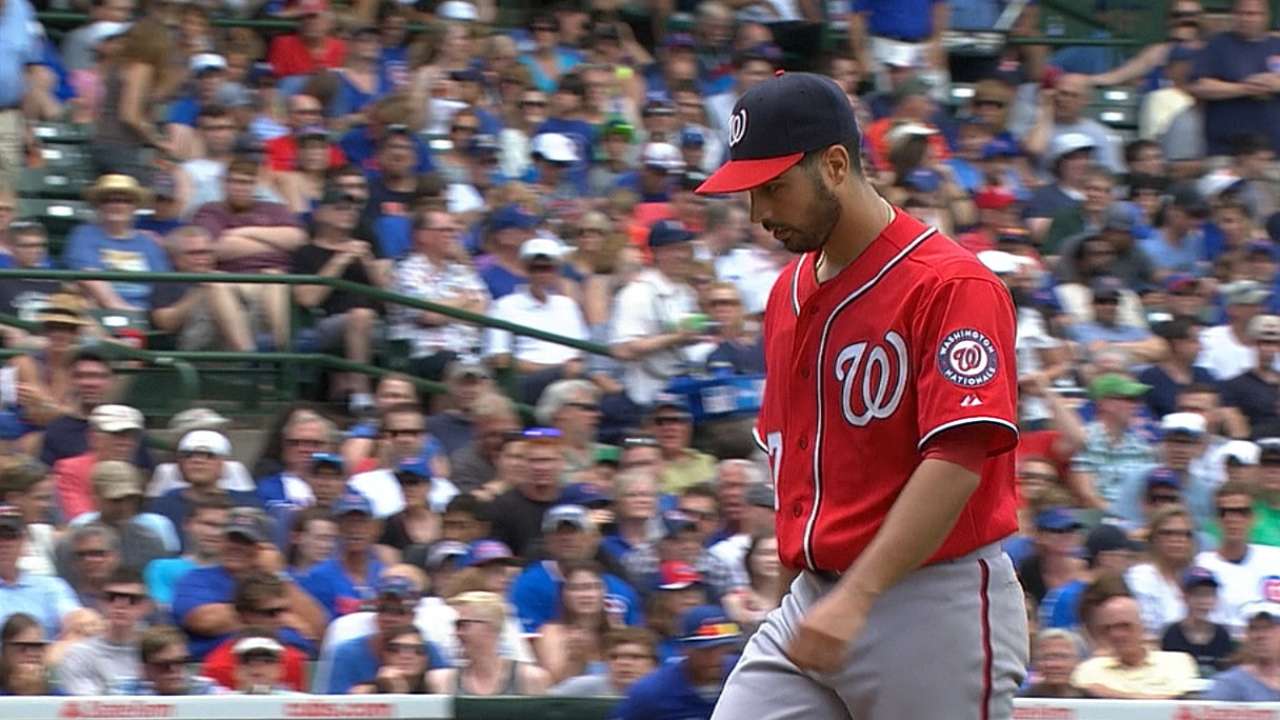 CHICAGO -- In danger of losing the first three games of a four-game series to a last-place team, the Nationals received a much-needed gem from Gio Gonzalez.
Gonzalez allowed just two singles over seven innings, leading the Nationals over the Cubs, 3-0, in the opener of a day-night doubleheader Saturday afternoon before 35,770 at Wrigley Field.
Making his third start since returning from the disabled list June 18, the lefty extended his scoreless-innings streak to 14 while striking out seven and walking two. Perhaps even more notable than his impressive line, Gonzalez touched 94 mph with his fastball. He's been working to build up his arm strength since left shoulder inflammation knocked him out for a month, and Saturday afternoon, he looked like his old self.
"From the last start to this start, it's just building confidence and velocity," Gonzalez said. "Today it was good to see some high numbers in the velocity and it shows that it's just building strength. Obviously coming from the DL and trying to work your way back, it's going to be a process."
The process looked rather elegant. Gonzalez retired the first eight he faced until Cubs starter Dallas Beeler, who made his Major League debut, picked up his first Major League hit with a two-out single in the third. Gonzalez was then helped out by his center fielder in the fourth.
Justin Ruggiano led off the frame with a drive to deep center that sent Denard Span to the wall, where he made a twisting, leaping catch against the ivy. After Anthony Rizzo walked, Span charged in to catch a shallow fly by Starlin Castro and doubled off Rizzo at first.
In the sixth, Gonzalez walked Ruggiano with two out, but was helped by his defense and a replay review. Rizzo nubbed a slow roller to short, that Ian Desmond gloved before throwing too high to first. That forced Adam LaRoche to jump and come back down on the bag, and Rizzo was called safe on the bang-bang play. Manager Matt Williams challenged the call, which was overturned after a quick review.
"Denard saved me pretty big in the fourth inning and from there on, it was just play after play," Gonzalez said. "Desi made a big out. We had the big play with the instant replay for the last out against Rizzo. That was a huge out to get to the next inning."
The overturned call helped keep the shutout alive, and Gonzalez put the finishing touches on his fine outing with a 1-2-3 seventh. As Williams noted, it wasn't just Gonzalez's fastball that was better. He also had excellent command of his curveball and changeup.
"It's important for us. I'm happy for him that he feels good about it and he's had no shoulder issues, so that's a good sign," Williams said. "Velocity's come back, the ability to throw all of his pitches for strikes is huge for him. He pitched really good."
Gonzalez only allowed one Cub to reach second base, when Chris Coghlan singled with one out and stole second.
"Gio is a front line starter in the big leagues and he proved it today," Cubs catcher John Baker said. "He was tough to hit."
Washington took a 1-0 lead in the sixth. Anthony Rendon doubled with two outs, advanced to third and scored on a wild pitch with LaRoche at the plate two hitters later. Rendon finished a homer shy of the cycle, drove in a run and scored twice.
The Nats' offense gave the pitching staff some breathing room in the eighth. With one out, Span singled and Rendon tripled for the first run of the frame. Following a Ryan Zimmerman walk, LaRoche made it 3-0 with a sac fly to left.
Saturday's nightcap will complete what has been a wacky road trip that's included a 16-inning game Tuesday in Milwaukee and several day games. If the Nationals can sweep the doubleheader, they'll salvage a series split with the Cubs and bring home a 4-3 record on the trip.
"We definitely needed that today," Span said. "Last two days we haven't been able to get anything going offensively, and it just felt good to come out here this first game and get a 'W,' kind of set the tone. We can kind of relax a little bit, but we've still got to take care of business in the second game."
Joe Popely is an associate reporter for MLB.com. This story was not subject to the approval of Major League Baseball or its clubs.