Castro wins it in 11th after Altuve's big night
Astros walk off in extras after second baseman collects four hits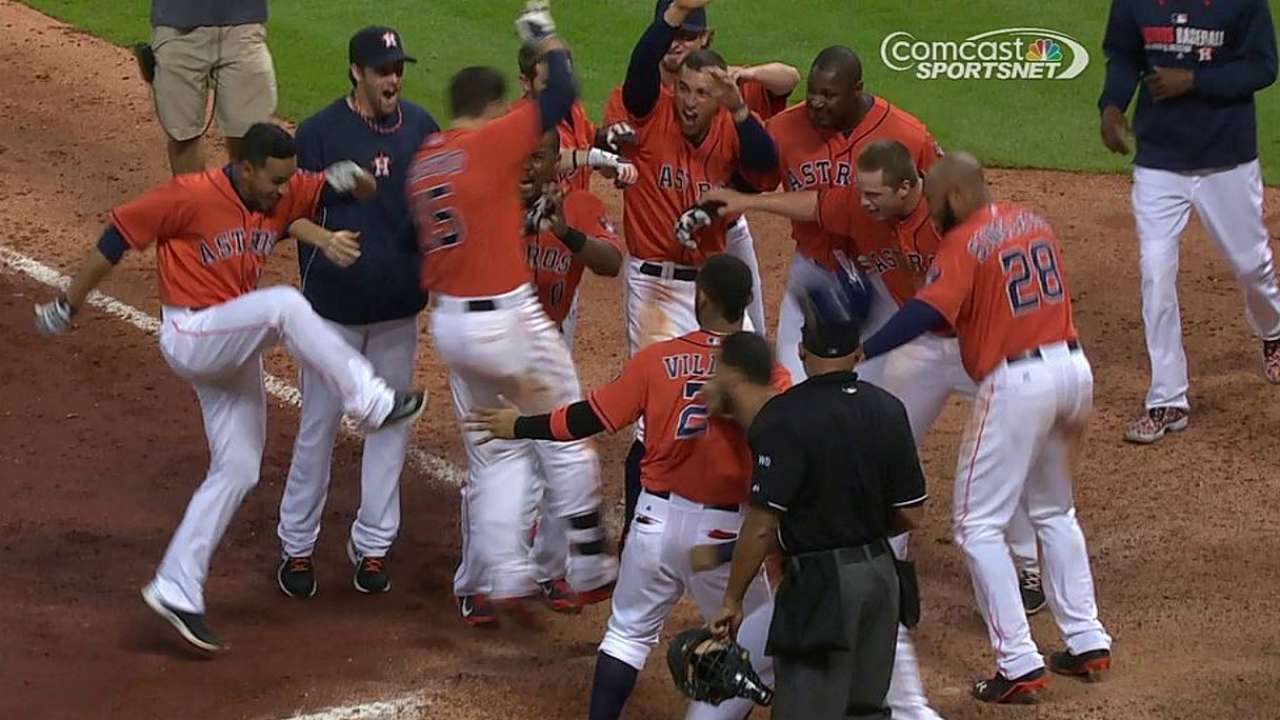 HOUSTON -- Legends and heroes are made from the kind of stuff Jose Altuve did Friday night. And perhaps Most Valuable Players, too.
Altuve, the Astros' dynamic second baseman who's leading the American League in hits, batting average, stolen bases and energy, was just about everywhere the Tigers turned, covering nearly every inch of his 5-foot-6 uniform with dirt and effort.
The little man with the high motor and big heart did everything he could to help the Astros win, and catcher Jason Castro made sure they did by clubbing his first career walk-off homer in the 11th inning for a 4-3 win over the Tigers at Minute Maid Park.
"When you start to talk about MVP, you ask yourself the question: 'If you take that player off that team, where would they be?'" Astros manager Bo Porter said. "Lord, I don't even want to think about that. Retract that."
The Astros hit the halfway point of their schedule with a 35-46 record, putting them on pace to finish 70-92. That would be a 19-game improvement over last season.
Altuve went 4-for-5 with two steals, tying a career high for hits, to push his season hit total to a Major League-leading 111 and his stolen base tally to 32 in 35 tries. He's hitting .342, including a sizzling .395 since May 8.
"I may be biased, but I think it's warranted," Porter said of MVP consideration. "If you give me a vote and the season ended today, he's the MVP of the American League."
Castro was just as impressed by Altuve's game Friday.
"It almost became a joke at the end," Castro said. "We were just joking on the bench [because] every time he came to the plate should they should just throw down four fingers and let him walk to first. He's pretty impressive, especially when he's hot like he is. He can do it all -- steal home, lay down an infield single. He's fun to watch."
Even Tigers starter Justin Verlander, who allowed three hits and struck out eight in six innings, tipped his cap to Altuve.
"He's one of those guys you need to keep off the basepaths and that's not very easily done," he said. "He's not just somebody that has a lot of speed, he's got a lot of things going in his favor, and he's a very good ballplayer."
Castro's seventh homer came with one out in the 11th off Blaine Hardy after he had gone 0-for-3 with a walk, hitting the ball hard three times.
"He's really starting to come along," Porter said. "He swung the bat well all night and didn't have too much to show for it with hard-hit balls right at people. That's a good game to win right there."
The Astros' bullpen pieced together 4 1/3 innings, allowing one hit and one unearned run in relief of Brad Peacock, who held the Tigers to two runs (one earned) and seven hits in 6 2/3 innings in his first game in 12 days. Jake Buchanan picked up his first Major League win by retiring Miguel Cabrera, Victor Martinez and J.D. Martinez in the 11th.
"It was pretty exciting," Buchanan said. "I got done with that inning and came in and I was hoping somebody would put one in the seats and I didn't have to go back out there."
The game wouldn't have even reached extras had the Astros not made two costly errors in the eighth, allowing the Tigers tie the game.
There was a runner at second with two outs when Jose Veras battled with Cabrera and got him to hit what should have been an inning-ending grounder to shortstop Jonathan Villar, but he short-hopped the throw to first, allowing Eugenio Suarez to score the tying run.
Suarez began the inning with a walk after first baseman Jon Singleton camped under a popup in foul territory and didn't catch it.
"If you would have told me the Detroit Tigers were going to send [Ian] Kinsler, [Torii] Hunter, Cabrera and [Victor] Martinez all to the plate in one inning and they were going to get five outs, you probably would say to yourself they're going to score more than one run," Porter said. "I credit Jose Veras for continuing to make pitches."
Altuve accounted for the Astros' first three runs, hitting a single to lead off the first, stealing second, taking third on a wild pitch and scoring on a throwing error. He had an RBI double in the fifth and stole home when catcher Alex Avila threw to first. Altuve darted home ahead of Cabrera's throw back to the plate.
"I'm somewhat speechless," Porter said. "He's a good player. Real good player. And it's not just the hits. It's all the other intangibles, the game within the game and just realizing how much he impacts the game. From the time he gets on base, to the pitch selection of the guys behind him, it's impressive to have the kind of impact he's having on a baseball game each and every time he takes the field."
Brian McTaggart is a reporter for MLB.com and writes an MLBlog, Tag's Lines. Follow @brianmctaggart on Twitter. This story was not subject to the approval of Major League Baseball or its clubs.