Tigers topped in extras after tying game late
Astros walk off in 11th after Verlander's solid six-inning outing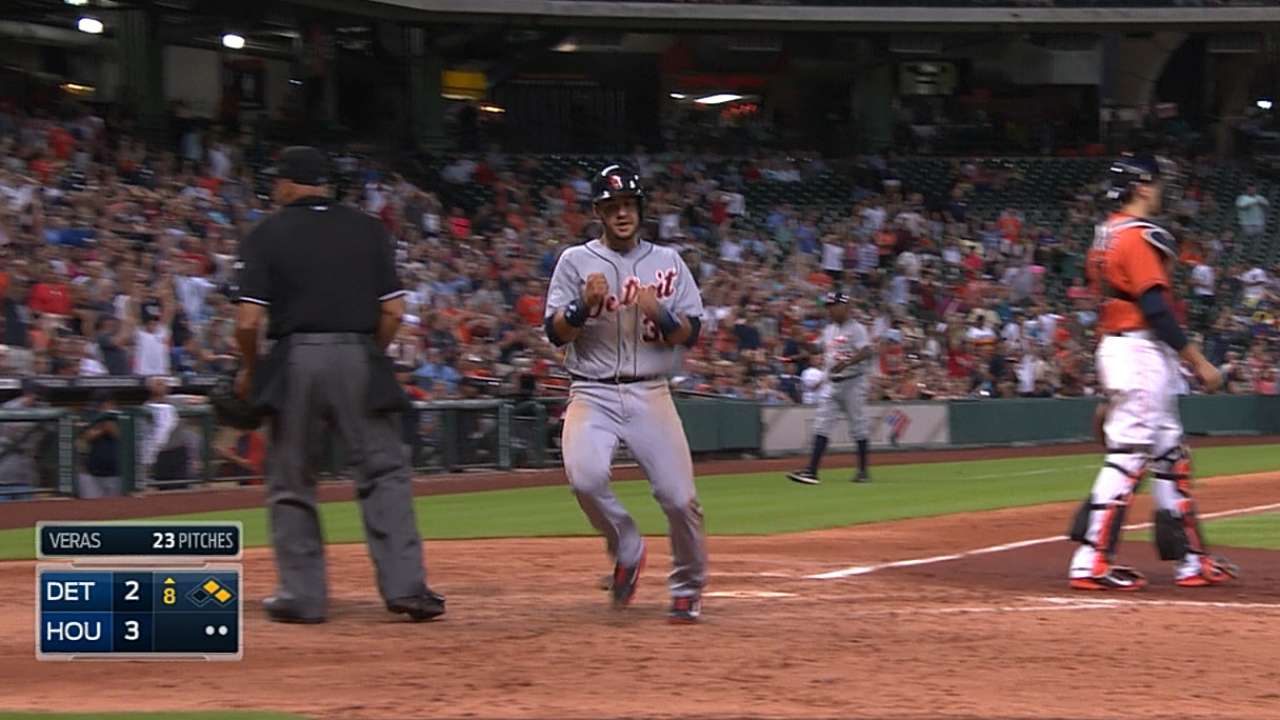 HOUSTON -- After the game-winning home run, the tantalizing night from Jose Altuve and a fortuitous eighth-inning bounce, Brad Ausmus talked about hitting homers at Minute Maid Park.
"I've hit walk-off home runs here," Ausmus said, "and I only had 80 home runs in my whole career."
The ball carries here, and Ausmus knows it. Most notably, Ausmus, a long-time catcher for the Astros, is responsible for hitting a game-tying homer with two outs in the ninth inning of Game 4 of the 2005 National League Divisional Series to send the game into extra innings, which Houston went on to win in 18 innings.
Jason Castro, Houston's catcher, didn't crush the ball in the 11th inning, but as Ausmus knows, the ball carries at Minute Maid Park. While Castro's homer off Blaine Hardy gave the Astros a 4-3 win over the Tigers Friday night, the night truly belonged to Altuve.
Altuve had a four-hit night and was responsible, in one way or another, for all three runs the Astros scored off Justin Verlander, who showed flashes of returning to form in his eight-strikeout, six-inning performance.
"I feel like I'm getting the swings I would like to see," Verlander said. "Guys aren't quite seeing the ball as well and the offspeed is a little sharper."
In the first inning, Altuve singled, stole second, advanced to third on a wild pitch and scored on a throwing error from Alex Avila, who tried to throw him out at third. Altuve leads the Major Leagues with 111 hits and the American League with 32 steals.
"I may be biased, but I think it's warranted," Astros manager Bo Porter said of Altuve being a candidate for MVP. "If you give me a vote and the season ended today, he's the MVP of the American League."
Verlander could only watch in the fifth-inning, when Altuve raced home after Avila tried to throw George Springer out at first after Springer decided to return to the base rather than steal second. Miguel Cabrera had to come down with the tag, and while his back was turned, Altuve scampered to steal home. The throw from Cabrera was just behind Altuve, who slid past the tag and barrel rolled home.
"We still had a shot at him, it wasn't a given," Ausmus said. "It was a gutsy, risky play by Altuve that ended up working out."
Sometimes after winning seven in a row, the luck runs out, and that's what happened to the Tigers. Verlander threw the ball well, the Tigers consistently hit the ball hard and they still lost.
Houston's Brad Peacock allowed two runs (one earned) off seven hits in 6 2/3 innings. The Tigers only had one hit after the fourth inning, a 10th inning single from Ian Kinsler, who had his sixth consecutive multi-hit game. Torii Hunter followed the single with a crushed line drive that was caught in left-center field.
"Some days you run into bad luck," Ausmus said. "Some days you hit balls, you get jammed and hit them off the end of the bat and they drop in all over the place. Then you hit the ball on the screws all night and you get nothing for it."
It wasn't all bad bounces for the Tigers, who benefited from a throwing error from Astros shortstop Jonathan Villar in the eighth inning. Cabrera hit a routine grounder to Villar with two outs and Avila on second. Villar bounced a throw that first baseman Jon Singleton couldn't handle, scoring an unearned run to tie the game.
The error led to extra innings and the chance for Ausmus to be on the losing end of a Houston catcher hitting a late-game homer in an Astros win.
Mike Vernon is an associate reporter for MLB.com. This story was not subject to the approval of Major League Baseball or its clubs.