Twins' road woes continue in Texas despite late rally
Correia allows four runs as Minnesota loses ninth straight away game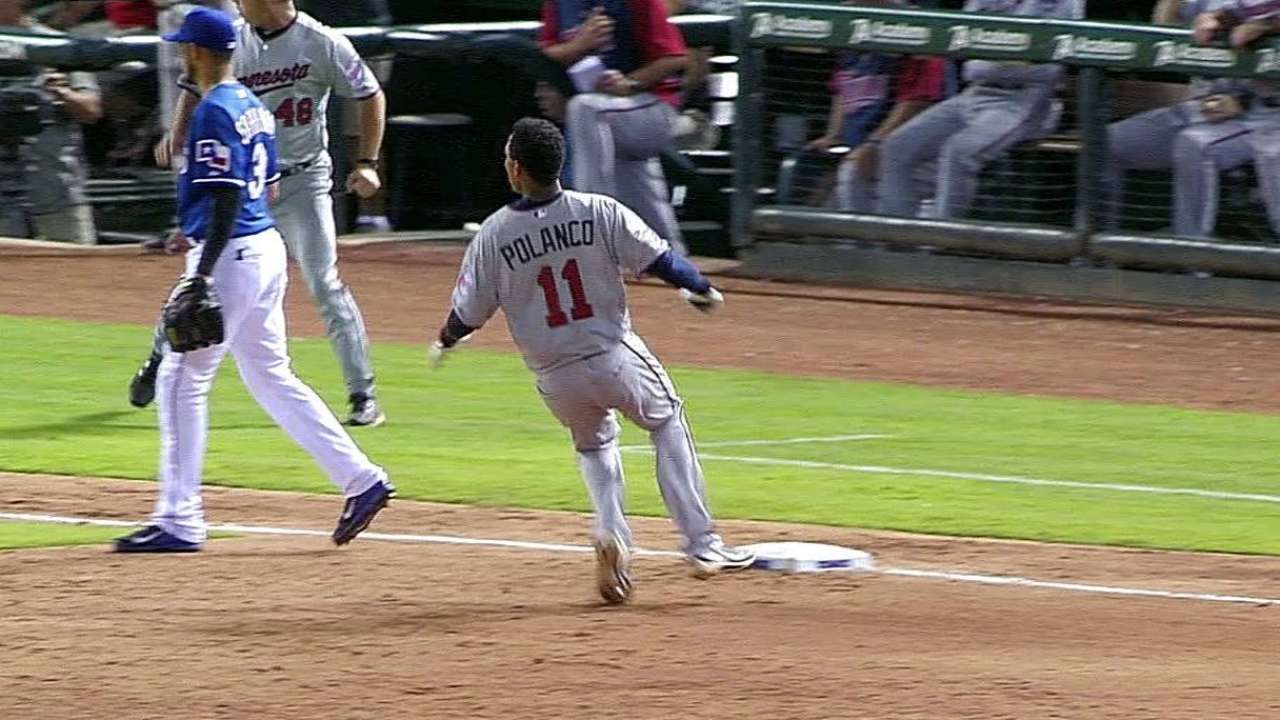 ARLINGTON -- For a few brief moments, it looked like the comeback just might happen. Maybe the Twins would snap their eight-game road losing streak.
Jorge Polanco certainly thought so.
Just two days earlier, the 20-year-old had been a Class A player, still two levels away from the Majors. Now, he was standing on third base after a ninth-inning triple -- his first Major League hit. And in that moment, with one out in the ninth, his team down just a run, a Twins victory didn't seem impossible in their eventual 5-4 loss to the Rangers.
Eight innings before, Polanco's team had been down 5-0. They had registered three hits to their name.
Then the ninth-inning rally started.
Josh Willingham walked, Kendrys Morales doubled and Oswaldo Arcia singled to score Willingham for a 5-1 deficit.
Eduardo Escobar reached on a fielding error by Rangers third baseman Luis Sardinas, and Morales scored to cut the lead to 5-2.
Polanco's deep triple to right brought in Arcia and Escobar for a 5-4 game.
Just like that, the Twins were in it.
"We had our chance," Twins manager Ron Gardenhire said. "We had some great at-bats in that sequence. But up to that point, we really didn't do much."
No, it was the Rangers who had all the success in what became their first win in nine games.
Adrian Beltre started things off early with a two-run homer in the first to score himself and Shin-Soo Choo, who sent a leadoff single to right field. The Rangers went up 2-0 in just Twins starter Kevin Correia's fourth batter faced.
They tacked on two more in the fifth, sparked by the bat of third baseman Luis Sardinas, who doubled to score catcher Chris Gimenez, and came home himself when Choo doubled to left field.
While Correia gave up four runs -- all earned -- and six hits in six innings pitched, Rangers starter Nick Tepesch had his best outing of the season, tossing 7 1/3 innings of three-hit ball for his longest start of the season. He registered five strikeouts, and no Twin had more than one hit off him. The Rangers tacked on their final run in the eighth, a sacrifice fly from Beltre that scored Elvis Andrus.
"I felt pretty comfortable out there and my stuff was pretty decent, I just made a couple of bad pitches. One to Beltre in the first cost me, and then Choo, he hit three balls off of me," Correia said. "I fell behind him and threw three bad pitches all three times. That was the game right there."
With the loss, the Twins have dropped four in a row, and have extended their road losing streak to nine.
As Polanco stood in front of his locker fielding questions, he quickly ruled out any notion that he was nervous at the plate.
"I was concentrated at that at-bat," Polanco said. "We wanted to win."
He plans to give the ball that resulted in his first big league hit to his mother.
"We know the kid can swing the bat, we've already seen that," Gardenhire said. "He had a great-at bat against a great closer. A big one. We had our chance."
But it was just too late.
Grace Raynor is an associate reporter for MLB.com. This story was not subject to the approval of Major League Baseball or its clubs.