House to start Sunday as Masterson rests knee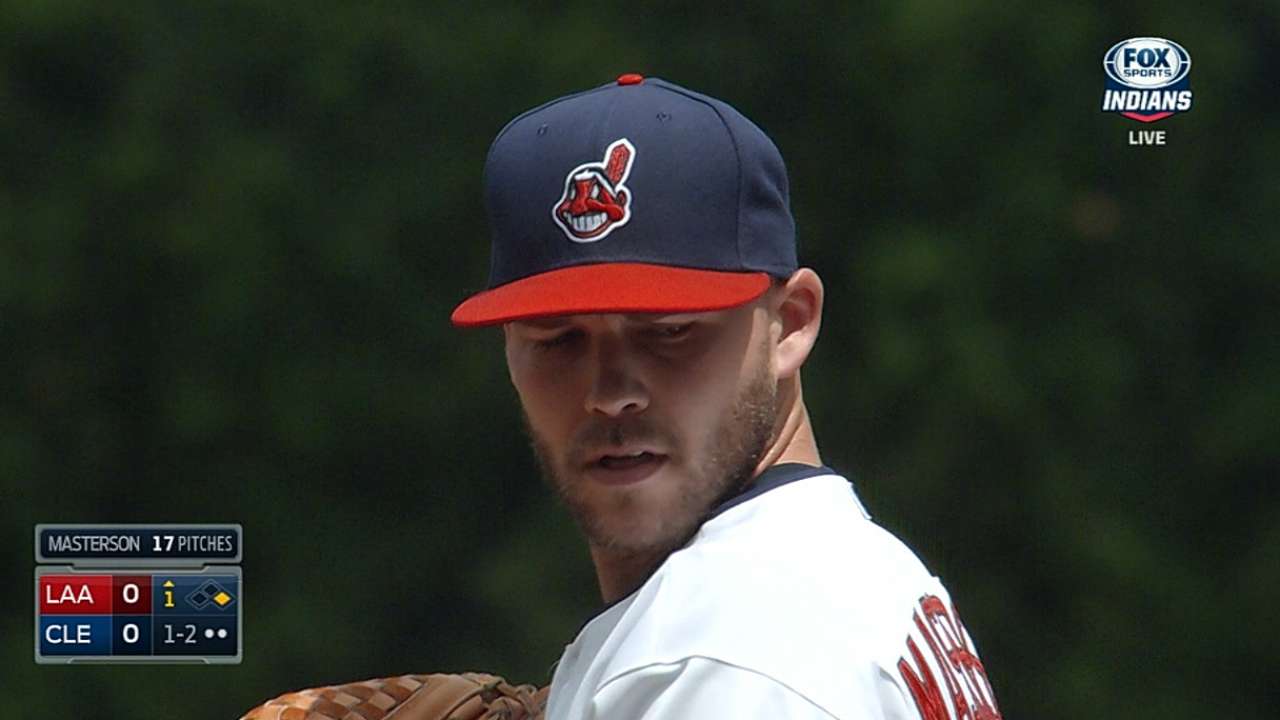 SEATTLE -- The Indians will give ailing starter Justin Masterson a few extra days to test the right knee that has bothered him since early this season. In the meantime, Cleveland plans on promoting left-hander T.J. House from Triple-A Columbus to start against the Mariners on Sunday.
Prior to Friday's game in Seattle, Indians pitching coach Mickey Callaway noted that Masterson is scheduled to throw off a mound on Saturday. Manager Terry Francona said the plan is to have the sinkerballer start against the Dodgers on Tuesday in Los Angeles.
"He feels pretty good," Francona said of Masterson. "I think the couple days will do him a lot of good."
On Tuesday in Arizona, Masterson labored through 91 pitches against the D-backs, allowing five runs on seven hits with four walks in four innings. Cleveland revealed Wednesday that the right-hander has been fighting through the knee issue for most of the season.
Masterson, who has a 6.34 ERA and an .852 opponents' OPS over his past nine outings, said the injury has bothered him since his second start of the season. Francona and Masterson each said it was not an issue during Spring Training, and the pitcher was not willing to cite the injury as the reason behind his diminished production and pitch velocity.
"I don't know. I can't say, 'Yes,' and I can't say, 'No,'" said Masterson, who is 4-5 with a 5.03 ERA in 17 starts this year.. "I'm just trying to figure some stuff out. It's been there. We all have nagging injuries. There's always something that's getting you. It's been nothing too extreme, but there's been some inconsistencies."
Francona added that right-hander Zach McAllister, who is currently at Triple-A, will be ready in case Masterson is unable to start on Tuesday. House (4.88 ERA in six appearances for Cleveland earlier this season) got the nod for Sunday because it's already his scheduled day to start for the Clippers.
According to Francona, Masterson's injury may have bothered the pitcher more than the team realized.
"I think when it gets to a point where it's affecting your pitching," Francona said, "it's hard to put a number or a date on it, but I think sometimes you kind of step in, grab a guy and go, 'Hey, come on. Tell us more.'"
Jordan Bastian is a reporter for MLB.com. Read his blog, Major League Bastian, and follow him on Twitter @MLBastian. This story was not subject to the approval of Major League Baseball or its clubs.