Rox run out of chances amid Braun's walk-off 1B
Matzek solid in six, but bats unable to build on Rutledge's homer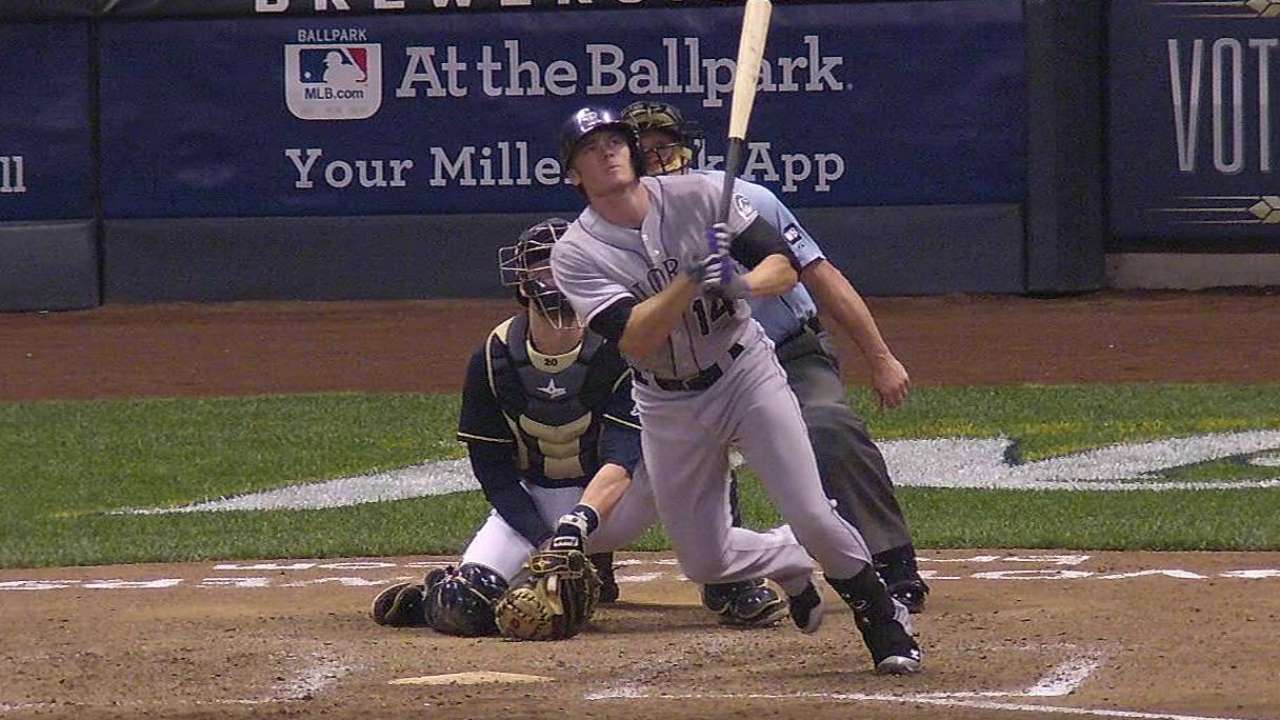 MILWAUKEE -- Tied in the bottom of the ninth inning in Friday night's game against Milwaukee, the Rockies once again found themselves in the spot in which they have been for much of June: a no-win situation.
With two outs and runners on second and third base, Rockies manager Walt Weiss had to choose between pitching to Brewers slugger Ryan Braun or putting Braun on first base and taking his chances against catcher Jonathan Lucroy, owner of the National League's second-best batting average.
In a meeting on the mound, Weiss told reliever Matt Belisle to begin pitching to Braun. The plan was foiled quickly when the right fielder shot a first-pitch fastball into center field for a walk-off single, sending the Rockies to a 3-2 defeat at Miller Park.
Colorado has now lost 10 of its past 11 and is 7-18 in June.
"It's one of those 'pick your poison' situations," Weiss said of the ninth inning. "I told Matt to give [Braun] a couple pitches and see where we're at. I wasn't going to let him hit in a good hitter's count, and if we got in a bad count, we'd put him on. But it's not a great situation either way.
"I'll always take responsibility for that one, because we could've put him on. It's a tough situation for Matt. He's trying to get him to expand for a couple pitches. A ball maybe a little up, and Braun went up and got it."
Braun said he simply took advantage of a missed spot by Belisle.
"I saw where he was setting up off the plate, so I don't think they were trying to throw it where he ended up throwing it," Braun said. "But as a hitter, you always have to be aggressive. I don't think you ever want to get into a defensive mode in that situation and think that they're not going to pitch to you. So you have to be prepared and ready to hit."
Braun's walk-off single ended a low-scoring affair in which Colorado came back to tie the game twice -- including a game-extending home run by Josh Rutledge in the ninth inning -- only to see the bullpen give Milwaukee the lead back. It also spoiled a strong start from rookie left-hander Tyler Matzek, who provided the Rockies with six innings of one-run ball, allowing only five hits to a potent right-handed Milwaukee lineup.
After a slugfest between two of baseball's top-scoring offenses in Thursday's series opener, both offenses struggled in the early going Friday. Making his fourth Major League start, Matzek shut the Brewers down for five innings before Milwaukee broke through in the sixth on an RBI single by Lucroy.
"I was just getting in the zone, staying focused," Matzek said of his start. "Mike [McKenry] did a great job calling pitches. It allowed me to not think about anything but hitting a spot. We knew they were an aggressive team, so we were going to throw a lot of off-speed once we got ahead."
But continuing a stretch in which very little has gone right for Colorado, Matzek did not get much run support as Brewers righty Kyle Lohse threw a gem of his own. Lohse held the Rockies scoreless until the seventh, when Brandon Barnes' safety squeeze scored Rutledge to tie the game at 1.
But because Matzek had been lifted for the pinch-hitting Barnes, the game's fate was left to the Colorado bullpen, which loaded the bases in the seventh before Adam Ottavino plunked Braun with a pitch to drive in a run.
Rutledge tied the game for the last time with a full-count home run off Brewers closer Francisco Rodriguez, but the celebration did not last very long as Belisle pitched himself into trouble right away. Belisle allowed a leadoff single to Mark Reynolds, who advanced on a sacrifice bunt. Belisle intentionally walked Scooter Gennett, and a passed ball allowed the runners to advance to second and third.
Belisle struck out Rickie Weeks on a slider before Braun's first-pitch walk-off.
"[Belisle] threw some good pitches to Weeks and got a big strikeout right there," Weiss said. "The guys, once again, fought to the last out. That's what we've been doing through this tough stretch every single night, just coming up on the short end."
Though there were several positives to take from Matzek's performance, the Rockies were left with another disappointing loss.
"I mean, we always want to win," Matzek said. "That's probably going to sting a little more. We came back, we did really good offensively late to put that game back where we were, and they just pulled out a win. That stings."
Caitlin Swieca is an associate reporter for MLB.com. This story was not subject to the approval of Major League Baseball or its clubs.