A's overcome blown lead, rally in ninth to beat Fish
Reddick ties it in eighth, Crisp scores on overturn in go-ahead frame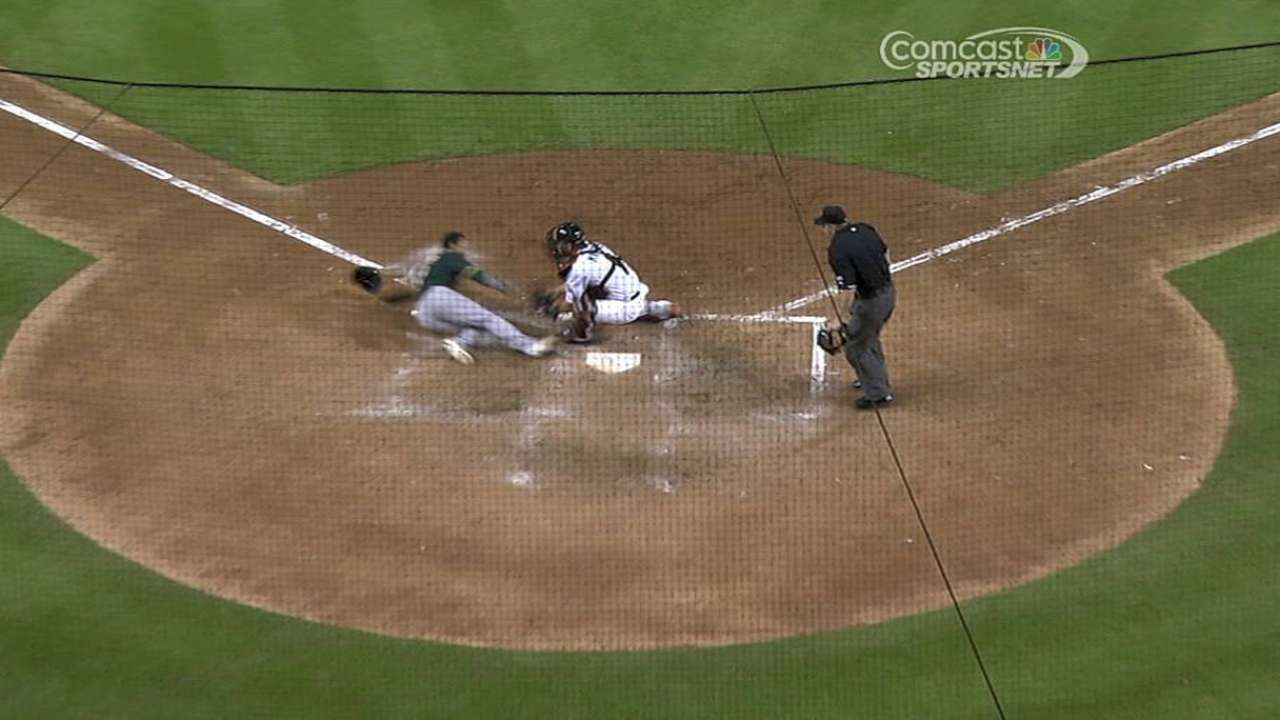 MIAMI -- The A's descended upon Miami for the first time in 11 years on Friday, and they made their arrival quickly known, jumping out to an eager four-run lead. It didn't last, but it didn't matter.
The Marlins did all of their work in the sixth inning, busting out for five runs on six hits, but it was the A's who had the final say in this one, getting a run back in the eighth and four more in the ninth for a 9-5 series-opening victory at Marlins Park.
For the A's, who forge on with baseball's best record at 49-30, it marked the first time all year they had blown a lead of at least four runs.
They had not given up as many as six hits in a single inning this season, either.
But overcoming a deficit, that they have done on plenty occasions.
"We just go out there and keep battling," said Coco Crisp, at the forefront of a critical ninth inning. "Whether we're going to come back or we're not, that's what we do. Fortunately we did today."
Following Miami's sixth-inning outpour, the A's were set down in order in the seventh, but they came back in the eighth to tie the game, getting a two-out base hit from Stephen Vogt and an RBI triple from Josh Reddick.
Both would knock in runs in the ninth, too.
The inning began with back-to-back hits from Crisp and Alberto Callaspo off Marlins closer Steve Cishek, who offered up a go-ahead RBI single to Yoenis Cespedes -- determined after a crew-chief review overruled the initial call of Crisp being out at the plate on Giancarlo Stanton's throw from right field.
"I slid in," said Crisp, "and I said, 'Safe,' because I thought I was safe."
"Once they showed that first replay," said Reddick, "we knew he was safe.
"We don't sit in the dugout with the mindset we're going to score four. We just want to come back with that one. The momentum-pusher there was Coco scoring. He kept it going for us, and after that, just kept going. Sometimes one isn't enough, so you just want to keep scoring as much as you can, and you do that against a good closer, that helps, too. We had eight guys go to the plate against their closer on the first night."
Brandon Moss was intentionally walked, and Josh Donaldson followed with a sacrifice fly in advance of hits from Vogt and Reddick with two outs that topped off the rally.
"For some reason, things just unraveled," said Cishek. "I thought I made a couple of good pitches, but later in the inning, pitches stayed up, the slider was flat and they were very comfortable."
Reddick finished with three hits, Vogt with two despite entering the game in the fourth after catcher Derek Norris exited with lower back tightness.
"That just shows what kind of character we have, what we've been doing all year, the last couple years really," said starter Jesse Chavez. "We don't give up, even if we do have an inning like that. We don't affect the way the rest of the game's going to play out. I think that's the big key for us."
Chavez, who didn't allow a run through his first five innings, was responsible for four runs in the sixth, offering up consecutive singles to Stanton, Casey McGehee, Garrett Jones and Marcell Ozuna in advance of his departure.
Enter Dan Otero, a Miami native pitching in front of several friends and family members. The righty reliever proceeded to give up a run-scoring double to Donovan Solano and a game-tying RBI groundout to Jeff Mathis, setting up pinch-hitter Jeff Baker's go-ahead single.
But Ryan Cook and Luke Gregerson combined for two scoreless innings while the A's plotted their comeback, and Sean Doolittle tossed a perfect ninth with two strikeouts to extend his scoreless streak to 26 1/3 innings. His strikeout-to-walk ratio is 55:1.
"Words can't describe it," said Reddick.
So the outfielder made up a new one.
"It's just unhumanly," he offered. "I don't want to say legendary. I'll stick with unhumanly.
"He's fantastic. Once we give him the ball, we know things are going to be shut down."
Jane Lee is a reporter for MLB.com. This story was not subject to the approval of Major League Baseball or its clubs.