Marlins rally from four down, only to stumble late
Ozuna misplay ties it in eighth; overturn leads to big ninth off Cishek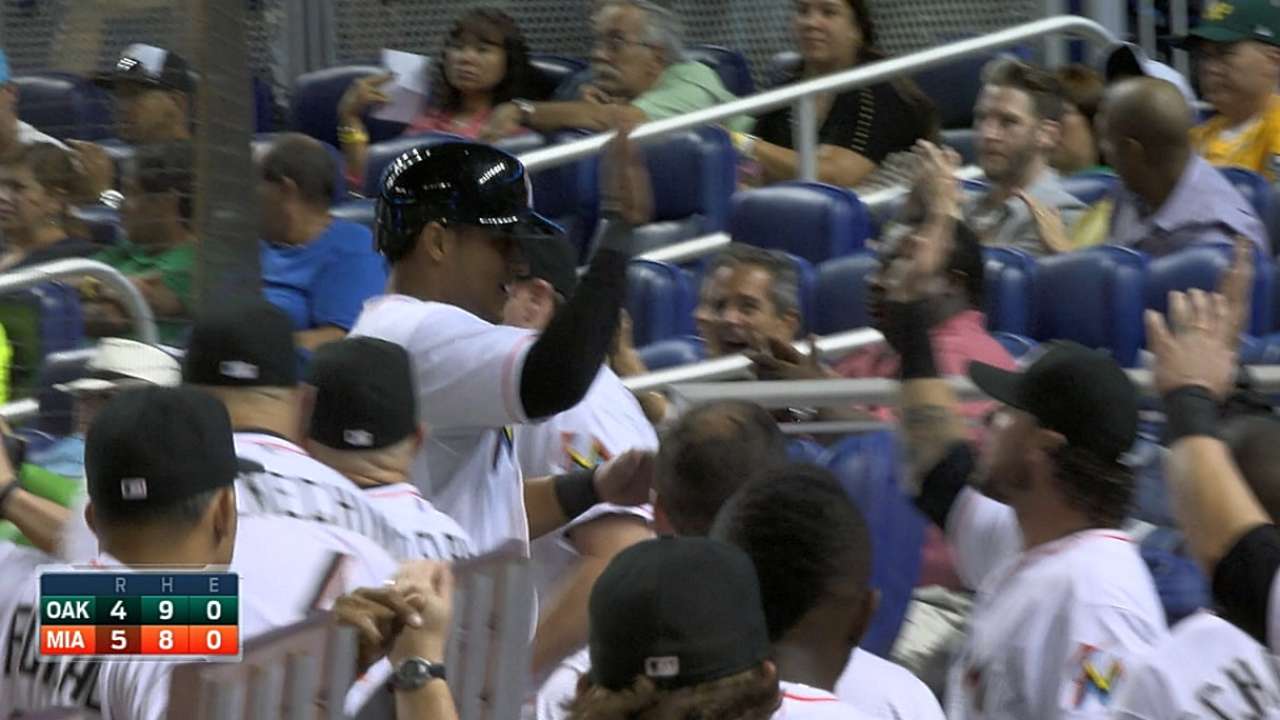 MIAMI -- When all else failed, the Marlins could always bank on Steve Cishek.
On Friday night, not even the reliable 28-year-old closer could get his team back on track.
The A's tagged Cishek for four runs in the ninth inning, pulling out a 9-5 win at Marlins Park.
The Marlins had let a one-run lead slip away in the eighth inning, and Cishek entered with the score even at 5 in the ninth. But the four earned runs allowed matched a career high, initially set against Washington on July 27, 2011, when he wasn't a closer.
"I felt good going into the game," said Cishek, who had his ERA rise from 1.93 to 2.97. "I was confident. Felt normal. For whatever reason, they were wanting to do more damage than I did today, apparently. That's what happened."
Miami, coming off a 14-inning 5-3 loss on Thursday night at Philadelphia, was primed to rebound before Oakland mounted some late-inning heroics.
For the first time since losing eight straight in the first month of the season, Miami players are exhibiting more frustration, tossing helmets and slamming bats afterward.
"That's two pretty tough losses, right?" manager Mike Redmond said. "Of course the guys are going to get frustrated, especially the way we are losing games. We'll be fine. We've got to get on the other end of those. We can't keep losing those games. Those are tough losses."
The Marlins have now lost 13 of their last 19 at home.
In the ninth, an overturned call and a sacrifice fly accounted for the decisive runs off Cishek. Singles by Coco Crisp and Alberto Callaspo set the A's up at first and second, and Yoenis Cespedes singled to right. Giancarlo Stanton made a strong throw to the plate, and Jeff Mathis applied the tag, with home-plate umpire Marty Foster calling Crisp out. But after a review of three minutes and 31 seconds, the call was overturned, giving the A's the lead and momentum.
"I just have got to make a better tag," Mathis said. "Whatever the ruling is, I've got to make the play."
The A's broke it open with Josh Donaldson's sacrifice fly, and successive RBI singles from Stephen Vogt and Josh Reddick knocked Cishek out of the game.
"Just one of those nights, not to make excuses for him, but he was up a lot last night, he was up four or five innings in a row, whether or not that had an effect on him, it looked like it just wasn't his night tonight," Redmond said. "He's been so good for us, but it just wasn't his night tonight."
A lethargic Miami offense, held scoreless through five innings by Jesse Chavez, woke up in the sixth inning.
The Marlins erased a four-run deficit, scoring five times in the momentum-changing frame. Four straight singles off Chavez, including RBI hits from Garrett Jones and Marcell Ozuna, put Miami on the board and led to a pitching change. Dan Otero entered with the bases full, and he surrendered an RBI double to Donovan Solano. Mathis tied it with a run-scoring groundout. Jeff Baker's pinch-hit single to center put Miami in front, 5-4.
"We don't give up, even if we do have an inning like that," Chavez said. "We don't affect the way the rest of the game's going to play out. I think that's the big key for us."
The five runs were one shy of the Marlins' biggest inning of the season. Twice they had six, with the most recent in the fourth inning at the Dodgers on May 14.
Oakland pulled even with a two-out rally in the eighth inning off Kevin Gregg. Vogt singled and scored on Reddick's triple to left. Ozuna gambled and tried to make a diving catch, rather than play it for a single. When the ball rolled away from Ozuna, Vogt scored without a play.
"It was aggressive for the score and the inning; I thought he caught it then I saw it bounce out, but probably a little aggressive," Redmond said.
After Thursday's loss, the Marlins were desperate for a strong start. They were only able to get three innings from Anthony DeSclafani, who suffered a right forearm contusion after being struck by Brandon Moss' comeback liner, which went for an infield single in the first inning.
Although shaken, DeSclafani threw a couple of warmup pitches and remained in the game. He threw 20 pitches in the first, but settled and worked a seven-pitch second inning, and the right-hander got through the third inning at 42 pitches.
Brian Flynn was warming up when Miami was hitting in the third inning, and the lefty entered in the fourth, giving up two runs in three innings.
"That's the scenario that we absolutely didn't want to have happen, of course, happened," Redmond said. "That's why we had Flynn here in case we needed a guy to go an extended amount of time, and he gave us exactly what we needed and fortunately we came back in the game and it was perfect, we had it all set up, then we make another defensive miscue and it cost us the ballgame."
Joe Frisaro is a reporter for MLB.com. He writes a blog, called The Fish Pond. Follow him on Twitter @JoeFrisaro. This story was not subject to the approval of Major League Baseball or its clubs.