Tillman's eight strong lead O's to nightcap win
Cruz knocks 25th homer; Hundley goes yard, drives in Orioles' first run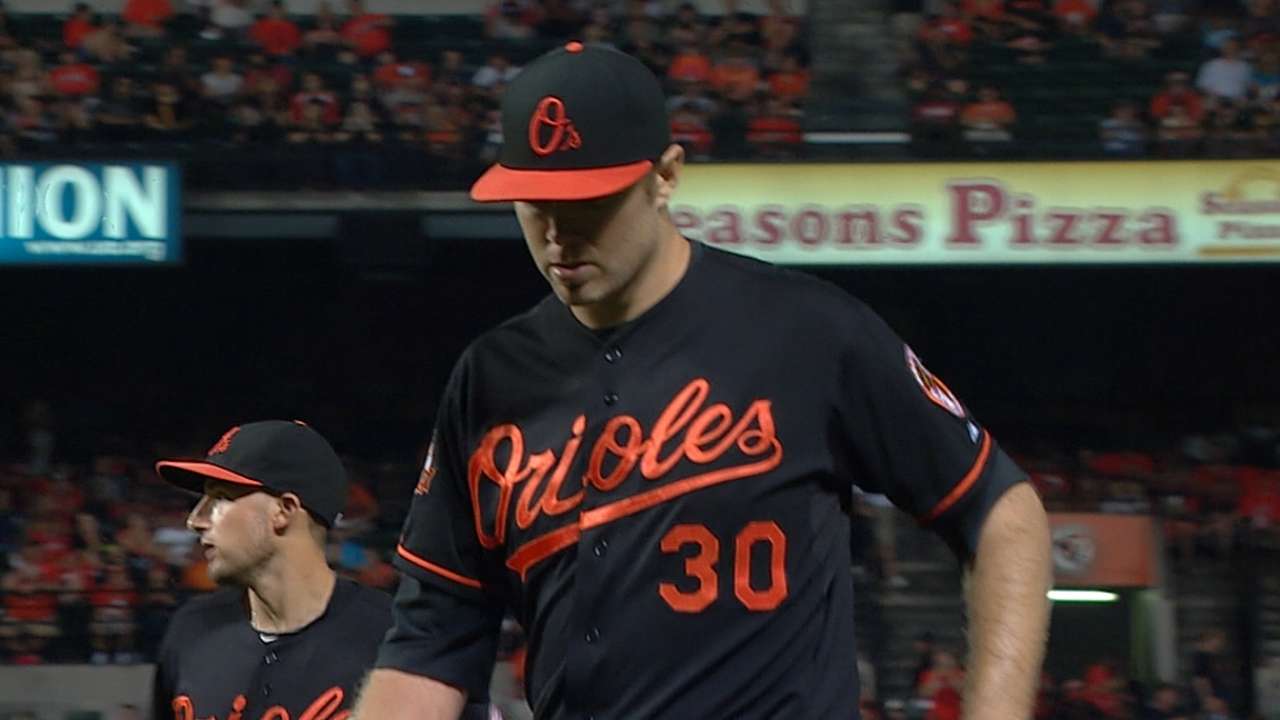 BALTIMORE -- Chris Tillman said he's not all the way back from the slump that slowed him earlier this season, but it might be tough to convince the Rays of that point after the big right-hander's performance Friday night.
Tillman shut down the Rays over eight dominant innings, and the right-hander took advantage of home run help from Nelson Cruz and Nick Hundley, as the Orioles earned a split in Friday's doubleheader with a 4-1 victory over the Rays in the nightcap.
Tampa Bay had won the first game, 5-2, in the afternoon, so the Orioles needed help from Tillman (7-4). He came through and ran into little trouble. He gave up just four hits, striking out two with one walk to earn his first home win this season. He was 0-4 in Baltimore and 6-0 on the road entering the game.
Tillman has run into pitch count problems, especially early in games, at different points this season. That didn't happen this time, as he needed 104 pitches to get through eight innings.
"I was able to throw the fastball for strikes," Tillman said. "Any time you are able to throw to both sides of the plate and mix in your offspeed, it's kind of a recipe for success. I was able to get some early outs in the count."
Tillman now has turned in quality starts in his last four outings after running into some difficulty in three of the four before that. During the rough stretch, he lasted just one inning twice and wound up allowing 20 runs over just 14 1/3 innings, before pitching coach Dave Wallace worked with him on mechanical adjustments that have paid off.
Since June 5, when he gave up five runs and lasted just one inning in a no-decision during an 8-6 loss at Texas, Tillman's rebounded in a big way. He's gone 2-2, but allowed just five runs in 28 innings and looked more like the ace the Orioles hoped for this season.
"I know you all get tired of hearing [about] command of the fastball," Orioles manager Buck Showalter said. "I think consistency of stuff, if that makes any sense. He's carrying more pitches. It's not always velocity, It's crispness, finishing in the zone, a little more of that. He's come so far."
The only run Tillman gave up this time was a James Loney homer in the second for a 1-0 lead, but the Rays had just one threat in the whole game. The Orioles came up with a number of scoring chances, most of which were wasted early in the game against Rays starter Jake Odorizzi. They went 1-for-9 with runners in scoring position against him.
"I had no pitches tonight," Odorizzi said. "I had no fastball command. My slider was bad. It was an all-around bad experience out there. I could not get comfortable. Tonight was just bad in general. Every [pitch] was non-existent. It was a battle from Pitch 1... to Pitch 106."
Still, Odorizzi left with a 1-1 tie, with the only run being a Hundley RBI single in the second. Hundley then gave the Orioles the lead for good with a homer leading off the sixth. He crushed a 1-0 pitch from reliever Juan Carlos Oviedo (3-3) into the left-field seats, giving the Orioles a 2-1 lead.
Hundley finished the game 2-for-4 with two RBIs and improved his average to .222 as an Oriole. That was his first home run since the Orioles acquired him from the Padres on May 24, as he's been struggling at the plate since the deal.
"My first 20, 25 at-bats were awful here," Hundley said. "I don't know if that was me trying to do too much with a new team. I don't know. But the last two weeks, I've felt more comfortable. I know I can contribute, and this is a great lineup, great offensive team, and I know I can contribute to it."
Cruz came through in the seventh. Adam Jones (4-for-4) greeted Joel Peralta with a double before Cruz lined a two-run homer over the scoreboard in right to make it 4-1. It was Cruz's 25th homer of the season, tied for tops in the Majors. That was enough for Tillman through eight innings. Zach Britton sealed the win in the ninth for his 10th save, giving Tillman his first win in Baltimore since Sept. 9, 2013.
Tillman's clearly throwing better now, but he wants the improvement to continue in his next start.
"I think it is still coming; it's still a process," he said. "You can't settle. You've always got to keep working. Next time I want to throw my breaking ball better for strikes. You've always got to get better."
Jeff Seidel is a contributor to MLB.com. This story was not subject to the approval of Major League Baseball or its clubs.