Odorizzi battles, but Rays drop nightcap
Right-hander gives up one run in five innings; Loney goes yard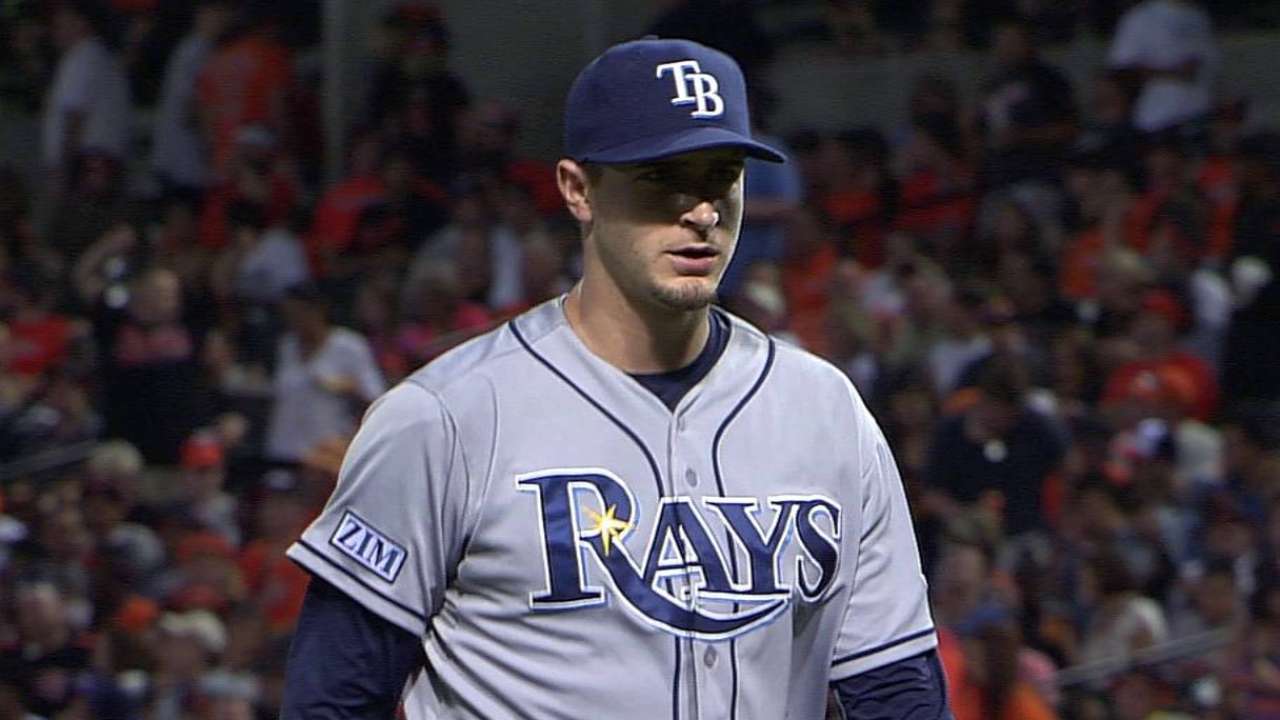 BALTIMORE -- Jake Odorizzi was uneven on Friday night at Camden Yards. He said that himself.
Balls were soaring deep into the outfield. He walked too many batters (four) and threw too many pitches (106) in five innings. However, the rookie limited the O's to just one run, struck out six and got out of two bases-loaded jams.
When the Rays lost to the Orioles, 4-1, in the nightcap of a split doubleheader, it wasn't because of that effort. He exited with the game tied at 1.
"I had no pitches tonight," Odorizzi said. "I had no fastball command, no offspeed pitches, slider was terrible, changeup was equally as bad, my curveball -- I think I threw it twice. It was just an all-around bad, bad experience out there."
After he left, Tampa Bay's luck turned for the worse. Odorizzi was helped by five fly balls that were caught at the warning track. The first strike that relief pitcher Juan Carlos Oviedo threw to leadoff hitter Nick Hundley carried farther -- over the foul pole in left field -- and gave the O's the lead for good.
An inning later, Nelson Cruz followed up Hundley's first home run of the season with his 25th homer -- tied for tops in the Majors -- to give the Baltimore a little breathing room on its way to a split.
Tampa Bay won the twin-bill opener, 5-2.
"It was one of those nights," Rays manager Joe Maddon said of Game 2. "That home run by Hundley put them on top, and we just had to keep it in check. Cruz hits the homer -- what are you going to do?"
First baseman James Loney provided the only Tampa Bay run when he drilled a homer in the second inning to give Odorizzi and the Rays an early cushion.
But the lead was short-lived. Shortstop J.J. Hardy, outfielder David Lough and Hundley rattled off three straight one-out singles in the bottom half of the frame to knot the score at 1.
Tampa Bay couldn't manage much else off Orioles starting pitcher Chris Tillman, who allowed just the one run on four hits in eight innings. The Rays only got one runner in scoring position during the entire game despite a flurry of hard-hit balls.
"Any time you are able to throw to both sides of the plate and mix in your offspeed, it's kind of a recipe for success," Tillman said. "I was able to get some early outs in the count. They squared up a lot of balls, but we have eight great guys behind us, so I have all the confidence in the world in them."
In four of the five innings he pitched, Odorizzi stranded at least one runner in scoring position.
Escaping jam after jam was something he said he couldn't have done earlier in his career -- "Maybe just by pure luck," he said -- and in his final frame, he orchestrated his finest Houdini maneuver.
The righty found himself with the bases loaded and just one out, with Hardy, Lough and Hundley coming up. This time, though, he got Hardy to pop up in foul territory and fanned Lough for his sixth strikeout of the game. Even the typically stoic Odorizzi had to let out a roar.
"It was kind of like an exhale, but a yell," Odorizzi said. "From my standpoint, it was an exhale.
"To be able to get through that with just one run was something that hopefully my teammates respected and the coaching itself respected. I gave it all I had. It wasn't much as the result of stuff, but it was everything I had tonight, and those last two batters were kind of the epitome of 'leave everything out on the field.'"
David Wilson is an associate reporter for MLB.com. This story was not subject to the approval of Major League Baseball or its clubs.