Gattis' improvement with glove helps ASG chances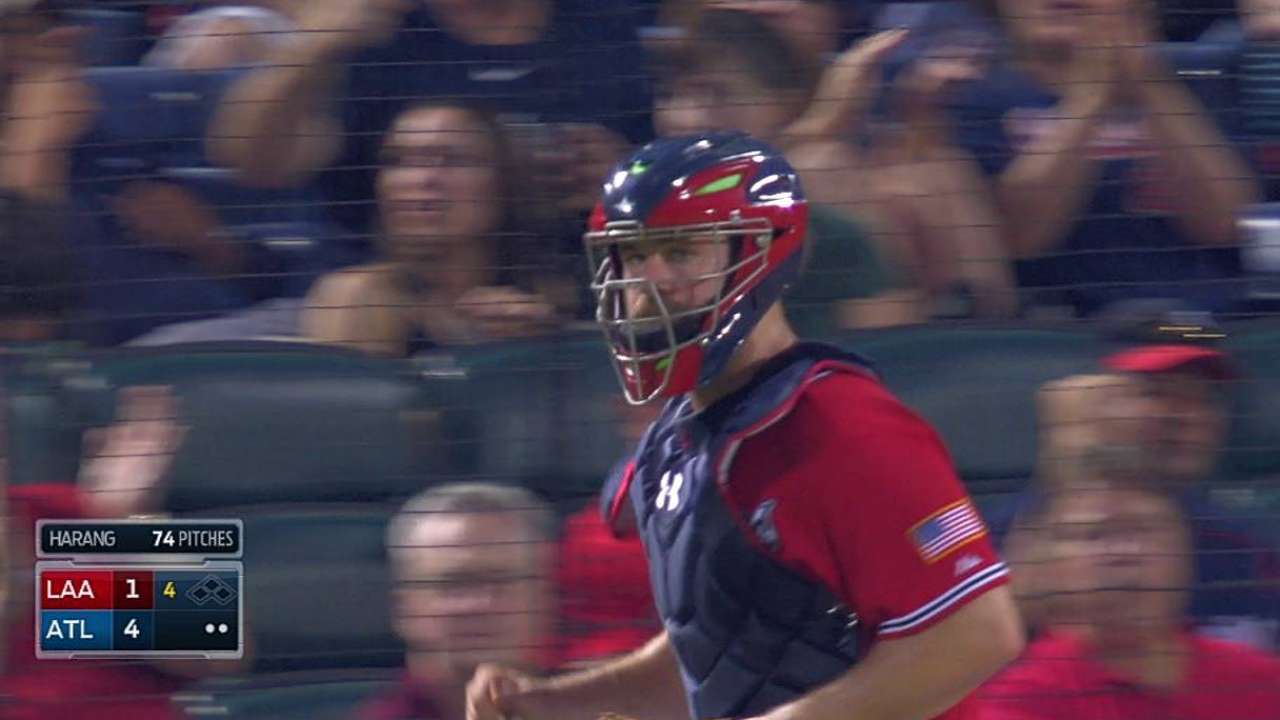 PHILADELPHIA -- Evan Gattis is as deserving an All-Star selection as any other catcher in the National League from an offensive standpoint, but it should not be overlooked how far he's come as a catcher.
"There's a lot of responsibility for a guy that's never done this much catching ever," Braves manager Fredi Gonzalez said. "He's up into the 60s in catching games. I think the most he's ever caught in the Minor Leagues was 44, 43 games. And we ask him to hit in the middle of the lineup."
With Gattis as their primary backstop, Braves pitchers have accumulated the fourth-best ERA (3.34) in the National League entering Friday night's game. He has been effective blocking balls behind the plate, and Gonzalez thinks, from a defensive standpoint, Gattis' "whole game" has improved this season.
"[Especially] for a big guy. Remember how big he is," Gonzalez said. "Gattis is what, 6-3, 260 I think he's listed as? You don't see that behind the plate. That's a big man moving around back there. Almost Carlton Fisk-like. And so it takes a lot of effort, but I think he's done a terrific job. I think he's done a terrific job calling games."
Atlanta's pitching staff has compiled 10 shutouts this year, and Gattis has been behind the plate for the entirety of six of them.
"I owe him like six steak dinners because I told him that every time he catches a shutout, I'll buy him dinner," Gonzalez said. "Pretty soon I'll buy him a cow."
On Friday, Gattis was forced out of the game with right rhomboid spasms. However, it does not appear to be a very serious injury as he is listed as day-to-day.
Gattis came in at fourth among NL catchers in the most recent All-Star Game balloting, trailing Cardinal and leading vote-getter Yadier Molina by more than 1.5 million votes.
Fans can cast their votes for starters at MLB.com -- online or on a mobile device -- using the 2014 All-Star Game MLB.com Ballot Sponsored by Experian until Thursday, July 3, at 11:59 p.m. ET. The 2014 All-Star Game will be played at Target Field on Tuesday, July 15 on FOX.
Erik Bacharach is an associate reporter for MLB.com. This story was not subject to the approval of Major League Baseball or its clubs.