Doubront to remain in Red Sox's bullpen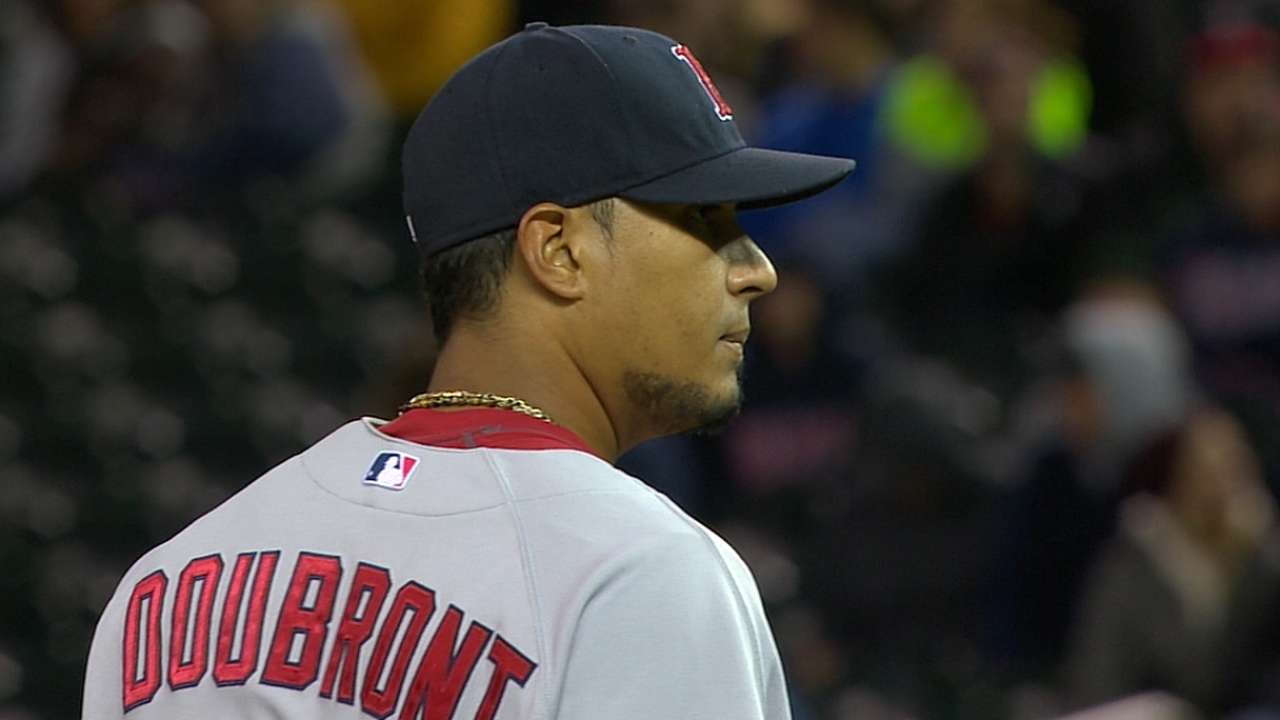 NEW YORK -- Though the Red Sox are still trying to sort the starting rotation out, manager John Farrell did announce that lefty Felix Doubront will stay in the bullpen for the foreseeable future instead of getting a start against the Cubs at Fenway Park next week.
Jake Peavy, who has struggled of late, is likely to pitch Monday as Farrell continues to try to find a way to get a turn for Rubby De La Rosa.
While Clay Buchholz and Doubront were on the disabled list, De La Rosa turned in some standout performances.
"Yeah, right now we would go with Jake Peavy on Monday," said Farrell. "Clay Buchholz Tuesday. And then we'd come back around to Brandon Workman right now on Wednesday. That puts Rubby in maybe a little different situation than we've discussed over the last couple of days. But still, nothing else to follow up with Rubby's situation as of right now."
What changed from earlier this week, when Farrell hinted that Doubront would get a start against the Cubs?
"Chris Capuano's designation has changed that, and that has put Felix in the bullpen going forward," Farrell said.
If the storyline sounds familiar, consider that Doubront was also demoted to the bullpen during last year's postseason.
Doubront wasn't happy about the move back in October, though he did pitch well in relief while helping the Red Sox win the World Series. He isn't particularly enthusiastic about it this time either.
"I see myself as a starter," said Doubront. "Right now, [the bullpen is] the only spot for me. I want to take it. I'd rather be here than the Minor Leagues. That's the spot, so I'm going to take it. I'm going to figure it out myself and do my job as a reliever. It's something that's happening right now."
Part of the problem both last season and again this season is that Doubront has been prone to bouts of inconsistency.
"He does view himself as a starter," said Farrell. "But as it was explained to him, that's where our need currently is, in the bullpen for him, and as well as other guys in our rotation that are ahead of him. There's a way to get back in the rotation -- that's pitch your way back into it."
"The situation that we're in right now, I'm the only one who can do that job in the bullpen," Doubront said. "Like I said, it's something that I don't want, but it's there. I have to stay positive and do my work."
Ian Browne is a reporter for MLB.com. Read his blog, Brownie Points, and follow him on Twitter @IanMBrowne. This story was not subject to the approval of Major League Baseball or its clubs.