Offensive woes continue as Ross takes hard-luck loss
Righty's sac fly accounts for sole run; Padres fall to 8-16 in June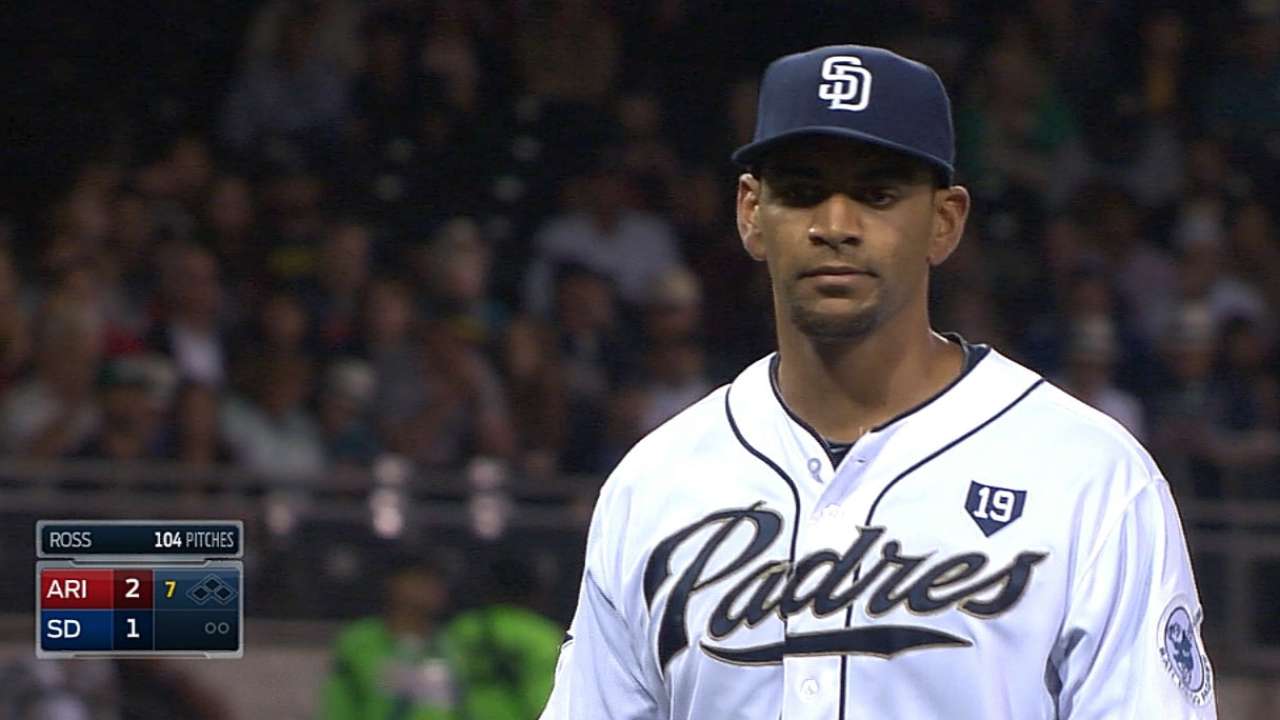 SAN DIEGO -- Tyson Ross' final start in the month of June proved every bit as vexing as the four he made previously, where the sting from a lack of run support would appear ever so palpable.
But not to Ross, who pointed all questions about lack of run support at himself, especially following the Padres' 2-1 loss to the D-backs on Friday before a crowd of 25,897 at Petco Park.
"I could go back and watch film and look at the pitches I need to execute," Ross said. "I've got to go out there and make pitches and that's the bottom line."
In five starts this month, and over 32 innings, the Padres (34-46) scored but one run when Ross was in the game -- and that came in the fifth inning against the D-backs (34-48), and it came from Ross' bat.
"I got kind of lucky," Ross said.
The same couldn't be said for the Padres this month, as they fell to 8-16 in June.
The Padres again had trouble with Arizona pitcher Brandon McCarthy (2-10), who has scuffled against teams not from San Diego this season.
McCarthy allowed one run in seven innings, surrendering six hits with no walks and seven strikeouts. It was every bit as good as the seven scoreless innings he threw at Petco Park on May 3
"He seems to have a little confidence in this ballpark," said Padres manager Bud Black. "His breaking ball was better than I remembered and it looked like his fastball movement, especially inside to lefties. He was working fast and making pitches."
McCarthy not only has both of his victories this season over San Diego, but his ERA in three starts stands at 2.61. In his other 14 starts, the ERA is 5.80.
"I threw a lot of strikes, which was good. I know right now that they're kind of scuffling a little bit and anytime you have a situation like that you want to jump ahead as much as you can and not give them room to breathe," McCarthy said. "I felt like we did a good job of that and then we did a good job of putting them away at the end."
The D-backs got a runner to third base with one out in the third inning, but couldn't score. But one inning later, they got to Ross for two runs, as he walked Paul Goldschmidt to start the inning and then yielded a single to Miguel Montero.
"That leadoff walk to Goldschmidt … I fell behind and wasn't able to get back in the count," said Ross of the walk that started the chain of events that led to two runs.
Ross, who battled a high pitch count most of his start, needed 12 pitches to strike out Aaron Hill, but not before a Ross wild pitch allowed both runners to advance. That loomed big when David Peralta bounced a single up the middle to score two runs.
In that fourth inning alone, Ross needed 29 pitches to get three outs. He bounced back reasonably well -- using 12 pitches in the fifth inning, eight in the sixth inning and then 12 pitches in the seventh inning, his last frame of the night.
All told, Ross allowed two runs on five hits in seven innings with one walk and seven strikeouts. Ross (6-8) lowered his ERA to 3.18 on the season.
"I thought that was one of his best outings," Black said. "He pitches well. It's great to see a developing pitcher."
The Padres got their lone run in the fifth inning when Cameron Maybin and Alexi Amarista reached on consecutive singles. The Amarista single allowed Maybin to run to third with Amarista alertly going to second base on the throw. That's when Ross jumped on a fastball for a sacrifice fly to center field.
With Amarista now on third base, Everth Cabrera struck out and Seth Smith flew out to left field to end the inning.
In the sixth inning, Chase Headley singled and moved to second base on an error from Peralta in left field. He moved up to third base on a grounder to the right side by Yasmani Grandal.
Then, with the infield pulled in, Will Venable grounded to Hill, who threw home to get Headley in a rundown that resulted in an out. But Venable rounded first base too far and was also tagged out in a rundown, this time to end the inning.
"It looks bad when it happens, but it's a common baseball play when you go on contact," Black said.
Corey Brock is a reporter for MLB.com. Keep track of @FollowThePadres on Twitter. This story was not subject to the approval of Major League Baseball or its clubs.