McCarthy finds groove at home away from home
Righty whiffs seven, downs Padres for second time at Petco Park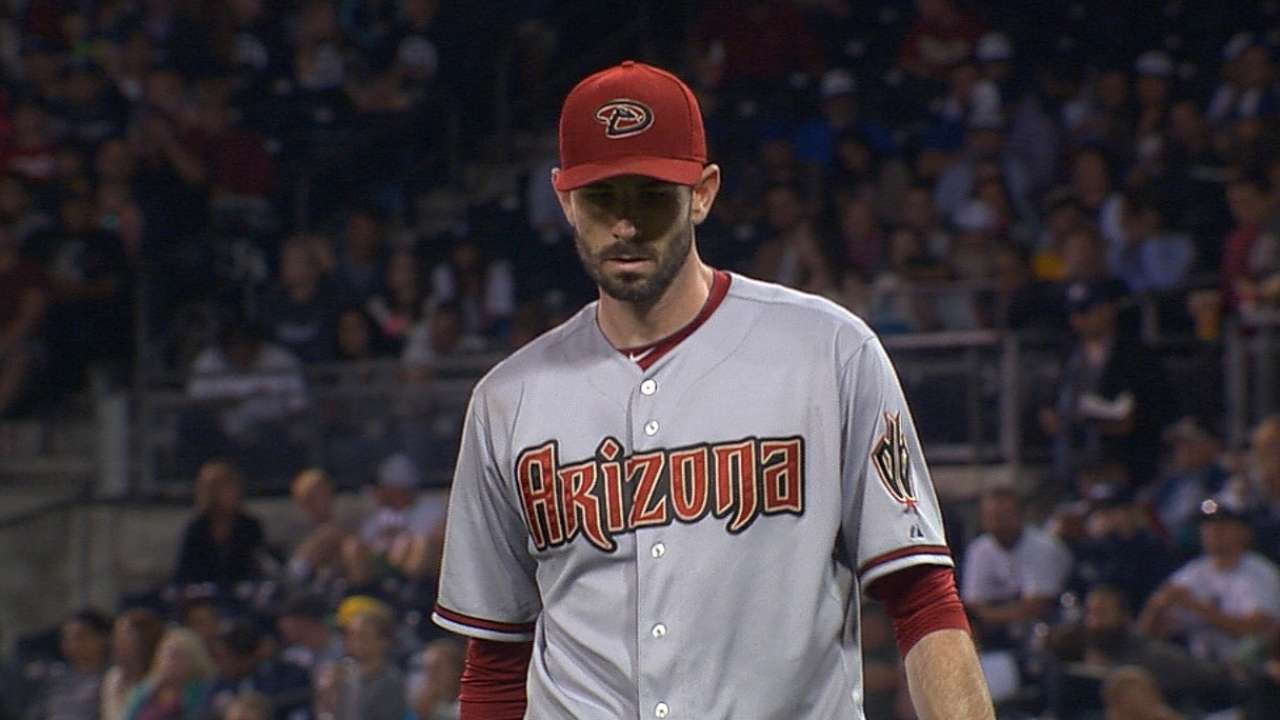 SAN DIEGO -- With the D-backs preparing to deal before the July 31 non-waiver Trade Deadline, Brandon McCarthy's name has been prominently mentioned in rumors.
The veteran right-hander certainly added to his value Friday night as he pitched seven strong innings to help lead the D-backs past the Padres, 2-1, at Petco Park.
"He seems to have a little confidence in this ballpark," Padres manager Bud Black said of McCarthy. "His breaking ball was better than I remembered and it looked like his fastball movement, especially inside to lefties. He was working fast and making pitches."
There is ample reason for McCarthy to feel good at Petco Park, as both his wins this season have come here -- with the other on May 3. In 14 innings at Petco this year, he has allowed just one earned run.
"It's a good place to pitch," McCarthy said. "It's not an easy place to hit from what I understand. It's always a little damp and a little cool. So you get comfortable that way. Maybe some places just kind of fit you and the mound just feels good to you."
In this one, McCarthy (2-10) allowed just one run on six hits and did not walk a batter while striking out seven.
"He was great," D-backs manager Kirk Gibson said. "He threw the ball really good, kept it down when he got in a couple problems. Mac was just in control all night."
The D-backs were able to give McCarthy some run support in the fourth when they broke through against Padres starter Tyson Ross (6-8).
Paul Goldschmidt drew a walk to lead off the inning and Miguel Montero followed with a single to center. A wild pitch by Ross moved the runners to second and third and after Aaron Hill struck out looking, David Peralta grounded a single to center to give the D-backs a 2-0 lead.
Gibson moved Peralta up from his usual No. 7 spot in the lineup to sixth on Friday, and the decision paid off.
"He's just swinging the bat good," Gibson said of Peralta. "I liked the matchup against Ross. It worked out well."
The Padres, meanwhile, struggled to solve McCarthy.
San Diego has struggled to score runs all year with statistically the worst offense in baseball. With that in mind, McCarthy attacked the Padres with first-pitch strikes.
"I threw a lot of strikes, which was good," McCarthy said. "I know right now that they're kind of scuffling a little bit and anytime you have a situation like that you want to jump ahead as much as you can and not give them room to breathe."
Their lone run off him came in the fifth when Ross helped himself with a sacrifice fly to center that scored Cameron Maybin.
McCarthy managed to wiggle out of a jam in the sixth when the Padres had Chase Headley at third with one out and Will Venable at the plate.
Venable hit a grounder to second and, with the infield drawn in, Hill fired a strike to Montero at the plate. Headley was caught in a rundown and after third baseman Martin Prado tagged him out, Prado threw to second and the D-backs retired Venable in a rundown between first and second to end the inning.
"Getting the double play was good," McCarthy said. "I thought we had the out at the plate, that was what I was excited about, but there was still some more work to do. But then to just go ahead and wipe that runner out at the same time is awesome."
Brad Ziegler pitched the eighth and Addison Reed closed things out in the ninth for his 18th save.
Reed, who blew a save in his last outing, was impressive in striking out two of the three batters he faced.
"He was dominating tonight," Gibson said. "He's capable of doing that."
Steve Gilbert is a reporter for MLB.com. Read his blog, Inside the D-backs, and follow him on Twitter @SteveGilbertMLB. This story was not subject to the approval of Major League Baseball or its clubs.