Attention on Arenado as he nears return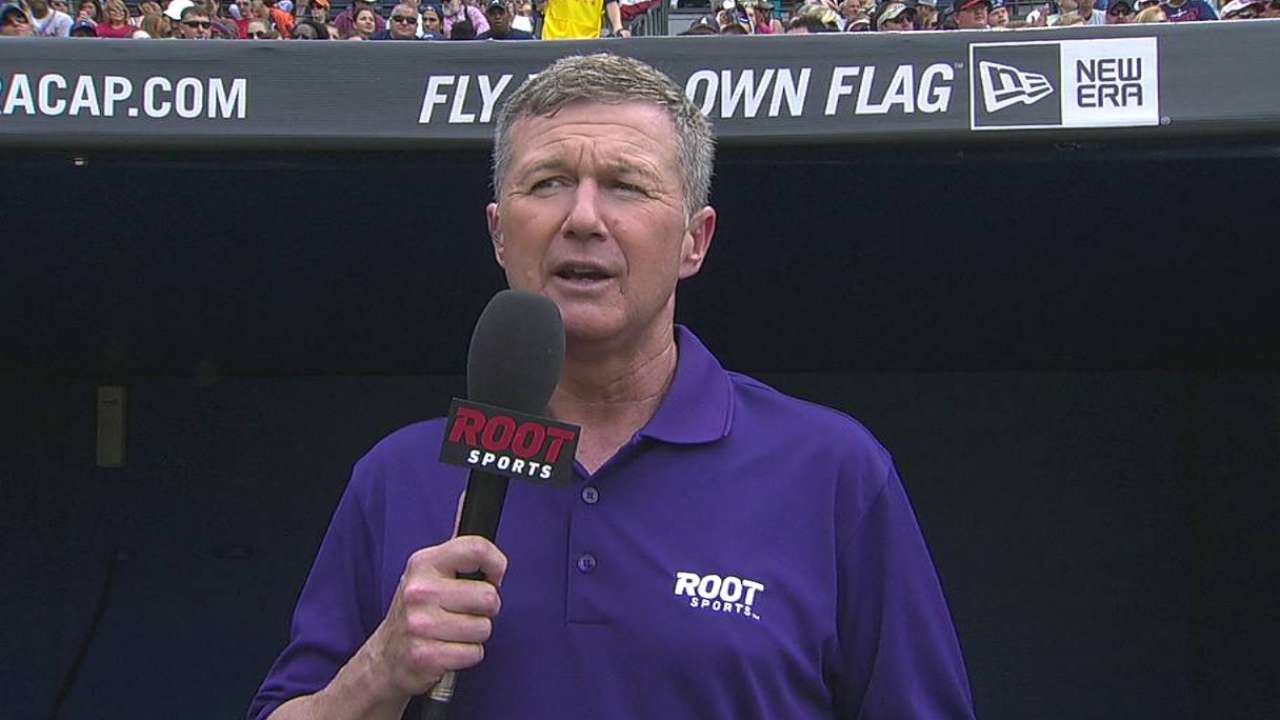 MILWAUKEE -- Pacing around the Rockies' clubhouse before Friday's game, Nolan Arenado looked ready to go. The third baseman alternated between sitting at his locker rearranging his bats and standing in the middle of the room, practicing his swing.
Friday was, after all, the first time Arenado took live batting practice with the team since fracturing his middle finger on May 24. As long as there were no setbacks, Rockies manager Walt Weiss said Arenado would start a rehab assignment with Triple-A Colorado Springs on Sunday. Weiss had no exact timeline for Arenado's return to Denver but sounded optimistic.
"I don't think it's going to be too terribly long," Weiss said. "Nolan's going to be champing at the bit to get back here. A lot of these things you've got to play by ear, the rehab assignments, coming back from an injury. We'll see how he responds and how he's playing. Obviously we want to get him back here as soon as possible."
With news that Arenado was close to returning, the Rockies launched an All-Star Game voting campaign for the third baseman, creating the hashtag "#GIFtedArenado" to refer to his dazzling plays at the hot corner that easily translate into Internet GIFs.
Despite being sidelined, Arenado was fifth among National League third basemen in the All-Star balloting update released by Major League Baseball on Monday. Before the injury, he was batting .305/.333/.489 with six home runs. Arenado is also the reigning Gold Glove winner at third base.
Fans can cast their votes for starters at MLB.com -- online or on a mobile device -- using the 2014 All-Star Game MLB.com Ballot Sponsored by Experian until Thursday, July 3, at 9:59 p.m. MT. The 2014 All-Star Game will be played at Target Field on Tuesday, July 15, on FOX.
Though Arenado was particularly charged up on Friday, Weiss noted that Arenado always brings energy to the team's clubhouse. His return will certainly be a boost to a Colorado team that has been decimated by injuries.
"That's just the way he's wired," Weiss said. "That's who he is. He's the same way when he's playing every day. I joke around and say that's why I never give him any days off when he's playing, because he's tough to live with in here. He's bouncing off the walls in here, so I run him out there every day.
"He's got a lot of energy, a lot of passion. It's good to see that youthful excitement that he brings every day."
Caitlin Swieca is an associate reporter for MLB.com. This story was not subject to the approval of Major League Baseball or its clubs.