Despite three blasts, Blue Jays fall to Chicago
Dickey falters late and Toronto's ninth-inning rally falls short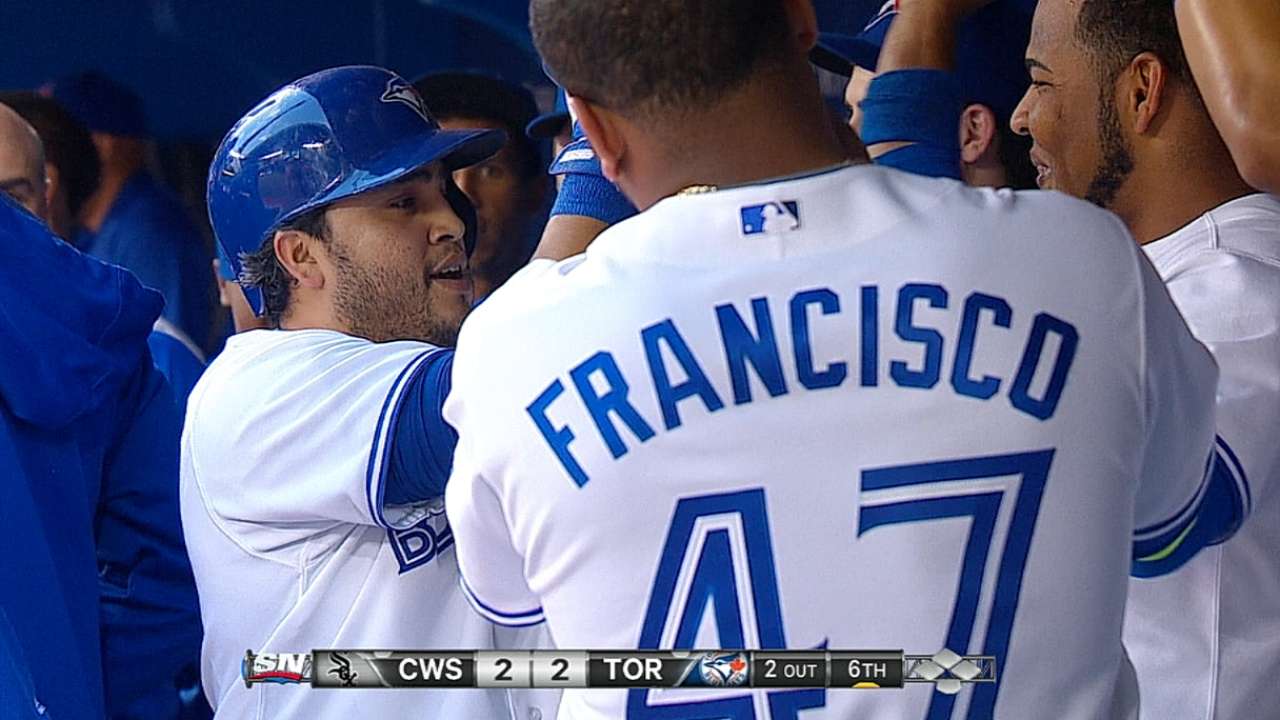 TORONTO -- R.A. Dickey prides himself on being able to eat up a lot of innings, but so far during his Blue Jays career the ability to remain effective late in games has been elusive.
There seems to be a common trend during Dickey's starts; he cruises and then something happens and his outing goes sideways in a hurry. Sometimes all it takes is a pitch or two to completely derail what was on the verge of becoming a very strong outing.
Those late-inning struggles continued for Dickey on Friday night as he allowed five runs, and the Blue Jays' late attempt at a comeback came up short in a 5-4 loss to the White Sox.
"It's a pitch that can come and go," Blue Jays manager John Gibbons said of Dickey's knuckleball. "One inning it can disappear, one hitter it can disappear and all of a sudden it clicks in. It's tough, it's a totally different way of managing the game. He's here to win games, he needs to stay out there."
Dickey has pitched into the seventh inning 12 times this season, but only twice has he made it beyond that point. In those 12 seventh innings, Dickey has retired 16 batters while allowing four homers, 10 runs, 12 hits and five walks.
The numbers hint at the potentially bigger trend this season, which has seen Dickey's effectiveness drop each time through a batting order. Entering play on Friday, opposing hitters were batting .209 with a .637 OPS the first time they face Dickey in a game. The numbers increased to .244 and .690 the second time, with marks of .302 and .946 the third time.
Those issues were prevalent again on Friday night after the Blue Jays tied the game at 2 in the bottom of the sixth on back-to-back homers by Edwin Encarnacion and Dioner Navarro. The tie didn't last long as Dickey began the seventh by allowing a home run by Jose Abreu, who also went deep in the fifth for his fourth multi-homer game of the season. Abreu is now tied with Encarnacion and Nelson Cruz of the Orioles for the Major League lead in home runs with 25.
Dickey walked Adam Dunn and then allowed yet another homer. This time it was shortstop Alexei Ramirez, who hit a deep fly ball off the foul pole in left field. With Dayan Viciedo's blast in the fifth, the four home runs allowed were the most by Dickey since he tied a Major League record with six on April 6, 2006, pitching for the Rangers vs. the Twins.
"It's a terrible letdown. One less home run and we win that game," Dickey said. "It's just a really bizarre outing, to strike out nine guys, get all those swing and misses on what I felt was a really, really good knuckleball tonight.
"Three of the four home runs were possibly mistakes, but normally they're a foul here or a mishit here. But they just didn't miss them tonight."
Home runs were something that plagued Dickey throughout last season, but he appeared to solve the issue earlier this year. He allowed three homers in his first nine starts but has now allowed at least one in each of his past eight outings.
Gibbons pulled Dickey from the game after the Ramirez at-bat. He was charged with five runs on five hits and one walk. The one positive was the nine strikeouts, which included No. 1,000 of his career in the third inning. Dickey threw 65 of his 105 pitches for strikes.
"He's going to give them up, that's what that pitch does," Gibbons said. "He gets a lot of fly balls on that pitch. It's a tough ballpark to pitch in, but that's part of it."
Toronto did make it interesting in the ninth inning when pinch-hitter Colby Rasmus led off with a home run. Munenori Kawasaki and Anthony Gose later followed with a pair of singles while pinch-hitter Adam Lind reached base on an error by third baseman Conor Gillaspie.
The stage was set for a dramatic comeback, but it abruptly ended when Jose Reyes grounded into a fielder's choice and Melky Cabrera hit a weak chopper to second base.
"We had a shot," Gibbons said. "That would have been a nice one to win. It was right there ... We made a run late. That's all you ask for. It's not going to happen every night, but you give yourself a chance."
Gregor Chisholm is a reporter for MLB.com. Read his blog, North of the Border, and follow him on Twitter @gregorMLB. This story was not subject to the approval of Major League Baseball or its clubs.