Abreu, White Sox slug way past Blue Jays
Chicago comes out on top in game featuring seven home runs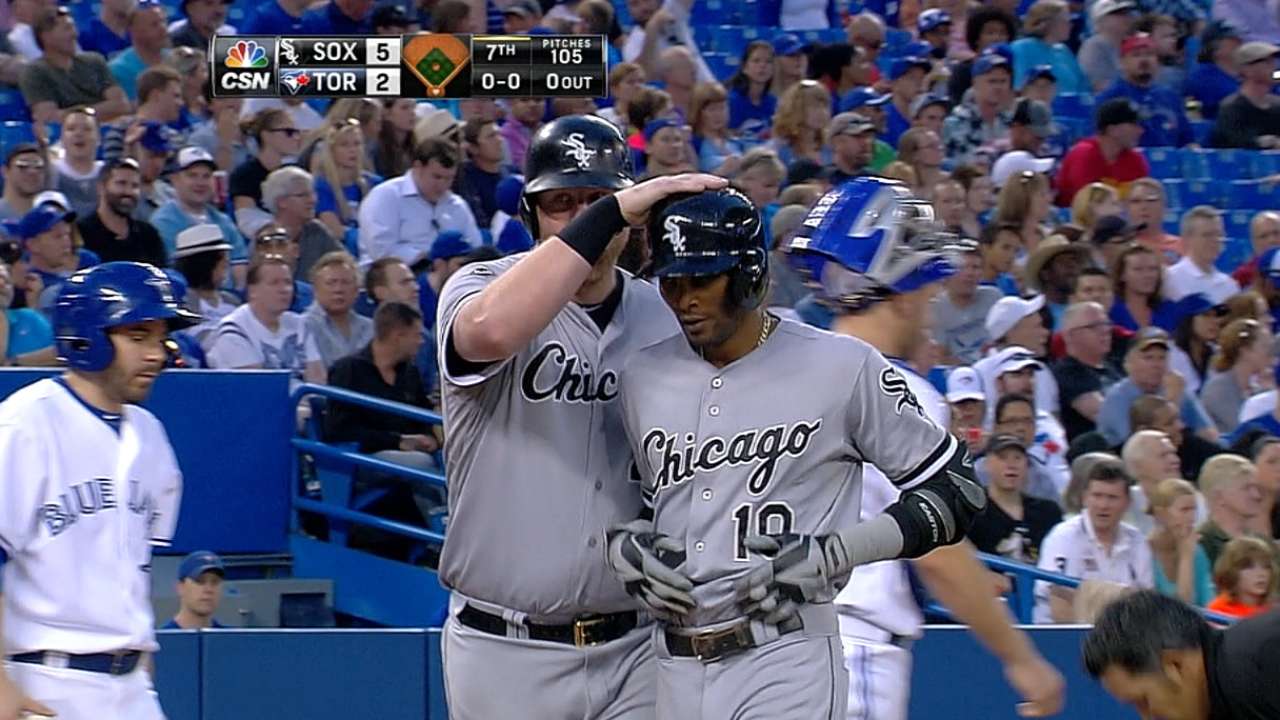 TORONTO -- Jose Abreu got a hold of a few knuckleballs on Friday to lead his White Sox to a much-needed road victory, 5-4, over the Blue Jays at Rogers Centre.
The heavy-hitting rookie tied a Major League record as he cracked a pair of solo shots off of Toronto knuckleballer R.A. Dickey, giving the Cuban crusher his fourth multi-homer game over 67 career contests. Abreu became the first player since Atlanta's Bob Horner (1978) to accomplish such a feat as the White Sox held on for a win over the Blue Jays to even the four-game series at 1.
"I'm glad he's on my team," said White Sox starter John Danks, who delivered a solid six-inning, five-hit, two-run performance as he improved to 7-6 on the season. "I'm glad I don't have to face him."
Abreu's homers were his 24th and 25th of the season, bringing him into a tie for the Major League lead with Nelson Cruz and Edwin Encarnacion, both of whom homered on Friday.
Alexei Ramirez put up a two-run homer and Dayan Viciedo added a solo shot for the White Sox, whose four homers off of Dickey are the most the 39-year-old has allowed since he tied a Major League record with six on April 6, 2006, pitching for the Rangers vs. the Twins..
The Blue Jays made a late run at the game in the bottom of the ninth when -- down two -- they loaded the bases against reliever Ronald Belisario following a pinch-hit homer from Colby Rasmus.
But Jake Petricka came on to close things out and got Jose Reyes to ground into a fielder's choice at second before retiring Melky Cabrera with a groundout as the White Sox improved to 2-7 on their current 11-game road trip.
"Today was a very important win, especially the way we've been playing," Abreu, who was 2-for-3, said through an interpreter. "It was important to regain rhythm as a team, and we played good as a team, did some things to help out our guys. It was important."
The game was largely uneventful and rolled along quietly until the fifth, when Abreu and Viciedo homered to record the first hits of the game off Dickey, giving the visitors a 2-0 lead.
But the Blue Jays tied it up just as quickly in the sixth when Encarnacion and Dioner Navarro launched back-to-back shots to even the score at 2.
That lead was only momentary, however, as Abreu sent his second solo shot of the night to dead center field, just out of the grasp of a leaping Anthony Gose.
"I have to thank God I was able to get a good swing on those pitches," Abreu said. "The knuckleball is a hard pitch to hit."
After Adam Dunn walked, Ramirez went deep to knock Dickey from the game while increasing the White Sox lead to 5-2.
Dickey had cruised early, facing the minimum 12 batters through four innings and only allowing a single baserunner when Abreu reached on error in the second.
But everything came untangled in the fifth as his record slipped to 6-7 on the season.
"I felt very good with it, tonight was a very bizarre outing," Dickey said. "I don't know how else to explain it, to give up five hits and four of them being home runs. To walk one guy and strikeout nine and leave the game after six innings giving up five runs, that's a bizarre outing."
Danks, meanwhile, earned a rare victory over the Blue Jays. He was 1-4 with a 6.46 ERA over six career starts against Toronto entering the game, but came through with a strong performance and didn't walk a batter for the second time this year.
Danks posted his 12th quality start in his 16 outings this season, and with the win snapped a four-game losing streak against the American League East.
"He pitched good," said manager Robin Ventura. "He was sharp. He had a nice curveball, changeup. His last one wasn't as good but this one was the stuff he's been doing recently.
Jamie Ross is an associate reporter for MLB.com. This story was not subject to the approval of Major League Baseball or its clubs.