Sox have no answer for Nuno, blanked by Yanks
Club manages just three hits; Workman tagged for back-to-back blasts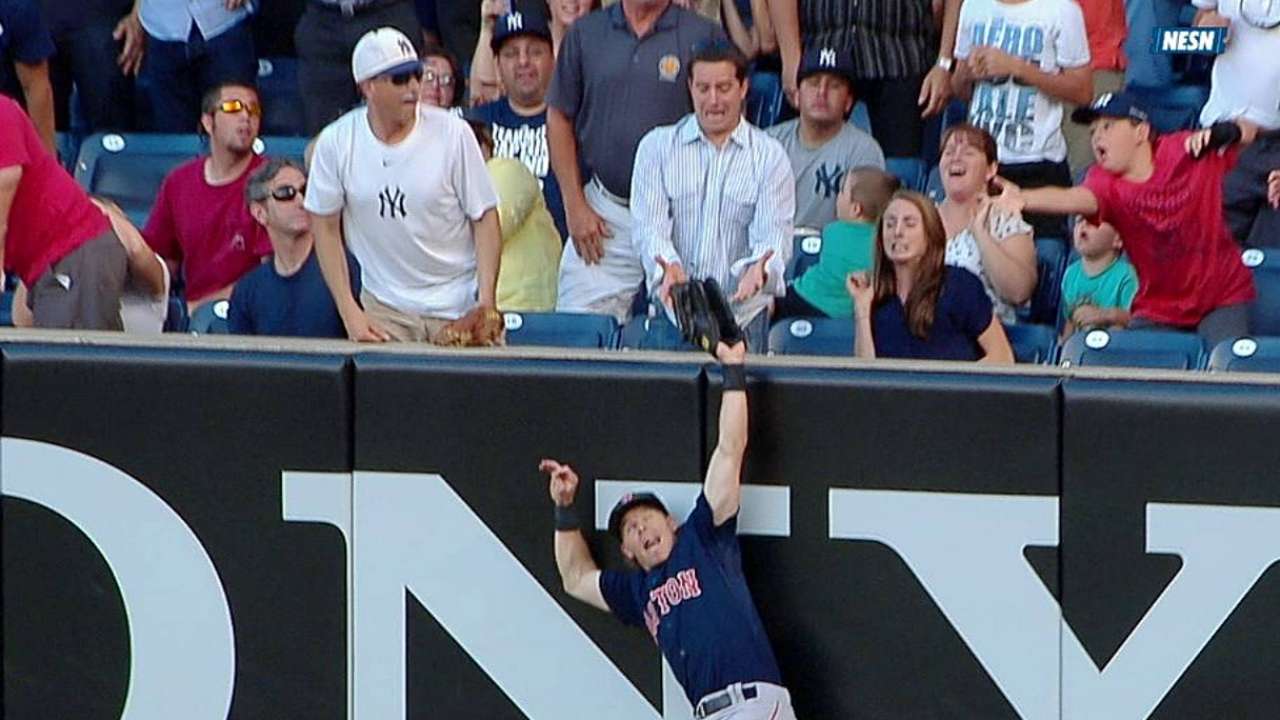 NEW YORK -- The offense remains in hibernation, leaving the Red Sox without the necessary means to string together any kind of winning streak.
Not even the jolt of a rivalry matchup with the Yankees -- the first since April 24 -- could change the current state of affairs for the defending World Series champs, who suffered a 6-0 defeat on Friday night in the Bronx.
This time, the 36-44 Red Sox were shut down by a No. 5 starter in lefty Vidal Nuno. It was the seventh time already this season Boston has put up a goose egg in the runs column.
"Every night, we have the confidence we're going to get out there and bust out," said first baseman Mike Napoli. "It doesn't matter who is pitching. We're going to come here tomorrow and face [Masahiro] Tanaka and we expect to win. It doesn't change. We're all grinding. We just got to get it done."
Can the players the Red Sox have get it done, or does an impact trade need to happen by the July 31 non-waiver Trade Deadline?
"I don't know, man. It's something -- our GM is somewhere right here, ask that question to him," said Red Sox slugger David Ortiz. "I'm just a player."
If the Red Sox looked flat on Friday, it's because they just might have felt that way also.
"Horrible," said Ortiz. "No energy."
The Red Sox had a night game on Wednesday in Seattle and arrived in New York in the early-morning hours of Thursday's off-day. With two games left on a three-city, 10-game trip, Boston is 2-6. In eight games against the Yankees this season, the Red Sox are also 2-6.
"Hopefully, we do better tomorrow and get better," Ortiz said. "This schedule we have is just unbelievable."
The pitching continues to keep Boston in games.
Brandon Workman, aside from a back-to-back homer hiccup in the bottom of the fourth, was again solid for Boston.
But you can't win without any runs. This was the 11th time in 13 games the Sox scored three runs or fewer.
"Well, we've got to continue to put up quality at-bats, continue to take the relentless approach that this group has been known for," said manager John Farrell. "First three innings tonight we get the leadoff guy on but really nothing much to follow. In a couple of situations where we've got men in scoring position, again the base hit with a guy in scoring position has been elusive, it was again tonight. We felt like, coming into this ballgame, we had a chance to do something against their starter, but he made some pitches against us."
Over seven innings, Workman gave up seven hits and four runs, walking two and striking out five.
"Little bit of a grind the whole time," said Workman. "I was constantly pitching with guys on, stuff like that, but I was able to pitch out of some situations. But they tagged me for a couple homers. That hurt."
Aside from two sensational catches in right field by Brock Holt, there wasn't much for the Red Sox to feel good about in this one.
Stephen Drew was at least able to snap out of an 0-for-29 drought with a double to left in the seventh. The shortstop is hitting .135 since re-signing as a free agent.
"I've had good at-bats," said Drew. "I've only got 46 or somewhere in there. I'm not going to pressure myself. I've just got to get myself going. I had no Spring Training. And when you're hitting balls at people, there's nothing you can do about it. I've had some bad at-bats as well. I take that into consideration. You learn from it and adjust and go from there."
The Yankees struck for an early run against Workman. Derek Jeter started the rally with a one-out single to right. Jacoby Ellsbury followed with a double to center. That set up Mark Teixeira for a sacrifice fly to left that made it 1-0.
Holt prevented New York from extending that lead in the second when he made a tremendous leaping catch over the wall in right to bring back what might have been a home run by Brian Roberts.
"Roberts hit a high fly ball. That's kind of the ones you can get back to the wall and find it," said Holt. "I was able to do that and keep the ball in my sight. I didn't jump very high. I didn't really have to. I don't even know if that was going to be a home run or not. I couldn't tell. Just fortunate to catch that."
While the Boston bats were getting stifled, the Yankees got back-to-back homers by Kelly Johnson (two-run shot) and Brett Gardner in the fourth to make it a 4-0 game.
"With the exception of the 1-1 fastball to Kelly Johnson, I thought he gave us a solid outing, seven quality innings with the exception of the one pitch in a one-run ballgame when they go up 3-0," said Farrell. "And on a night where it was difficult for us to get anything going offensively, it loomed large. But at the time, you don't think that's necessarily going to be the case."
Ian Browne is a reporter for MLB.com. Read his blog, Brownie Points, and follow him on Twitter @IanMBrowne. This story was not subject to the approval of Major League Baseball or its clubs.