Bumgarner, bats struggle against Reds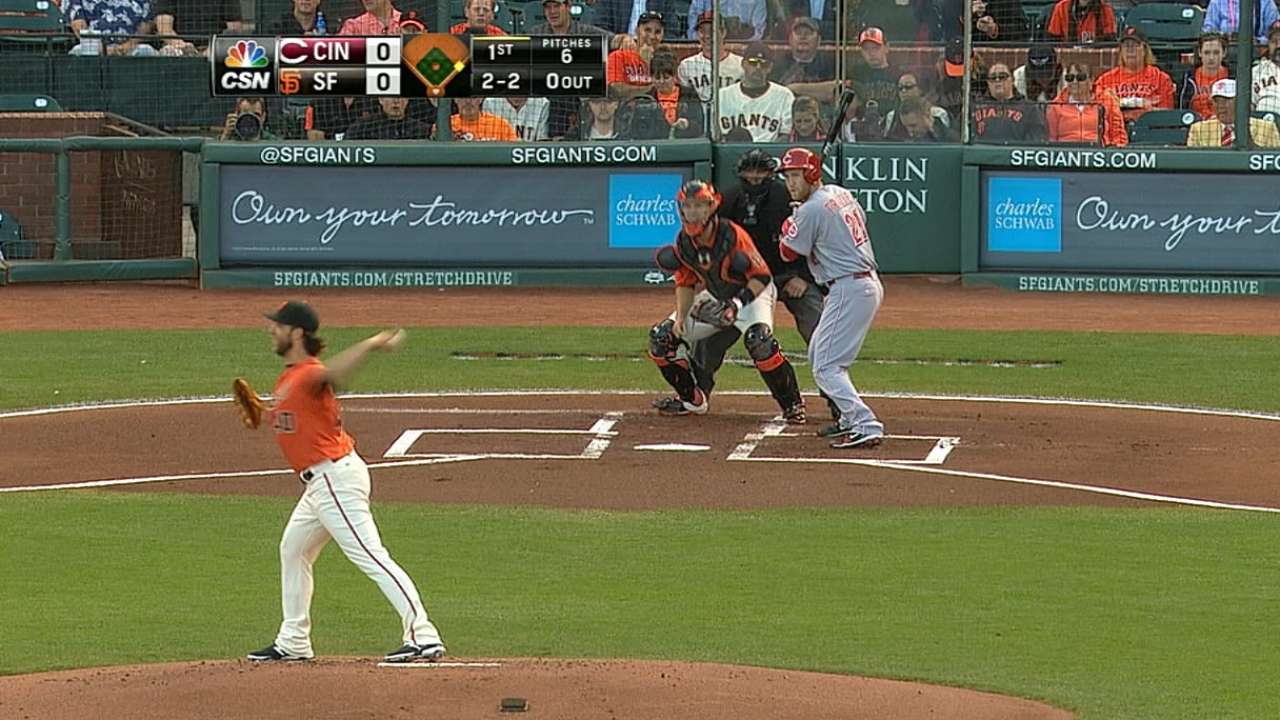 SAN FRANCISCO -- Once upon a time, as recently as last month, the Giants responded aggressively to the type of challenge they faced on Friday night.
Those Giants seemed to have their postseason tickets punched, but on Friday they continued their swoon with a 6-2 loss to the Reds. A five-run fifth-inning outburst against Madison Bumgarner carried Cincinnati to its 12th victory in 16 games.
San Francisco, which had the Major Leagues' best record as recently as June 16, is 4-13 since June 9. That's the Majors' worst record in that span. The Giants also fell to 1-4 in their current 10-game homestand and absorbed their 10th defeat in their last 12 games at AT&T Park.
Fortunately for them, the second-place Dodgers also lost, preserving their two-game lead in the National League West.
This defeat typified the Giants' slump. Scoring two runs won't win most games. Nor will allowing six.
Said manager Bruce Bochy: "This isn't about hitters not scoring runs or pitchers not having quality starts. It's us as a group. We'll have to come out of this together."
Persistence, catcher Buster Posey said, is the Giants' only avenue toward improvement.
"You just come out and play, and hopefully tomorrow's the day, because you have to do it at some point," Posey said.
The Giants looked especially helpless at the plate in this latest setback. They collected three hits in 8 1/3 innings off Reds starter Johnny Cueto (8-5), who entered the game with the Major Leagues' lowest ERA (1.86) and opponents' batting average (.173). Apologists could cite Cueto's statistics as a legitimate excuse for the Giants' meager offense.
"We raised the guy's ERA tonight," Bochy said, referring to Cueto's game-ending 1.88. "That's how well he's been throwing the ball. You don't expect to score a lot of runs when you face a guy with the lowest ERA in the Majors."
But the Giants used to thrive against the best. They amassed four runs (three earned) on six hits in seven-plus innings against Cubs right-hander Jeff Samardzija on May 26, when he was the one with the Majors' best ERA. They humbled St. Louis righty Adam Wainwright when he bore the same status on May 30, racking up seven runs on eight hits in 4 1/3 innings.
The anticipated pitching standoff between Cueto and Bumgarner lasted four shutout innings. Then came the Reds' big fifth, which marked only the fourth time in Bumgarner's career that he yielded five runs or more in a frame.
No. 8 hitter Zack Cozart, whose single in the fifth inning broke a scoreless tie in Thursday's series opener, duplicated the feat. Then, with runners on first and second and one out, Posey pounced on Cueto's bunt and threw to third base, hoping for a force play. But Chris Heisey slid in safely, loading the bases and setting up Billy Hamilton's two-run bloop single to right field. Todd Frazier and Jay Bruce added RBI singles. That accounted for all the scoring off Bumgarner (9-5), who lasted six innings.
Bumgarner didn't feel as though the Reds treated him roughly.
"There might have been a couple that weren't that good a pitch, but for the most part, I feel like we were making [good] pitches and they were just getting hits. So that's a frustrating time," Bumgarner said.
Posey agreed, saying, "The balls weren't really … being hit [on bad pitches]. It seemed like [the Reds] got a little more aggressive the second or third time through [the batting order] and just were able to put some hits together."
Posey also acknowledged that he should have sought the sure out on Cueto's bunt.
"Obviously, in hindsight, I wish I would have thrown that ball to first," he said.
Though half the game remained, the outcome was essentially decided.
"We knew in that inning if we could just put up a couple, Cueto was on top of his game," Cozart said. "It was a big inning for us, and Cueto took care of the rest."
Chris Haft is a reporter for MLB.com. Read his blog, Haft-Baked Ideas, and follow him on Twitter at @sfgiantsbeat. This story was not subject to the approval of Major League Baseball or its clubs.