Panik, Hicks working through struggles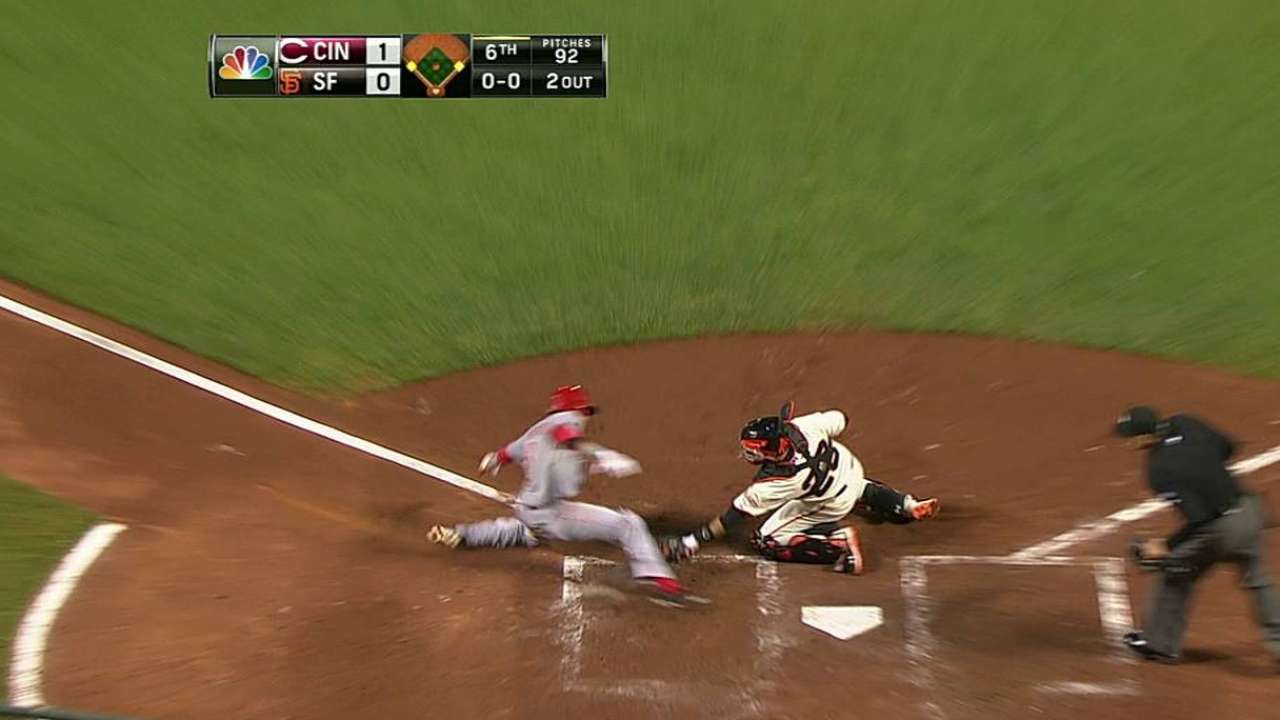 SAN FRANCISCO -- Turning to a player who has one hit in his last 24 at-bats to provide a spark against the starting pitcher with the Majors' lowest ERA isn't conventional, but that's what manager Bruce Bochy did on Friday.
With Cincinnati's Johnny Cueto bringing his 1.86 ERA to the mound, Brandon Hicks was in the lineup, his first start since June 18.
Bochy had been sitting Hicks to settle him down after sensing that the second baseman was pressing in an effort to break out of his slump (eight hits in his last 26 games). Bochy then deemed Friday the right time to see what, if any, progress Hicks has made.
"I think Joe Panik could use a break," Bochy said. "[Hicks is] going through a tough time right now, so hopefully the off-time has helped. We're looking for a shot in the arm right now. He did that for us earlier. Hopefully he can find that again."
Hicks' batting average was last above .200 on May 20, but his hits, while rare, had an impact -- two-out RBIs and home runs. But as May became June, the hits disappeared altogether and the strikeouts mounted; seventy-three of his 194 at-bats have been K's. Entering Friday he was hitting just .170 with eight home runs and 22 RBIs.
Hicks believes that the week spent in the batting cages will be evident, since he's attempted to rework his mechanics in the cage instead of while in the batter's box, which had previously been the case.
"You get in trouble when you're thinking about mechanics and that [stuff] whenever you're in the box," Hicks said. "You want to do good out there, and whenever you're struggling, you try to do more, which gets you in even more trouble, but I feel good, and I'm ready to go."
Panik has experienced a few lapses of his own during his first week in the Majors. A dropped throw to second base on Thursday was his third error through six games, and he's 2-for-16 at the plate.
Panik was initially overwhelmed by the enormity of the Major League crowd but said on Friday that his nerves have subsided.
"You're not going to come in and be a Hall of Famer right away," Panik said. "It's tough, because you don't want to do that right away, and you want to show them what you've got."
Hicks praised Panik's composure and believes it's just a matter of time until he has more success at this level.
"He made one or two errors, but if you watch him, you can't tell he made an error, because he keeps it all together pretty well," Hicks said. "He'll be fine; I think it's just a little jitters."
Ryan Hood is an associate reporter for MLB.com. This story was not subject to the approval of Major League Baseball or its clubs.