Hamilton reflects on missed scoring chance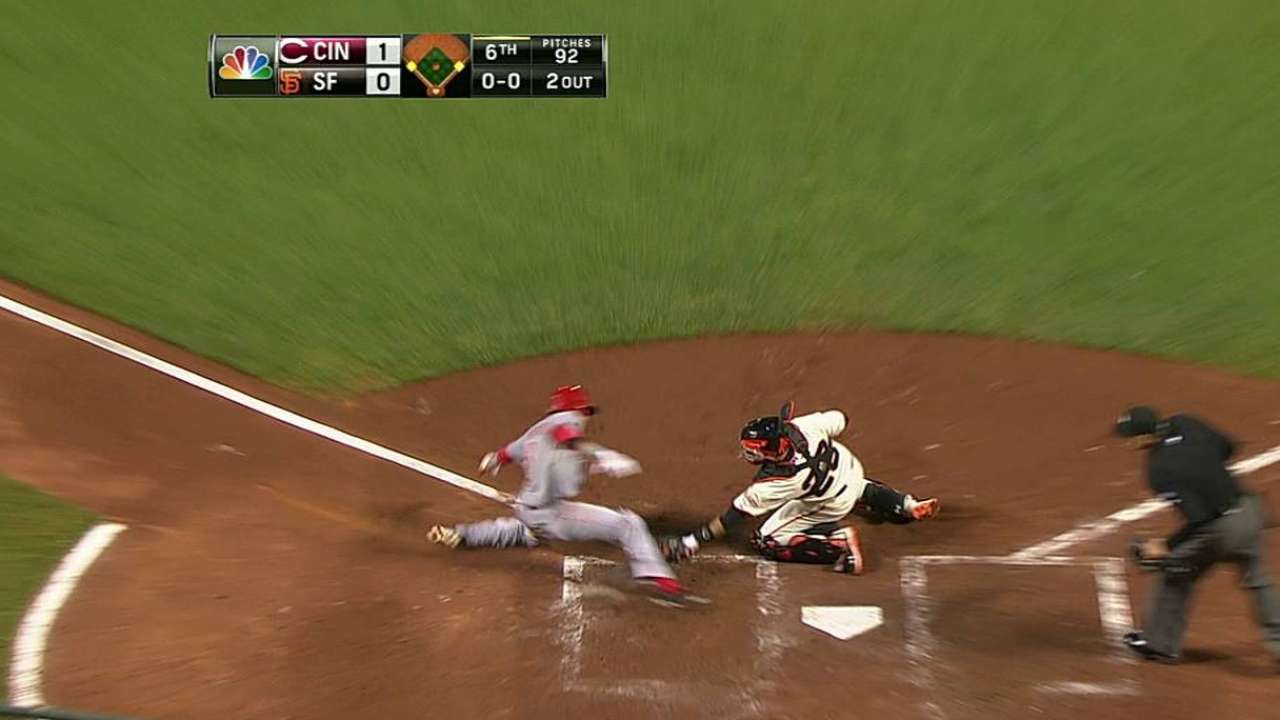 SAN FRANCISCO -- In the sixth inning of the Reds' 3-1 win over the Giants on Thursday, Billy Hamilton tried something that had worked for him earlier this season -- tagging up from third base to score on a pop fly near second base.
But this time Giants second baseman Joe Panik threw out Hamilton at the plate for an inning-ending double play.
Hamilton made the decision to go on his own.
"It's always my call," Hamilton said on Friday. "I always think I have a chance. I saw him backpedaling, I saw him going back, stumbling and not under the ball, so I thought maybe ... I thought I had a chance with him going backwards."
Hamilton's only regret about the play was that he didn't touch home plate. He thinks he might have been safe.
"The umpire called me out right away, that's why I didn't even attempt to tag the plate, not thinking we have replay these days," he said. "When I was walking off, [catcher Buster Posey] tagged me. I didn't feel him touch me at all. [I've got] to make sure I touch the plate no matter what. With replay, you never know what's going to happen on that."
Manager Bryan Price is wary of trying to curb the speedy Hamilton's aggressive baserunning.
"I think it's a process. It's a knife that cuts both ways," Price said. "You don't want to necessarily ... lose his aggressiveness, yet you want him to learn when to [go] and when not to.
"He wasn't a dead out. They still had to make a decent play on him to get him. In the same respect, we had Brandon [Phillips] ready to hit behind him. It's a great play when you score."
Mark Sheldon is a reporter for MLB.com. Read his blog, Mark My Word, and follow him on Twitter @m_sheldon. This story was not subject to the approval of Major League Baseball or its clubs.