Cueto brilliant in Reds' easy win over Giants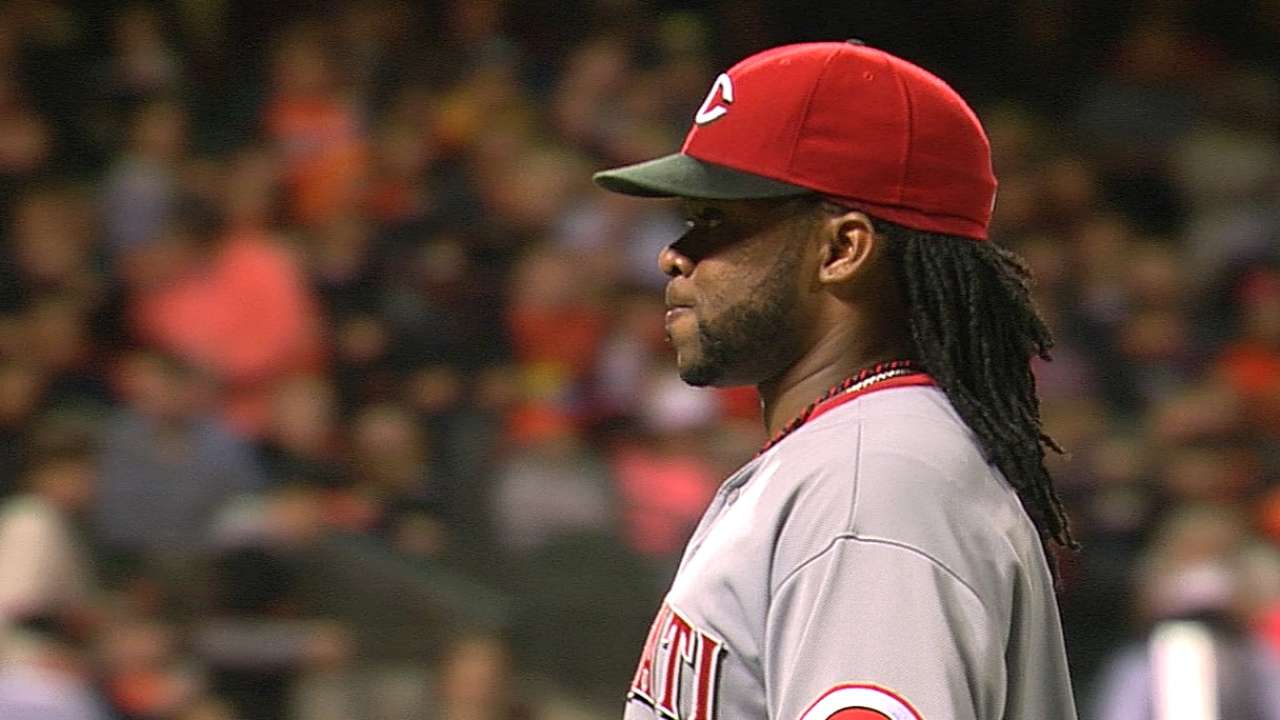 SAN FRANCISCO -- The last time Reds ace Johnny Cueto faced the Giants at AT&T Park was in October 2012, during the National League Division Series. That outing lasted only eight pitches before Cueto exited with an oblique injury that ended his postseason and, ultimately, led to his team's doom.
"That's the past. You don't remember those things," Cueto said through his translator on Friday. "You don't start thinking about those things. All I have to do is get on the mound and throw the game."
Cueto's first batter, Gregor Blanco, hit a ground ball off his knee, but there would no repeated misfortune, and Cueto worked brilliantly into the ninth inning for a 6-2 victory over the Giants.
In 8 1/3 innings, Cueto gave up two earned runs and allowed only three hits, with one walk and three strikeouts. He took a no-hitter into the fifth inning, a quest that ended with Pablo Sandoval's bloop leadoff single off the glove of third baseman Todd Frazier.
The fading Giants -- who have lost 13 of their last 17 -- recorded 15 ground-ball outs against Cueto.
Now with an 8-5 record, Cueto actually saw his ERA go up a couple of ticks, to 1.88, still the lowest in the Majors.
"It's getting boring, man," joked right fielder Jay Bruce, who went 2-for-4 with two RBIs to extend his hitting streak to eight games. "He's done a great job, he really has. He's really, really grown as a pitcher. He's out there controlling the game. It's something I love to see, and I think everyone else on the team loves to see it, too."
Once again, the Reds scored first -- something they've done in 14 of their last 16 games. Most of the damage was done in the fifth inning against lefty Madison Bumgarner. As he did in Thursday's win, Zack Cozart contributed the first RBI, with a single to center field that scored Devin Mesoraco and put runners on the corners.
Cueto followed with a sacrifice attempt in front of the plate, but catcher Buster Posey made a late throw to third base, and everyone was safe. Billy Hamilton blooped a two-run single to right field, and RBI singles followed from Frazier and Bruce to make it a 5-0 game.
"When I get up in big situations, I want to come through for the team," Cozart said. "We knew in that inning if we could just put up a couple, Cueto was on top of his game. It was a big inning for us, and Cueto took care of the rest."
A comfortable Cueto can be uncomfortable for opponents, and it proved to be the case for the Giants.
"When you get five runs ahead, you think, 'Now I've got to go forward. I have to be aggressive,'" Cueto said. "I have to be on top. That's easy."
After Cueto walked Brandon Hicks to lead off the sixth, Tyler Colvin's pinch-hit RBI triple to right field ended the shutout bid. Colvin scored on a Hunter Pence groundout to make it a three-run game, but Cueto retired the next 10 and got another insurance run on Bruce's RBI single in the seventh.
"He's got the ERA for a reason," Posey said. "He moves the ball back and forth [with] high velocity, sink, cut, good changeup. He doesn't give you the same look more than once."
With only 96 pitches through eight innings, Cueto was given a chance to finish the game. But when Pence hit a one-out single and Posey walked, manager Bryan Price called on Aroldis Chapman to close it out.
Cueto lobbied to stay in.
"I wanted to keep going, but that's the manager's decision," he said.
Chapman, working a third straight night for the first time in 2014, got a big out from a nice play by Cozart on Sandoval's grounder deep in the hole. Cozart fired quickly to Frazier at third base for a forceout.
"It was second nature. I knew I didn't have a shot at second or first, so I had to go three," Cozart said.
Chapman struck out Michael Morse with a 102-mph fastball to notch his 16th save.
The Reds have won three in a row and six of seven to improve to three games over .500. They remain in third place and 7 1/2 games behind the first-place Brewers in the National League Central, and they have won four of the last five games Cueto started.
"He's been so good all year," Cozart said. "There have been times we haven't scored runs for him, and it was frustrating as an offense, because we want that guy, as good as he's pitched, to get a win every time he's out there. Tonight was big."
Mark Sheldon is a reporter for MLB.com. Read his blog, Mark My Word, and follow him on Twitter @m_sheldon. This story was not subject to the approval of Major League Baseball or its clubs.