Freeman drives in four to lead Braves over Phils
Teheran delivers strong outing, strikes out nine over seven frames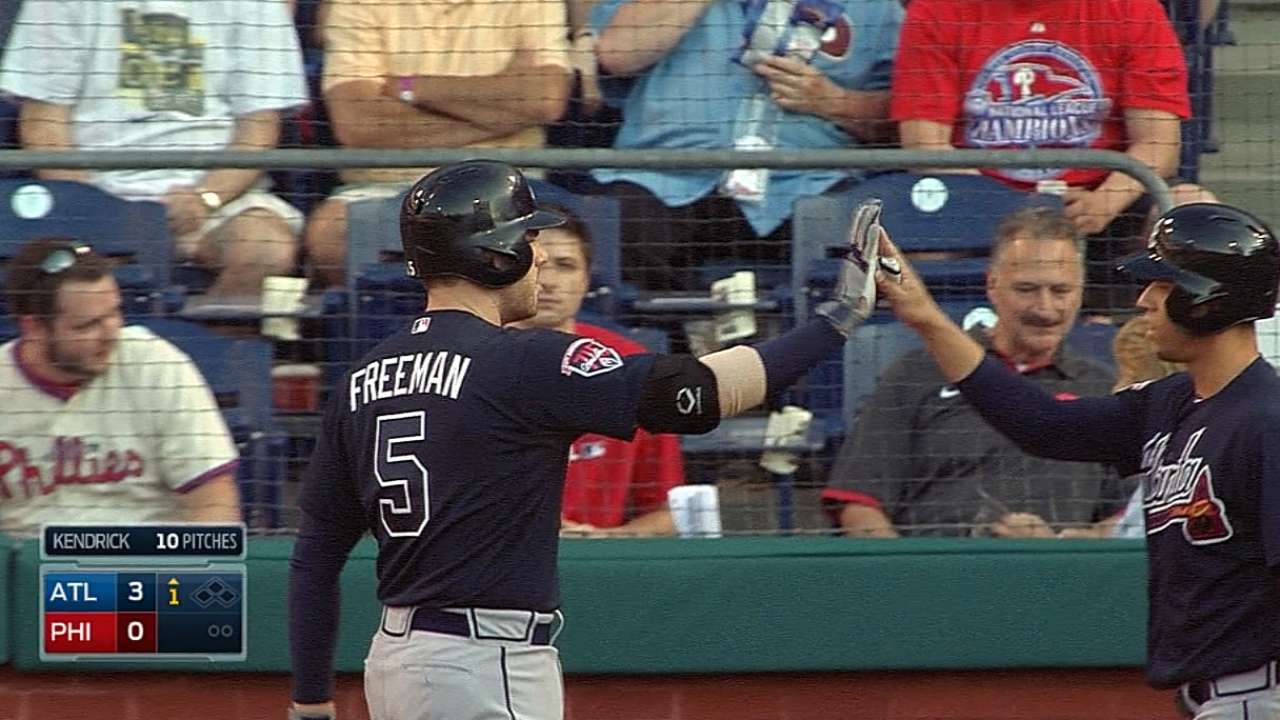 PHILADELPHIA -- Before the Phillies were able to record an out on Friday night, Freddie Freeman had generated more than enough offense for Julio Teheran.
"That's the biggest thing that can happen to a starting pitcher. I got the support of the guys and just tried to do my job," Teheran said.
The Braves knew their best opportunity to score against opposing pitcher Kyle Kendrick would come in the first inning, and they took advantage in their 4-2 victory at Citizens Bank Park.
Kendrick entered the game with a 7.80 ERA (13 earned runs in 15 innings pitched) in the first inning. After the Braves were done with him, he saw his ERA in the opening frame rise to 9.00.
Leadoff hitter B.J. Upton singled and Andrelton Simmons walked to set the stage for Freeman. Atlanta's first baseman brought both runners home on a moonshot to straightaway center field, his 13th home run of the season.
"This is the way he can carry a club," Braves manager Fredi Gonzalez said. "Now we need to get a couple of other guys going the same way."
In the second inning, Freeman, who finished a triple away from the cycle, tacked on his fourth RBI of the night. Simmons singled with two outs, and Freeman's ensuing double allowed him to come around to score and put Atlanta up, 4-0.
"Every time we come to the ballpark, we expect for him to do what he did tonight," catcher Gerald Laird said of Freeman. "That's how good he is."
Teheran, meanwhile, was rolling through the first three frames. He used a double play to get through the first and third, and set down the 4-5-6 six hitters in the second.
"He locates his fastball and his offspeed pitches so you can't really eliminate either of them. You're going to have to hit one or the other," Cody Asche said of Teheran. "That's what good pitchers do. If you see Cole [Hamels] and Cliff [Lee] and those guys they're locating everything. That's what he does."
But the 23-year-old righty ran into trouble in the fourth, though much of it was not his fault.
Ben Revere tripled to lead off the inning, and Jimmy Rollins grounded out in the next at-bat for the RBI.
Then, after Chase Utley singled, the Braves botched a double-play opportunity. Ryan Howard hit a ball to Dan Uggla, who flipped it to Simmons at second base. But the throw was on the opposite side of the bag, and Simmons dropped it as he had to reach across his body.
In the following at-bat, Marlon Byrd flied to left-center field, where Justin Upton took an awkward route to the ball that fell in front of him for an RBI single.
But that was all the Phillies would score. After pitching coach Roger McDowell visited the mound, Teheran got Asche to fly out. Teheran then battled John Mayberry Jr. for 10 pitches before Laird made a mound visit of his own.
"We were talking and trying to get on the same page and not give signs," Teheran said.
With pitcher and catcher back in sync, Teheran used a 94-mph fastball on the next pitch to get Mayberry to foul-tip into Laird's glove to end the threat.
"That last one I threw with all my strength," Teheran said.
Teheran went seven innings, allowing two runs (one earned) on six hits and no walks while striking out nine to lower his ERA to 2.34.
"He probably didn't have the best command of his stuff tonight, but it's fun when he gets two or three pitches working, he can be really tough on hitters," Laird said. "Julio stepped up and made pitches when he needed to and that's what the good ones do."
Laird was a last-minute fill-in for Evan Gattis behind the plate. Gattis, who suffered a right rhomboid spasm during his first-at bat of the game and is day-to-day, was pulled before he had a chance to catch Teheran. But the plan didn't change.
"I was trying to do the same," Teheran said. "Just trying to focus on my game. I know that I throw good. I have good communication with [Laird] and same thing with Gattis and just try to pitch my game."
Laird stretched before the game and took batting practice, so when his number was called 30 minutes after first pitch, he was ready to go the distance.
"He's a professional," Gonzalez said. "He's a guy that's been around the diamond for a long time and we're lucky to have a guy with experience as a backup catcher."
Both Jordan Walden and Craig Kimbrel put the leadoff man on in the eighth and ninth, respectively, but effectively managed to negotiate the treacherous final innings to grant Teheran his seventh win of the season.
Erik Bacharach is an associate reporter for MLB.com. This story was not subject to the approval of Major League Baseball or its clubs.