Kendrick's first-inning struggles sting Phillies
Righty settles down after first two frames, but offense falls short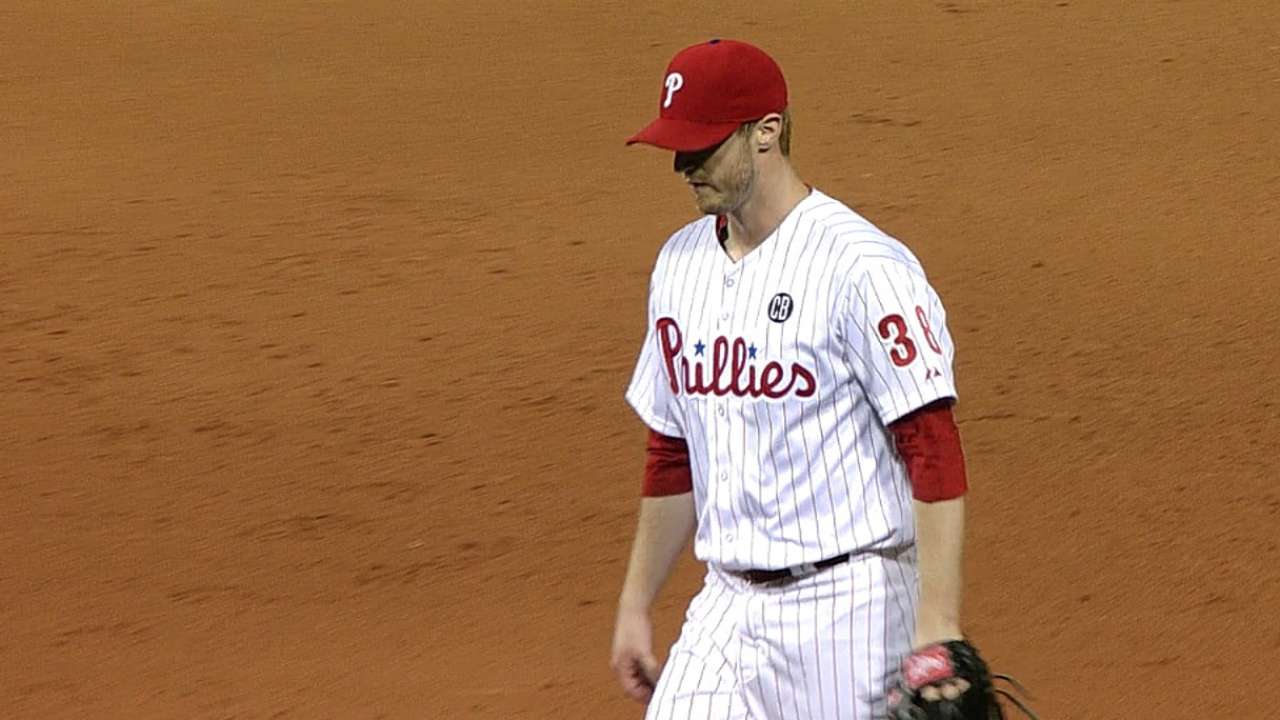 PHILADELPHIA -- Friday represented much of the same for the Phillies.
Kyle Kendrick's first-inning problems returned as the team's home-field struggles continued in a 4-2 loss to the Braves at Citizens Bank Park. The defeat dropped the Phillies to 36-43 overall and 2-3 on an important eight-game homestand against a couple of National League East rivals.
The Phillies have squandered the momentum from last week's five-game winning streak, losing five of their last seven games. They need to win the remaining three games against the Braves in this four-game series to finish the homestand with a winning record. They have won just one of their first five homestands this season as they are just 18-24 overall at Citizens Bank Park.
"It's getting close to July here," Phillies third baseman Cody Asche said. "You've got to start making moves. We have a good chance with three games left with the Braves to make a little bit of a statement here. Hopefully, we can take advantage of these three games and set the tone for our [upcoming 10-game] road trip."
It will have to start Saturday with Roberto Hernandez pitching Game 1 and Sean O'Sullivan making his season debut in Game 2 of a doubleheader.
"We can do something with that," Phillies manager Ryne Sandberg said.
Kendrick has struggled in the first inning this season -- he had allowed 15 runs (13 earned runs) in the first inning in his first 15 starts -- although he had not allowed a run in the first inning in his previous two.
Those struggles came back Friday.
Braves center fielder B.J. Upton entered the night with a .610 OPS, which ranked 162nd out of 169 qualifying players in baseball and 19 points higher than Phillies left fielder Domonic Brown (.591 OPS). He started the game with a single to left field. Kendrick then walked Andrelton Simmons on five pitches to put runners on first and second with no outs.
"First hitter, 1-2, I hung a curveball and then walked a guy," Kendrick said.
Freddie Freeman stepped up and crushed a first-pitch cutter to deep center field for a three-run home run to make it 3-0. The ball sailed straight toward the Phillies' TV broadcasters, who were working a rare game from the center-field seats. Play-by-play man Tom McCarthy stuck out his glove and caught the ball before tossing it back onto the field.
It was a fun moment following an ugly result.
"I just wanted to get ahead on Freeman," Kendrick said. "It was a backdoor cutter, he just put a pretty good swing on it."
Kendrick needed to face five more batters before finally getting out of the inning. He has a 9.00 ERA (16 earned runs in 16 innings) in the first inning this season. He has a 3.34 (32 earned runs in 86 1/3 innings) in every other inning he has pitched.
The only other run Kendrick allowed came in the second on Freeman's RBI double.
"It's hard to explain," Sandberg said. "He's worked on it and worked on doing up and down [before the game] simulating like it's longer into the game. He just seems to fall behind and be too perfect. That results in some aggressive swings when he's behind in the count. After that, he seems to figure it out."
The Phillies scored a couple runs in the fourth inning to cut the Braves lead to 4-2. Ben Revere started the inning with a triple. The Phillies could have had more with runners on first and second with one out, but Braves right-hander Julio Teheran limited the damage when he got Asche to fly out to center field and John Mayberry Jr. to strike out swinging in an 11-pitch at-bat.
The Phillies had little going after that, not putting a runner in scoring position again until the eighth inning. The Phillies are hitting .145 (8-for-55) with runners in scoring position in their 2-5 stretch.
"I would say the one thing is we haven't hit the ball out here as often," Sandberg said. "Extra-base hits have been harder to come by. I've seen improvement with guys getting on base. But the power ball and getting a few runs on one swing, that's something we have to get better at."
Todd Zolecki is a reporter for MLB.com. This story was not subject to the approval of Major League Baseball or its clubs.