Infante's slam powers Royals in seven-run frame
Homer caps decisive third inning; Mariot earns first Major League win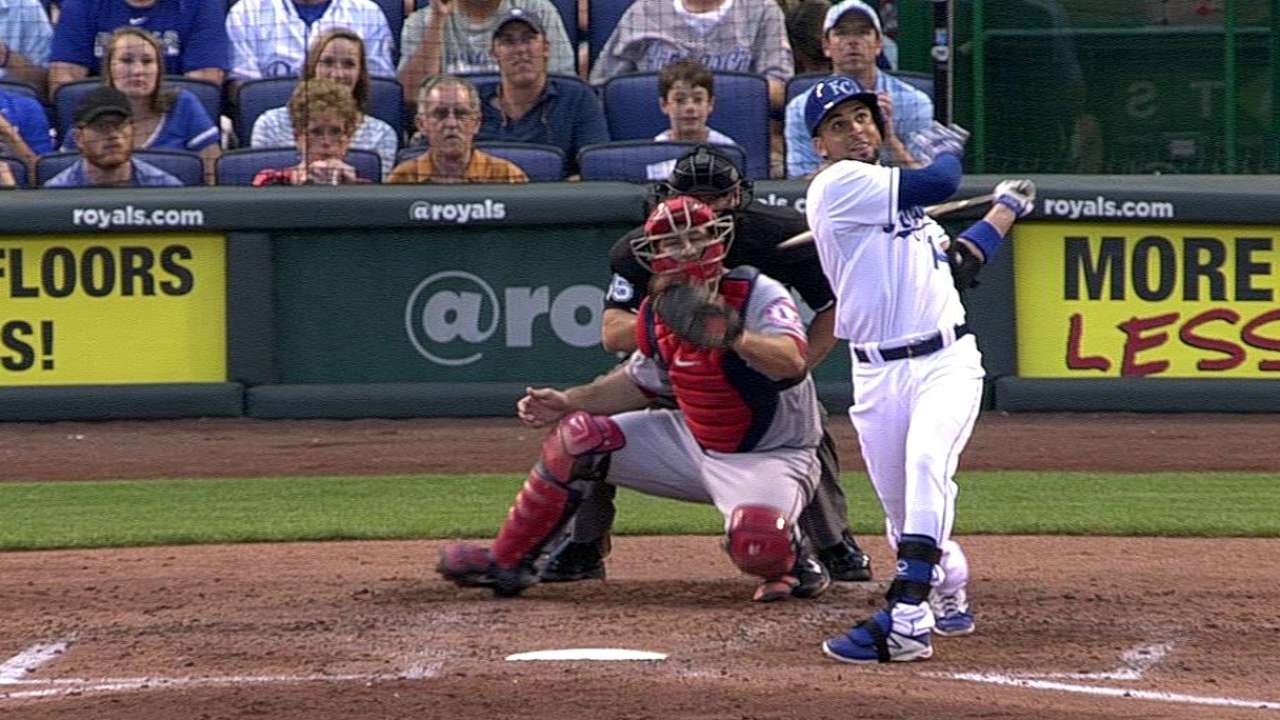 KANSAS CITY -- The ball did not rocket off the bat like most home runs require in spacious Kauffman Stadium.
The crowd did not rise in unison when ball met bat, sensing by the sound or trajectory that it was destined for the Royals' bullpen.
But Omar Infante's first career grand slam capped a decisive seven-run third inning in Kansas City's 8-6 win over the Angels on Friday night.
"It changed everything, it absolutely does. It gives you all that breathing room," said manager Ned Yost, who added that Infante's blast did not look like a homer off the bat.
"No, but it carried well. The ball was really carrying tonight, the wind was blowing kind of from right to left and I knew he hit it good, but it just kept going."
Infante's slam gave the Royals a 7-2 lead in the series opener and helped put an end to the Angels' six-game win streak.
Los Angeles fought back in the fifth as it strung together six straight hits to tally four runs and shrink the deficit to 8-6.
But the Royals' bullpen picked up starter Jason Vargas, who trudged through a difficult outing and exited in the fifth after giving up three homers, including a pair to C.J. Cron. Cron hit a solo shot in the second and a two-run blast in the fifth.
The combination of Michael Mariot, Kelvin Herrera, Wade Davis and Greg Holland no-hit the Angels over the last five innings. The bullpen struck out nine batters, including the final five. Mariot went 1 1/3 innings to earn his first Major League win with Vargas' early exit.
"Their bullpen did a good job when they came in to keep it close and everything, but our bullpen was better," designated hitter Billy Butler said. "You think when you haven't even played five full innings and you've got 14 runs on the board between the teams it's going to be a slugfest, but it kind of settled down after the fifth."
After Vargas imploded in the fifth, Mariot came in and extinguished a bases-loaded, none-out Angels rally by recording three straight outs, allowing just a sacrifice fly to Albert Pujols.
Herrera was next in line as he bailed Mariot out of a sixth-inning jam, while striking out Mike Trout and Josh Hamilton to complete a perfect seventh.
"You don't have to think of them by names. You just go out and get ahead in the count," Herrera said. "If you start thinking those names, you're like, 'Oh, my gosh, what am I going to do?' And they've already beat me, they've won the battle already. So, I just think that they're scared of me. That's how I've to think."
Davis worked a perfect eighth, while Holland struck out the side in the ninth for his 23rd save -- leaving Trout in the on-deck circle.
Trout put the game's first run on the board with a monster home run into the fountains in left-center field. There was some dispute about how far the home run went. The Royals estimated Trout's blast at 445 feet, the longest homer hit at Kauffman this season. ESPN's Home Run Tracker projected it to travel 489 feet, which would be the longest homer hit in the Majors this season.
"Well, I've been here five years and that's the most impressive home run I've seen here," Yost said. "I mean, it was just absolutely crushed."
Both starting pitchers struggled as Vargas conceded six runs in four innings. He worked into the fifth, but he left after surrendering six straight hits and recording zero outs.
"It just wasn't his day today," Yost said. "He really struggled with command of his fastball, he had trouble getting it down. I think all three homers they hit were on fastballs up, just one of those days where it was a fight with his command."
KC posted all eight of its runs in Matt Shoemaker's four innings.
"The ball was up today. I mean, most of my fastballs," Shoemaker said. "We had some pitches down in the zone, but a lot of them were up in the zone. When you're up in the zone, you're going to get hit sometimes."
Lorenzo Cain collected three hits, including a triple, bumping his average to .333 since he took over for Nori Aoki in the leadoff spot.
Responding to an observation that Cain's performance indicated that the outfielder seemed uninterested in relinquishing the leadoff spot, Yost replied: "The way he's playing, I don't think I'm real interested in giving it up either."
Jackson Alexander is an associate reporter for MLB.com. This story was not subject to the approval of Major League Baseball or its clubs.