Angels' streak ends at six in slugfest with KC
Cron belts two homers, but Shoemaker gets tagged for eight runs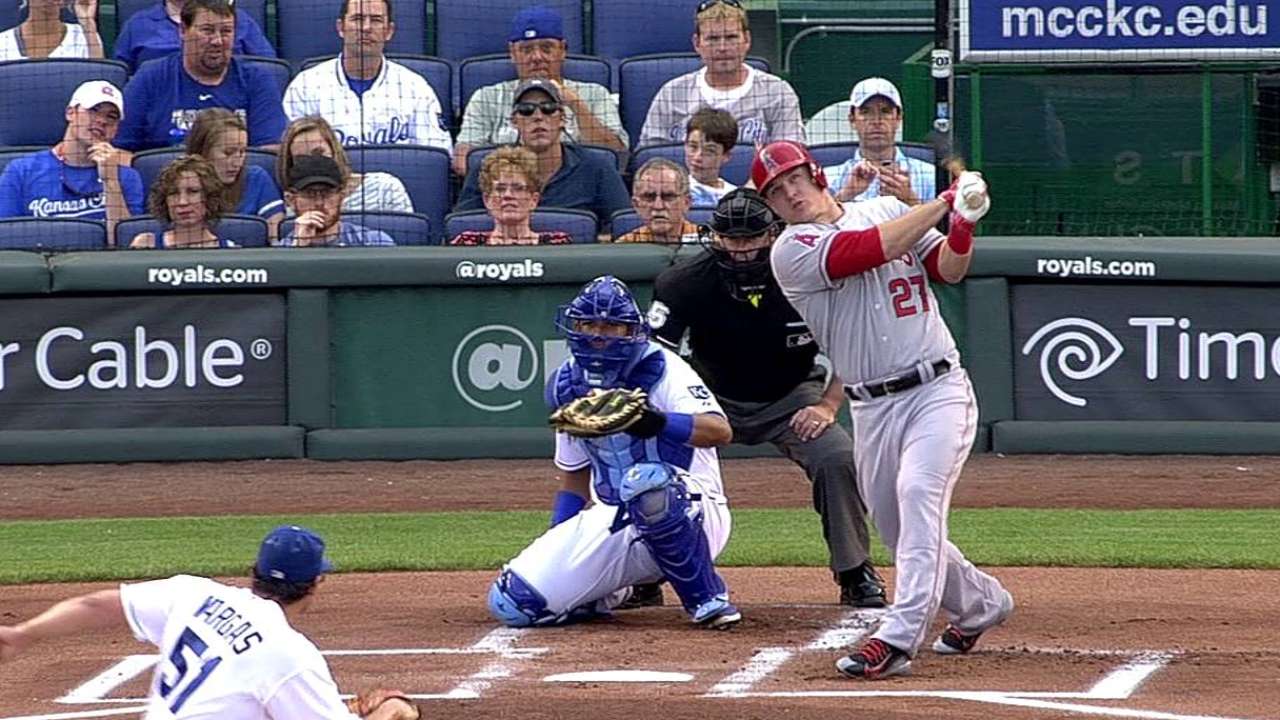 KANSAS CITY -- Friday night's third inning was one of those that never quite seemed to end for Angels starter Matt Shoemaker.
He was charged with seven earned runs, which was half the amount he had given up in 44 prior innings as a Major League starter this season. He faced 11 hitters, allowed five consecutive batters to reach base, yielded seven hits and served up a grand slam.
The Angels' six-game winning streak was snapped by an 8-6 loss to the Royals -- their 12th loss in the last 17 road games -- all in one nightmare inning at Kauffman Stadium.
"Definitely not fun," Shoemaker said. "It's just something that's definitely going to make me tougher. Not that I already wasn't, but you learn from it."
Shoemaker's lesson was one he already knew but could never quite put into practice in the opener of a three-game series: If you leave the ball up, you're likely going to get hit.
The 28-year-old right-hander entered 5-0 with a 3.00 ERA in seven starts, but he left giving up eight runs on 11 hits in four innings and never felt right. It all culminated in the bottom of the third, which was capped by Omar Infante's first career grand slam that came fittingly on a changeup that was supposed to be low and away, but instead sailed way up and in.
"The ball was up today," Shoemaker said. "I mean, most of my fastballs. We had some pitches down in the zone, but a lot of them were up in the zone. When you're up in the zone, you're going to get hit sometimes."
Mike Trout crushed a first-inning solo homer that was estimated by ESPN's Home Run Tracker to have traveled 489 feet, making it the longest shot of the season and of Trout's career, and the Angels roared back despite being down, 8-2, in the fifth.
Rookie C.J. Cron hit a two-run shot, his second of the game and his eighth on the year. Chris Iannetta hit an RBI single to make it a three-run game. And the Angels loaded the bases with none out for the middle of the order, forcing former teammate Jason Vargas out of the game.
"We could've easily put our head down when it was 8-2," Trout said, "but we put together some great at-bats."
And then the Royals' bullpen locked in.
Michael Mariot escaped the jam by giving up only an Albert Pujols sacrifice fly. Mariot, who earned his first Major League win, combined with Kelvin Herrera, Wade Davis and Greg Holland to throw five hitless innings, while striking out nine of the 17 batters they faced.
"Their bullpen did a good job when they came in to keep it close and everything," Royals designated hitter Billy Butler said, "but our bullpen was better."
Shoemaker's outing may have come at a bad time. Tyler Skaggs is expected to return from the 15-day disabled list at some point next week, and at that point the Angels will have to choose between Shoemaker and Hector Santiago -- starting on Saturday -- to stay in the rotation.
Shoemaker has impressed since originally taking Santiago's spot on the staff, beating the likes of Cliff Lee, David Price, Chris Sale and Yu Darvish along the way.
He hopes the Angels see Friday's third inning the way he does: A blip on the radar.
"It's one of those things I don't really think about, to be honest with you," Shoemaker said of the forthcoming decision. "When it's my day to pitch, go out and pitch. I know what I can do, so it's just a matter of going out and consistently doing it. Today was just a little bump in the road. I'll just get better from it, learn from it, and after tonight, forget about it."
Alden Gonzalez is a reporter for MLB.com. Read his blog, Gonzo and "The Show", and follow him on Twitter @Alden_Gonzalez. This story was not subject to the approval of Major League Baseball or its clubs.