Angels weather storm to even set with Royals
Santiago still winless, while Freese's two-run hit keys big 6th frame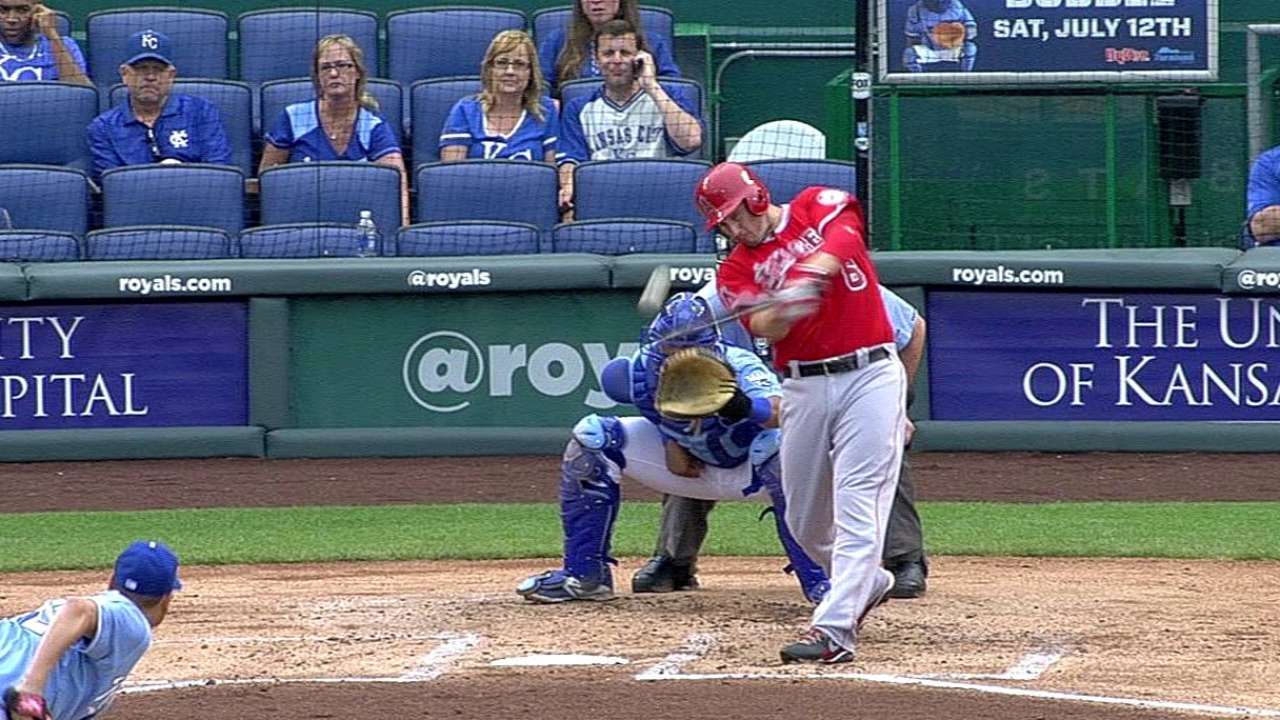 KANSAS CITY -- Angels starter Hector Santiago has suffered through a litany of obstacles in his quest to secure his first victory of the season, from non-existent run support to uncooperative relief pitchers to his own unabated struggles.
Saturday's game at Kauffman Stadium introduced a new wrinkle: Mother Nature.
Heavy rain and nearby thunderstorms caused a nearly four-hour rain delay just after Santiago had wrapped up four scoreless innings to preserve an early two-run lead, knocking him out of the game and making sure his winless streak would extend 10 starts into his first season with the Angels, who earned a 6-2 win over the Royals.
"It seems like anything that can have an effect on a win or me getting a win is happening," Santiago said. "Everybody's like, 'We'll get you a win one of these days.' I'm like, 'As long as we get a win.'"
After six hours and 53 minutes - a stretch that included a seven-minute rain delay and a three-hour, 58-minute stoppage -- the Angels got a victory to even the series at one game apiece.
David Freese knocked in three runs, Albert Pujols drove in a couple more and four relievers kept Kansas City to two runs over the final five innings once play resumed. One of those bullpen arms was Jason Grilli, who was acquired from the Pirates for Ernesto Frieri in a classic change-of-scenery trade on Friday and pitched a 1-2-3 eighth inning on Saturday.
"I got about two hours of sleep," said Grilli, who recorded a lineout, a strikeout and a groundout to preserve a four-run lead. "Now, I'm an Angel. I got some dirt in my cleats. It's good to join these guys. It's an exciting team, as everybody well knows, and I'm just happy to be a part of it."
The Angels, now 11 games over .500 and still 4 1/2 games back of the A's in the American League West, pulled away in the sixth, when Bruce Chen was in his second inning in relief of hard-throwing right-hander Yordano Ventura.
Freese hit a two-run single, one of three hits for the struggling third baseman, while Kole Calhoun and Pujols each added two-out RBI hits as the Angels stretched a two-run lead into a six-run cushion by continuing their recent stretch of timely hitting.
They finished 7-for-15 with runners in scoring position, and are 19-for-42 in that situation over their last four games.
"We talked a lot about how early on, we weren't cashing in on those opportunities," manager Mike Scioscia said. "This week, we're cashing in and you can see how it's reflecting in our record."
The best sign came from Freese, who hit an RBI single in the fourth, added the two-run single in the sixth and laced a double to right-center field in the eighth for his second three-hit game of the season and only his second multi-hit game since June 5. Freese's batting average is now higher than it's been all year, and though it's only .238, he's continuing to see progress.
"I took some good swings; hitting the balls in the gaps," Freese said. "Those have been hard to find this year. Getting through some baseballs, that's the whole key. I think I've seen the ball fairly well this year. But to do what you want to do, especially at this level, you have to get through the baseball as well as you can. Today was a good day of showing that."
Santiago spent most of the afternoon trying to show Scioscia that he could come back out to pitch, even after the long rain delay.
Thirty minutes into it, Santiago went into the trainer's room to put some heat packs on his left arm, mindful of the fact that he needed only one inning to qualify for the win and confident that he could continue to pitch effectively.
"As soon as I put them on," Santiago recalled, 'I walked out of the training room just to keep my arm warm and Sosh came up to me and was like, 'You're done. We're not starting 'til 6.'"
And so, as the delay raged on and his body started to tighten, Santiago could only sit there, occasionally dropping hints that he still feels good and that he's pitched through worse but to no avail. The 26-year-old left-hander is still winless as he wraps up his third month with the Angels, while his 10-start streak matched the second-longest by a starter to begin a season in franchise history.
But he'll gladly take the team win.
And he'll happily settle for having a 2.30 ERA in 15 2/3 innings since returning from Triple-A, especially given the rotation decision the Angels will make when Tyler Skaggs comes off the disabled list early next week.
"You're always nervous about it," said Santiago, who's competing with Matt Shoemaker to stay on the staff. "You're always looking over your shoulder, especially with Skaggs coming back. Somebody [either Santiago or Shoemaker] is going to go to the bullpen, or somebody's going to go to the Minor Leagues to get stretched out. You don't know what's going on. You just keep throwing well, and hopefully you're in the right place."
Alden Gonzalez is a reporter for MLB.com. Read his blog, Gonzo and "The Show", and follow him on Twitter @Alden_Gonzalez. This story was not subject to the approval of Major League Baseball or its clubs.