Halos' miscues prove costly in rubber game
Pujols' baserunning blunder in 6th, error in 9th aid Royals' victory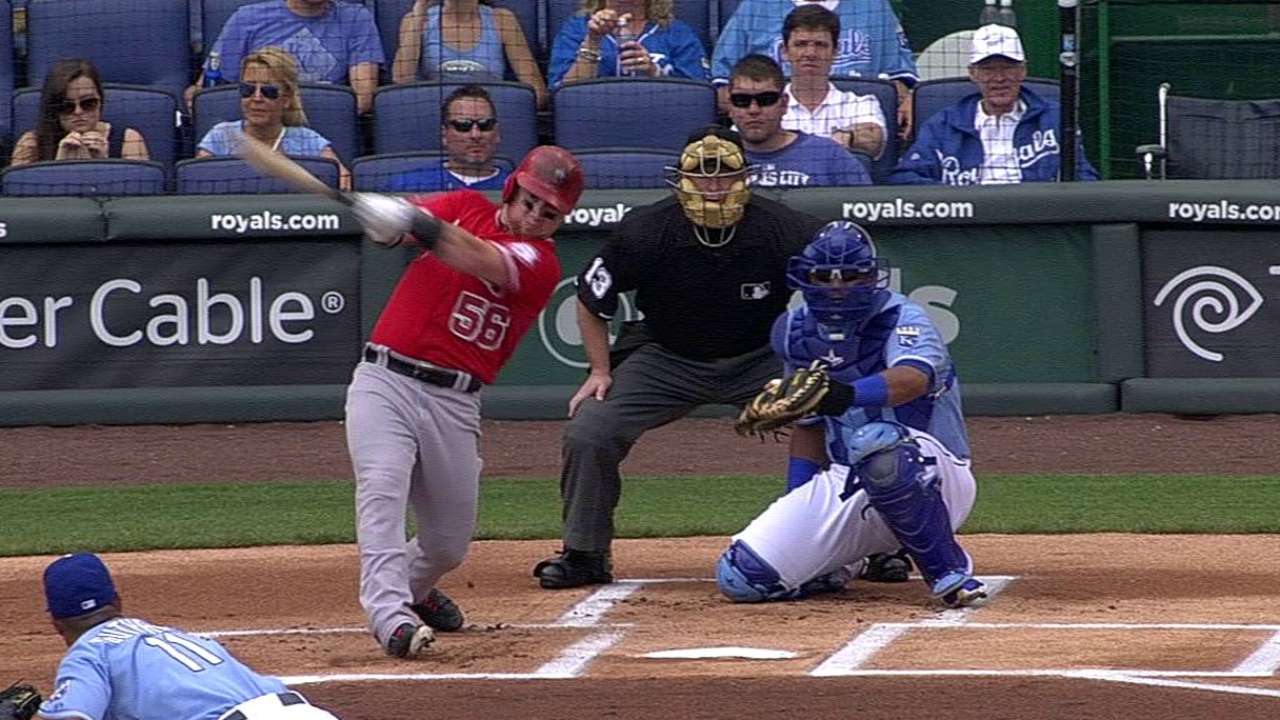 KANSAS CITY -- It's a routine play Angels second baseman Howie Kendrick has made countless times, receiving a feed from shortstop Erick Aybar, stepping on the bag, pivoting and firing to first to complete a double play.
On Sunday, a lack of execution proved costly in a 5-4 loss to the Royals at Kauffman Stadium.
With one out and a runner on first in the ninth, newcomer Jason Grilli got slow-footed Royals catcher Salvador Perez to bounce into a grounder to the left side, a tailor-made double-play ball that would've ended the inning, kept the game tied and forced extras. Instead, Aybar's throw squirted out of Kendrick's glove, putting runners on the corners.
And on the very next pitch, Omar Infante lined a single to left, easily sailing past a five-man infield for the Royals' first walk-off win this season.
"Good throw," Kendrick said. "A good feed by Aybar. I just missed it. It came off the glove. It happens sometimes."
But hardly ever.
"I took my head out of the play," said Kendrick, who has turned 548 double plays in his career. "Usually, you stay in that play, given the runner is not overly fast. So I had time. I looked too soon [to first], didn't follow the ball into my glove, and it opened the window for them."
But the window was already ajar, because Albert Pujols -- nursing a swollen lymph gland that was revealed postgame -- was thrown out at second without even so much as a sliding attempt in the sixth and because C.J. Wilson couldn't escape a 34-minute fourth inning.
The Angels left-hander had a 3-0 lead, then gave up four runs and exited with two outs, leaving an already shorthanded bullpen to pick up the remaining 5 1/3 innings.
Four consecutive batters reached to start the frame, with Danny Valencia hitting an RBI single and Lorenzo Cain scorching a two-run double to tie the game at 4. With first base open and two outs, Wilson intentionally walked Billy Butler to load the bases. But he then walked Alex Gordon to push across the go-ahead run and leave after just 3 2/3 innings.
Wilson finished June with a 5.79 ERA.
"It sucked, and I wasn't able to get out of it," Wilson said. "It's the second game in a row that I had a big inning in that space. It's very frustrating when you throw a close pitch, like in a 1-1 count, and you miss a little bit, and the count swings from 1-2 to 2-1. That's a big swing. That happened a couple times in that inning."
The Angels, who fell 5 1/2 games back of the first-place A's in the American League West after dropping two of three to the Royals, missed a golden opportunity to pull ahead in the sixth.
Pujols led off with a liner to left field that looked like an easy double, but he was tagged out just before his foot hit second base. He grimaced as he jogged off the field and watched from the bench as Erick Aybar hit a solo homer that could've put the Angels on top two batters later. Pujols, serving as the designated hitter for the second straight game, came to bat again with the bases loaded and two outs in the eighth, but he flew out to center against Kelvin Herrera.
The swollen lymph gland, located near Pujols' right groin, has been present since Wednesday. It doesn't bother him to hit, and until Sunday's crucial play, it didn't necessarily bother him on the basepaths, either.
"I don't know why it did that in that situation," said Pujols, who doesn't think the ailment will keep him out of the lineup. "I knew it was going to be a close play because I hit the ball hard. [Royals left fielder Alex Gordon] got to the ball really quick. But when he threw it, and he threw it off line, I was like, 'All right, shut it down.' And as soon as I tried to do that, I felt that grab. I didn't know I was that far from the base."
And in the end the Angels took their 11th defeat in the last 15 road games.
Wilson unraveled despite the three-run cushion, Pujols made a crucial out on the bases, Kendrick dropped an inning-ending double-play ball and Infante came to the plate expecting a first-pitch slider from Grilli.
"I know he throws a slider for the first pitch and I was waiting for that pitch, because I saw that the first pitch to Billy [Butler] was a slider, too," Infante said. "In that situation, you have to look for a certain pitch, a fastball or a slider, and that's why I made good contact on that pitch."
Alden Gonzalez is a reporter for MLB.com. Read his blog, Gonzo and "The Show", and follow him on Twitter @Alden_Gonzalez. This story was not subject to the approval of Major League Baseball or its clubs.