Nats gain early lead, but pitching can't contain Cubs
Roark allows four runs on 10 hits; Blevins surrenders three-run double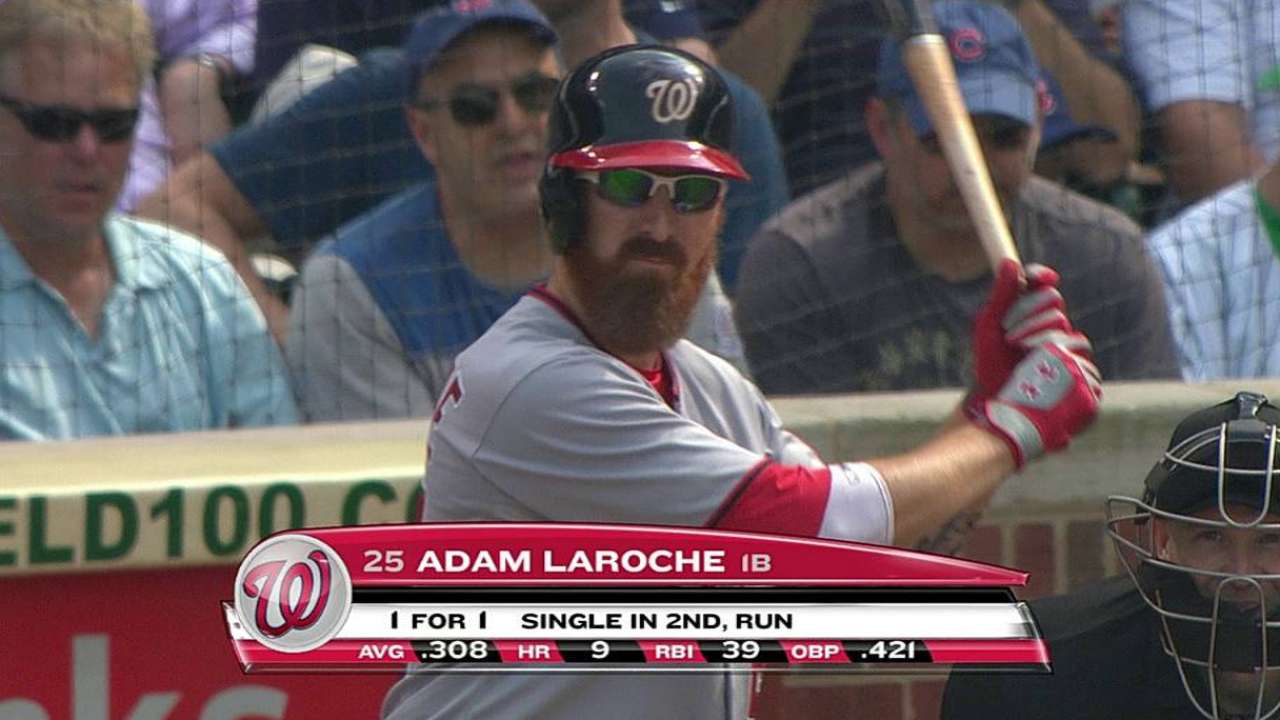 CHICAGO -- The Nationals came into this four-game series with the Cubs winners in six of their last nine games. After a losing effort on Friday, they'll have to sweep Saturday's doubleheader to salvage a split against last-place Chicago.
Washington dropped a see-saw battle, 7-2, on Friday afternoon at Wrigley Field. Any hope of a comeback was squashed in the seventh inning, when Chicago catcher John Baker roped a two-out, three-run double off Jerry Blevins that extended the Cubs' lead to the final margin. The Nationals' offense, meanwhile, has managed just five runs over the first two games of the series.
Blevins started the month of June with four consecutive scoreless appearances, but he has struggled lately. He's surrendered seven earned runs over his last 4 1/3 innings and said he discovered a couple of mechanical issues while watching video after the game. He's confident he's "one little tweak" from righting the ship. Against Baker, he missed location on a curveball.
Starter Tanner Roark battled through six strenuous innings, allowing four earned runs on 10 hits. All told, however, he kept the Nats in the game and would have likely gone deeper if not for a 34-pitch second inning.
Roark wasn't crushed by the Cubs, who had only one extra-base hit against him. He was, however, torched by Chicago's five left-handed hitters, who went 9-for-20 with five runs and six RBIs overall -- with seven of those hits coming off Roark. Those numbers went against the grain, as Roark entered Friday with lefties having hit just .192 against him.
"I couldn't keep the first guy off base. That was the biggest thing," Roark said. "There was a little pressure, but nothing I haven't seen before. Changeup, curveball, fastball was a little off today, just a smidge I feel like. They were just putting good wood on the ball."
Washington took a 1-0 lead in the second but missed opportunites to add on. Adam LaRoche singled and scored on Ryan Zimmerman's double to start the frame. Zimmerman took third on the throw home, and Wilson Ramos walked to put runners on the corners with nobody out, but Zimmerman was thrown out at home on Ian Desmond's weak grounder to third.
"That's a read for him. If the ball's chopped there, he's got the ability to read it," Nationals manager Matt Williams said. "He second guessed himself after the fact. If the ball's hit to the third baseman's left, we have a chance there, but the thing that he can do is get in a rundown and try to get us to second and third."
Danny Espinosa then struck out, and Roark tapped one back to the mound to end the threat. It was the second consecutive game Zimmerman has been thrown out at the plate.
"Hey, it's the way we're going to play," Williams said. "We're going to play aggressively. That's our DNA, we're not going to change that."
Chicago opened the second with four straight hits, highlighted by back-to-back RBI singles by Baker and Darwin Barney for a 2-1 lead.
The Nats tied the game at 2 on LaRoche's leadoff homer in the fourth, but once again, Chicago responded immediately.
Chris Coghlan and Baker led off the bottom half with singles and moved up on Barney's dribbler to short. After starter Jason Hammel struck out, Ryan Sweeney lined a two-out, two-run single that put the Cubs ahead, 4-2. Justin Ruggiano followed with a single before Roark got Anthony Rizzo to fly out.
Following LaRoche's homer, Hammel retired 10 straight Nationals hitters until Ramos hit a one-out single in the seventh. He scattered five hits over 6 1/3 innings and improved to 7-0 in nine career starts against the Nationals.
"I have nothing against them," Hammel said. "It's a funny game sometimes -- there are certain teams, certain players who are my unicorn and I can't figure them out, and there are other guys who kill the world but me. That's the way the game plays."
Williams was left with a similar feeling following the loss. The offense has had opportunities but hasn't been able to cash in with enough frequency, and the pitching has been razor close to escaping game-deciding jams.
"Well, [Hammel] made some pitches, too. That's the way it goes sometimes," Williams said. "It's creating opportunities and delivering on them. They did that today, with Blev, too. He struck out the lefty [Coghlan] and then they get the big double with the bases loaded. They've done it the last two games, we haven't, so hopefully that trend changes tomorrow."
Joe Popely is an associate reporter for MLB.com. This story was not subject to the approval of Major League Baseball or its clubs.