Deserving players on waiver wire for fantasy owners
Options at each position could help your team as All-Star break approaches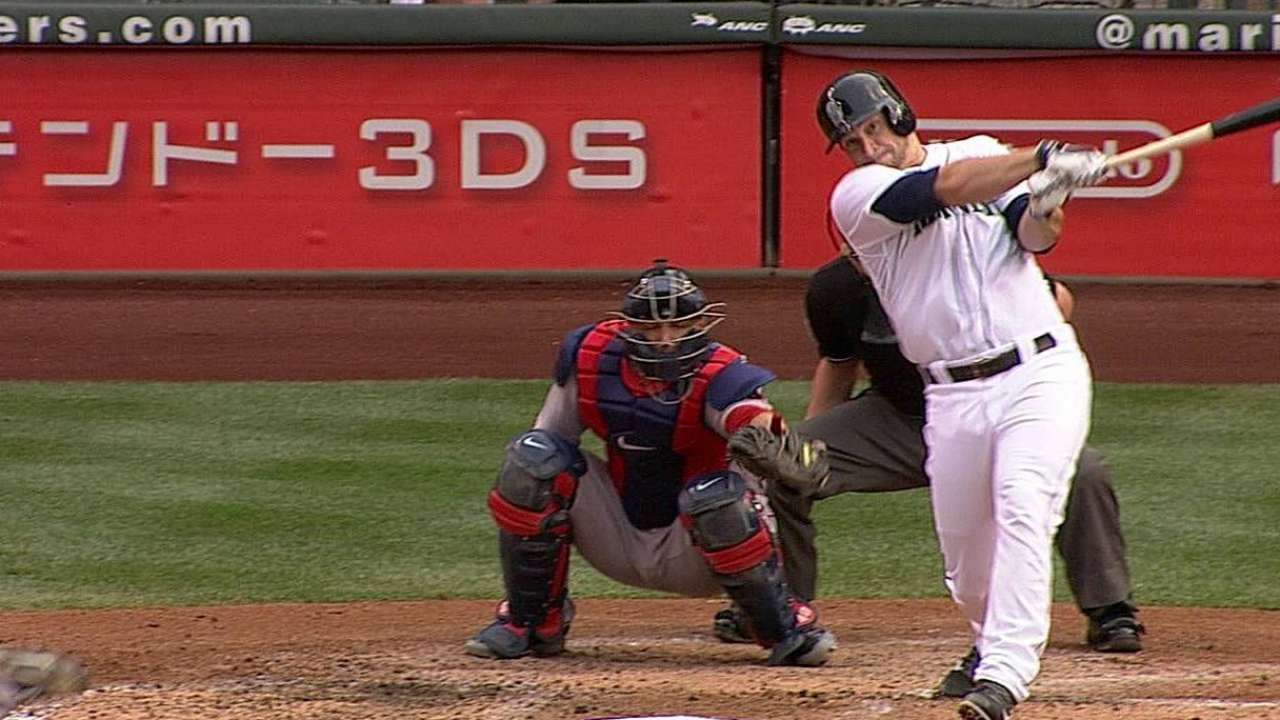 As we reach the midpoint of the Major League Baseball season, there are many enticing options sitting on waivers in mixed leagues. Here are some of the top targets who deserve additional attention:
Catcher, Mike Zunino (Mariners): Because the catcher position is the weakest in fantasy baseball, owners will usually settle for either batting average or power from their backstop. Zunino has ripped four homers in his past five games, and he is on pace for more than 20 this season. At age 23, Zunino offers plenty of promise.
First baseman, C.J. Cron (Angels): The release of Raul Ibanez has opened up a full-time job for Cron, and the 24-year-old has the skills to take advantage of the chance. Because of his ability to hit for average and power, Cron is perhaps the best pickup of all the hitters in this week's article.
Second baseman, Scooter Gennett (Brewers): Milwaukee has managed Gennett perfectly by using him against right-handers and mixing Rickie Weeks vs. southpaws. The 24-year-old is hitting .400 this month, and Gennett could be a consistent .300 hitter in the Majors if he maintains his current role.
Shortstop, Brad Miller (Mariners): Miller was a March sensation before a slow start plunked him on waivers in most leagues. However, he has picked up at least one hit in eight of his past nine games, and he went deep three times over that stretch. It is time for owners in deep leagues to get back on board.
Third baseman, Casey McGehee (Marlins): The waiver-wire options at third base are weak right now, and McGehee is a solid short-term option because he is hitting for average and driving in runs. He is on pace for nearly 100 RBIs, and even though he has slugged just one homer this season, he flashed respectable power earlier in his career.
Outfielder, Kole Calhoun (Angels): Like Miller, Calhoun was a popular sleeper pick in March, but fantasy owners walked away after a slow start. He is back on track, as he is hitting .333 with three homers, 11 RBIs and 16 runs scored in June. Calhoun was a useful outfielder for mixed-league owners in the second half of 2013, and he is likely gearing up for a repeat performance.
Outfielder, Steve Pearce (Orioles): Pearce showed some flashes earlier in his career, but he could never put everything together for an extended stretch. However, the 31-year-old has collected 13 hits and three homers in his past eight games, and he may finally be ready to take advantage of an extended opportunity to work in a hitters' park.
Outfielder, James Jones (Mariners): Fantasy owners are often searching for cheap speed, and Jones is the perfect person to fill that spot. The rookie is hitting .277 with nine steals and 12 runs scored this month, which is exactly what owners are looking for in a speedy fifth outfielder.
Starter, Jeff Locke (Pirates): Walks were a problem for Locke when he regressed badly last summer, but his time in the Minors seems to have fixed that problem, as he has issued just four free passes in four starts since a June 8 recall. A pair of home outings next week, against the D-backs and Phillies, makes the lefty an attractive option in all leagues.
Starter, Jesse Hahn (Padres): Hahn did not arrive with the hype of higher-ranking prospects, but he had nothing but success during his Minor League career. He has allowed two earned runs in 19 innings since being called up on June 14, and he lines up to make a pair of starts in pitcher-friendly Petco Park next week.
Starter, Collin McHugh (Astros): After a pair of poor outings earlier in the month, this late bloomer is back on track. Because of his high strikeout rate, McHugh could rack up 12-plus K's during two starts next week. His matchup at home against the Mariners is a favorable one, and even though he draws a tough road start against the Angels, he handled them well in Angel Stadium on May 21.
Starter, Taijuan Walker (Mariners): Walker was a coveted prospect in March, but a Spring Training injury delayed his debut. He has not been officially tabbed to replace Erasmo Ramirez in the rotation, but if he gets the call, fantasy owners will want to add him right away. Ramirez's spot is scheduled for two starts next week, so Walker could have a chance to hit the ground running.
Starter, Henderson Alvarez (Marlins): Alvarez has allowed four earned runs in his past seven starts, but he is still sitting on waivers in many leagues. His low strikeout rate is less of a concern in two-start weeks, and he gets a favorable home matchup against the Phillies before heading out on the road to face the Cardinals.
Starter, David Phelps (Yankees): Phelps appeared to be getting his act together before he allowed six runs on the road against a tough Blue Jays offense last time out. The 27-year-old owns a strong strikeout rate, and he is scheduled for two starts next week against the Rays and Twins, who do not boast dominant lineups.
Reliever, Cody Allen (Indians): His stuff is among the best of any reliever in baseball, and if the Tribe can give him some leagues to protect, Allen should be a top-tier closer.
Reliever, Chad Qualls (Astros): Qualls owns an impressive 26-to-3 strikeout-to-walk ratio, and he has blown just two saves this season. The Astros have regressed of late, but their young roster has the talent to give Qualls more save chances this summer.
Reliever, Joe Smith (Angels): The Halos need some stability in the ninth inning, and Smith seems like their best option at the moment. Owners in deep leagues who are looking for a temporary saves solution could try the 30-year-old for the coming weeks.
Fred Zinkie is a fantasy writer for MLB.com. This story was not subject to the approval of Major League Baseball or its clubs.