Baker's career game backs focused Hammel
Cubs catcher drives in four, wants starter to stay amid trade rumors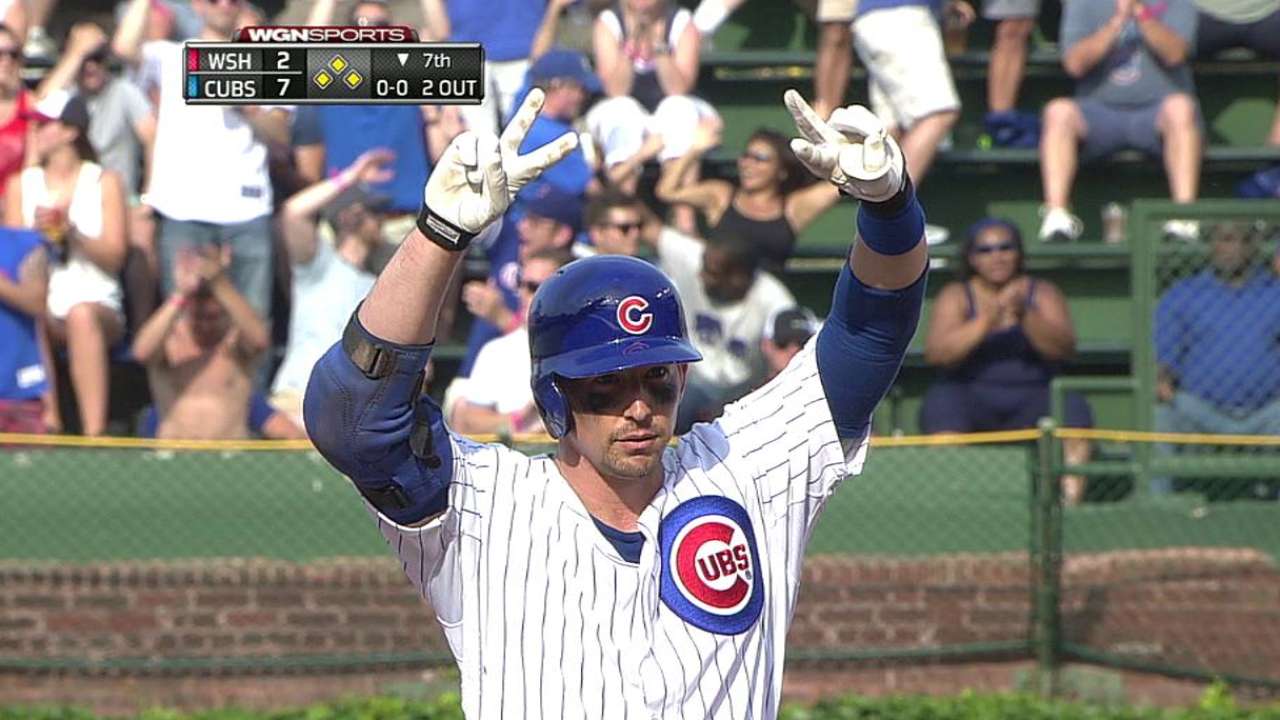 CHICAGO -- If Cubs catcher John Baker has his say, all the trade rumors regarding Jason Hammel and Jeff Samardzija can stop. Those two starting pitchers are the type teams want as part of their core, and Hammel showed why again on Friday afternoon.
Baker backed up Hammel by matching career highs with three hits and four RBIs in the Cubs' 7-2 win over the Nationals in front of 30,683 at Wrigley Field. With the win, Hammel improved to 7-0 in nine career starts against Washington, but don't say anything about that. He might face the Nationals next weekend on the road.
Hammel expects to still be in the Cubs' rotation. The team has dealt two starting pitchers in each of the last two seasons, and Hammel, who signed a one-year deal in February, was well aware of the trend. He's chosen to ignore the chatter.
"For me, yeah. I just don't listen to [the rumors]," Hammel said. "I knew what I was getting into coming here. It comes with the territory. I understand you're going to talk about it. It's very similar to what's happened in the past. It's not anything I feel like worrying about, because I have no control over it."
Does he expect to be dealt by the July 31 Trade Deadline?
"I honestly don't know how to answer that, because it could happen and it could not," Hammel said. "That's up to the guys up top."
Those "guys" are the Cubs' front office executives, president of baseball operations Theo Epstein and general manager Jed Hoyer. Baker may lobby for Hammel to stay because they've been matched up this season, and he's caught all but one of the right-hander's 16 starts.
"You get the sense that someone's going to be gone [at the Deadline], but you don't want them to be gone," Baker said. "A lot of us have been around baseball for so long, and you make friends fast -- and easy come, easy go. You learn how to say goodbye.
"I hope Hammel stays around. It may happen, it may not happen, but for me personally, those are two guys I think you can build a rotation around, and I hope they stay around."
Manager Rick Renteria just focuses on his current roster.
"I'll be honest with you, as far as the rumor mill is concerned, I don't really pay a whole lot of attention to it, and as far as [Hammel] is doing, I think he's doing really well," Renteria said.
The Cubs may want to consider switching divisions. With the win, they now are 12-8 against National League East teams. Chicago is 15-24 vs. NL Central foes.
The Nationals took a 1-0 lead in the second against Hammel, but the Cubs answered in their half, when Luis Valbuena doubled and Chris Coghlan, Baker and Darwin Barney each singled, with runs scoring on the latter two hits. Adam LaRoche tied the game at 2 in the fourth with a laser-like home run into the right-field bleachers.
"It was a grind for me," Hammel said of his outing, in which he improved to 4-1 with a 2.35 ERA at Wrigley. "It wasn't that easy today -- not that it ever is. I was struggling to find my slider command and missing up with it a lot. I was able to command my fastball to keep them honest and mixed in the changeups."
Ryan Sweeney hit a two-run single with two outs in the Cubs' fourth for a 4-2 lead. The Cubs loaded the bases with one out in the seventh against Jerry Blevins, and one out later, Baker cleared them with a double down the right-field line.
"That's a little bit of a mechanical issue," Blevins said of the pitch to Baker. "I wanted it down and away, and it ended up inside, let him turn on it. Bad pitch."
The four RBIs for the catcher tied his career high, and it's the first time he's had three hits in a game since May 15, 2012.
"The main focus for me, and for us, is to win the game," Baker said. "When you get a couple extra hits, it's like the cherry on top of the sundae."
Carrie Muskat is a reporter for MLB.com. She writes a blog, Muskat Ramblings, and you can follow her on Twitter @CarrieMuskat. This story was not subject to the approval of Major League Baseball or its clubs.