Gausman, offense unable to deliver in Game 1
Righty gives up five runs in five-plus innings; O's limited to three hits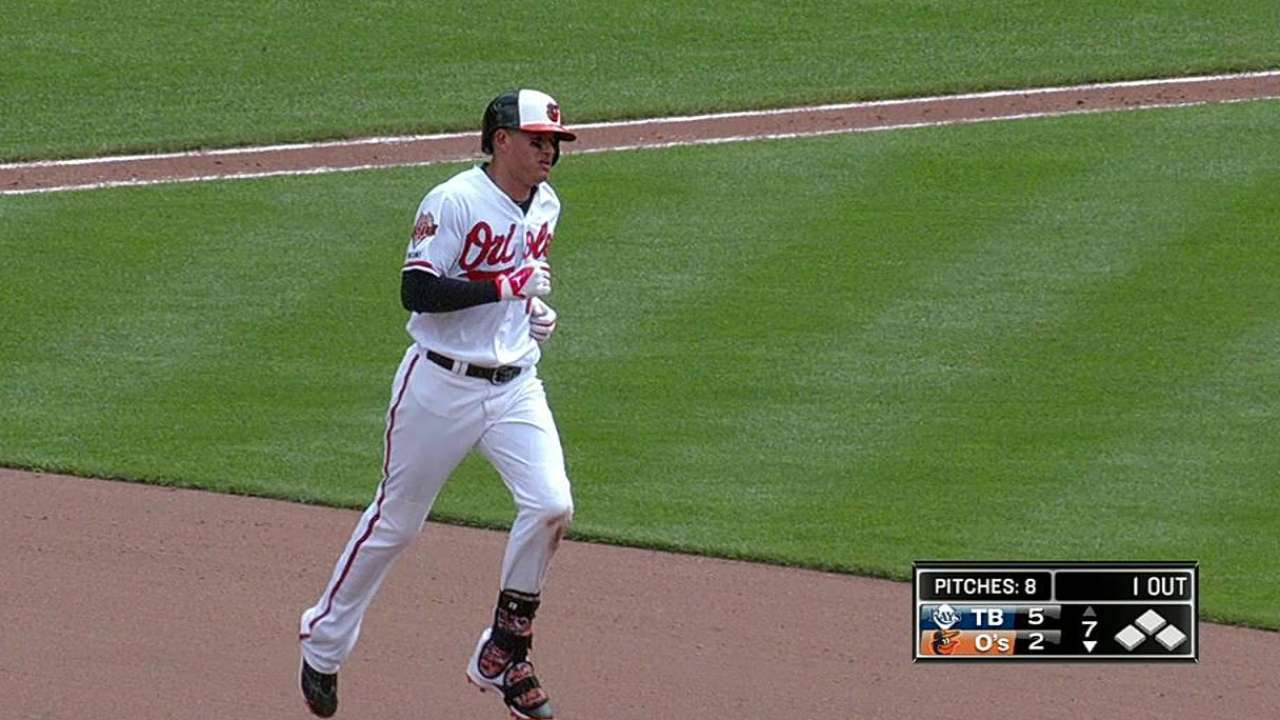 BALTIMORE -- Kevin Gausman knew his latest recall with the Orioles wouldn't last long, but the 23-year-old spot starter had reason to believe he would at least make it through the sixth inning in Game 1 of a day-night doubleheader Friday against the Rays.
Instead, Gausman fought through five-plus innings, allowing seven hits and five runs as the Rays beat the Orioles, 5-2, in the opener before an announced crowd of 15,614 at Camden Yards.
Gausman had trouble with his command, issuing a season-high four walks and a hit batter, with just one strikeout. He threw 95 pitches, 50 for strikes.
"You're not going to be your sharpest every time out, and I really had to grind out the entire start today," said Gausman, who dropped to 3-2 with a 3.86 ERA.
"From the first inning on, I just didn't have my stuff. I didn't have my best fastball and I didn't have my best split, my best second pitch. … I threw some good sliders today, but overall, my stuff just wasn't really good today, and more than anything, I just felt kind of out of whack."
Gausman, who has shuttled between Baltimore and Triple-A Norfolk this season, was 3-0 with an 0.95 ERA in three Major League starts this month before rejoining the O's on Friday.
Gausman was officially recalled from Norfolk on Friday morning to serve as the 26th player on Baltimore's roster for the twin bill. Per MLB rules, he will return to Norfolk after Game 2.
Gausman acknowledged that the constant shuttling has affected his routine, but wasn't willing to use it as an excuse. Manager Buck Showalter wasn't making excuses, either.
"I think we all search for the why, but a lot of it just has to do with a young pitcher having an inconsistent day today," Showalter said.
"He had some [good] sequences, but his fastball command was a challenge. We all look for reasons, but that's kind of the nature of the beast up here."
Gausman was making his first Major League start since throwing six scoreless innings against the Rays in a 2-0 win at Tropicana Field on June 18.
"He was just a totally different pitcher today," said Rays manager Joe Maddon. "It was really a lot of offspeed stuff from him today. That seemed to be his game plan."
While Gausman struggled to find the form he displayed against Tampa Bay nine days earlier, Rays right-hander Alex Colome was effective in his first Major League start of the season.
Colome held the Orioles to two hits and one run in 5 2/3 innings, with three strikeouts and four walks.
"He's got a good hard fastball and a good changeup and just enough slider," said Orioles catcher Caleb Joseph. "He challenged us all day and he had his A-game today, and we just couldn't mix anything up against him."
The Orioles, who were hoping to climb six games above .500 for the first time this season, scored their lone run off Colome when Chris Davis grounded out to second base in the first. Davis drove in Nick Markakis, who hit a leadoff single, advanced to second on a wild pitch and reached third when Adam Jones hit into a fielder's choice.
The Rays answered with two runs in the second. Brandon Guyer doubled to score James Loney, who had drawn a one-out walk. Guyer then came around on an RBI single from Matt Joyce.
Guyer was 3-for-3 with three doubles, two runs scored and one RBI. He also reached base after he was hit by a Gausman fastball in the fourth.
Guyer hit a leadoff double in the sixth and scored one batter later when Joyce delivered an RBI double. That gave Tampa Bay a 4-1 lead and marked the end to Gausman's start.
Sean Rodriguez drove Joyce in with an RBI single off Orioles reliever Evan Meek.
Manny Machado connected off Rays reliever Brian Boxberger with one out in the seventh, belting his fifth home run.
Machado's solo shot pulled the Orioles within three, but after picking up a pair of comeback wins earlier in the homestand against the White Sox, the O's were unable to score in the eighth or ninth. Other than Machado's two hits, Baltimore collected one other hit, Markakis' leadoff single in the first.
Chris Tillman was scheduled to start Game 2 at 7:05 p.m. ET, with Jake Odorizzi going for the Rays.
Ben Raby is a contributor to MLB.com. This story was not subject to the approval of Major League Baseball or its clubs.