Rays back Colome's solid outing in Game 1
Righty allows one run over 5 2/3 in first '14 start; Joyce drives in pair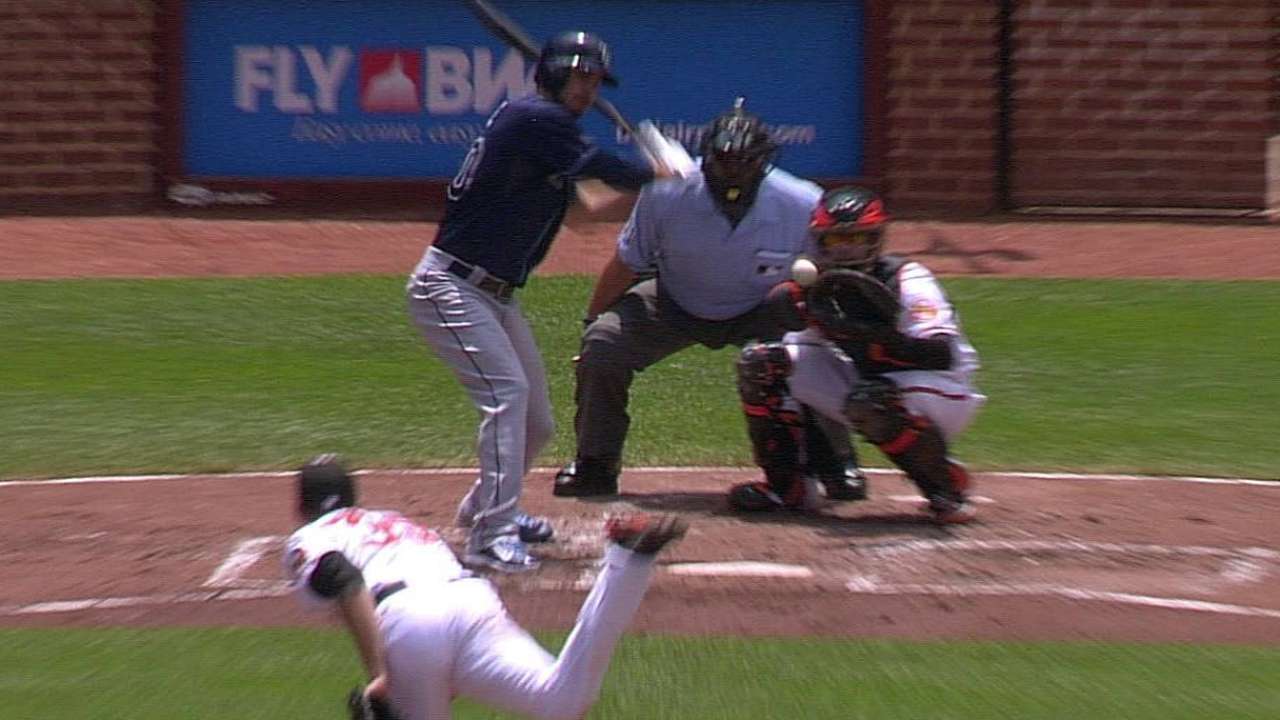 BALTIMORE -- On March 24, the promising career of Alex Colome took a sudden detour. The Rays' former No. 6 prospect, who had performed well during a brief stint in the Majors in 2013, was hit with a 50-game suspension for the performance-enhancing substance Boldenone.
Through the fortune of a doubleheader with the Orioles on Friday, the starting pitcher had a chance to make his first start since the suspension, and he overpowered the O's for 5 2/3 innings of a 5-2 win in Game 1 of a day-night twin bill at Camden Yards.
"I've not been around him a lot recently, I didn't know where he was at regarding him being stretched out, but he was still throwing hard," Rays manager Joe Maddon said. "He was outstanding -- wonderful composure. I was really impressed with his way on the mound."
Colome (1-0) joined Tampa Bay for the first game of the doubleheader as the 26th man on the roster. He surrendered a run early, but allowed just one hit and three walks in his final five innings to best fellow rookie Kevin Gausman in a makeup of an April 15 rainout.
The Rays (33-48) will the play the Orioles (41-37) in the nightcap at 7:05 ET. Righty Jake Odorizzi will start for Tampa Bay against Baltimore righty Chris Tillman.
Colome's journey back from a suspension to becoming a Major League starter had been smooth until Saturday. During his first four starts for Triple-A Durham, the righty went 3-0 with a 0.68 ERA. But with a temporary promotion looming, Colome was pounded for nine runs on eight hits and two walks in 1 1/3 innings during a loss to Triple-A Syracuse on Saturday.
In front of an MLB crowd of 15,614, Colome threw like a big leaguer. For the first time since his Major League debut last May, Colome went at least 5 2/3 innings while allowing one run or fewer.
"That's the guy I saw when I went down to Durham the past couple years," said Brandon Guyer, who doubled three times Friday, "so it doesn't really shock me, because he's got really good stuff and he showed it today."
Just two batters into his latest stint in the Majors, Colome was dealing with adversity again. He surrendered a base hit to Nick Markakis to lead off the bottom of the first and walked the next batter.
The Orioles managed one run on a groundout by Chris Davis, but Colome set down three straight to escape the inning without much damage.
"I threw one bad pitch and they were able to score a run," Colome said through a translator. "When I got out of the inning, I felt like I was going to be OK."
Opposite Colome, another former top prospect delivered his shakiest performance since his first start of the season. Gausman (3-2) walked four and hit another while giving up five runs for the first time since May 14.
The O's pitcher avoided any destructive innings, although the Rays did have one brewing in the sixth before Gausman was pulled after back-to-back doubles to start the frame.
"We had two pitchers where one was wildly effective and one was for a little bit," Baltimore manager Buck Showalter said, "but it gets magnified by us ending up with three hits on the day."
Tampa Bay followed up the consecutive doubles by outfielders Guyer and Matt Joyce with a single by utilityman Sean Rodriguez to stretch the Rays' lead to 5-1.
The O's Manny Machado added a solo home run in the seventh. By then, Colome was gone and had left a reminder of the pitcher he was expected to be, and still can become.
"I'm very motivated to do the right things," Colome said. "I want to come up here and show that I belong here."
In his first real opportunity to show that since his suspension, he did.
David Wilson is an associate reporter for MLB.com. This story was not subject to the approval of Major League Baseball or its clubs.