Sarah's Take: Giants look to rebound after tough month
With Pagan on disabled list, San Francisco should acquire another leadoff hitter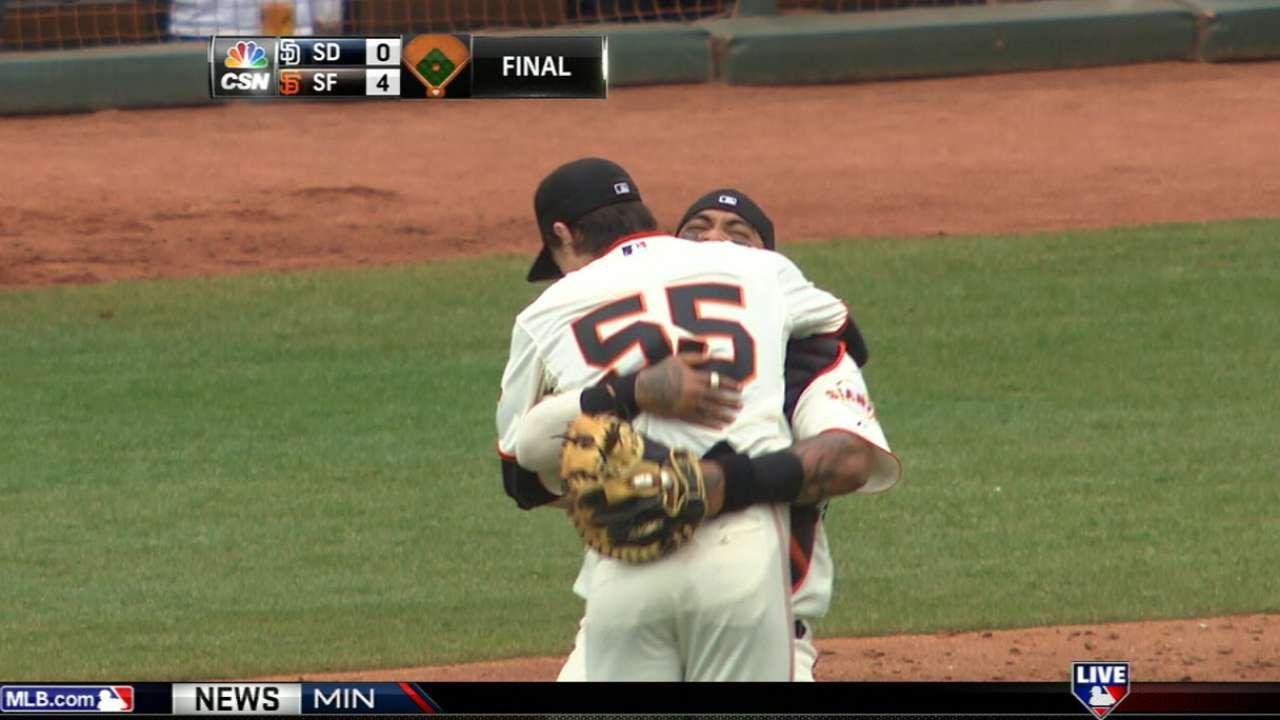 After the San Francisco Giants seemed like they couldn't lose in May, they have struggled in June. The Giants have seen their lead on the Los Angeles Dodgers dwindle dramatically. When San Francisco put Angel Pagan on the 15-day disabled list with a lower back strain on Wednesday, Tim Lincecum pitched the second no-hitter of his career.
Pagan is perhaps the most important offensive player for the Giants. At the beginning of last season, the Giants were competitive in the National League West, and then Pagan suffered a severe hamstring pull that ultimately needed surgery. While Pagan was out, the Giants became a below-.500 team. Last September, upon Pagan's return, the Giants began to win, but it was too late for San Francisco to be a factor in the NL West.
The Giants' offense had already been weakened, but on Wednesday, it was weakened more. All season, second baseman Marco Scutaro has not played because he has a bad lower back. Scutaro's replacements have played a satisfactory defensive second base, but they haven't hit a lick so far this season. The Giants have survived in large part because offseason free-agent acquisition Michael Morse has performed well. Morse has made the Giants' lineup more dynamic.
In early May, Paul Maholm of the Dodgers hit and broke the thumb of Giants first baseman Brandon Belt. The injury required surgery. The Giants hope Belt can return after the All-Star break.
Without a good leadoff hitter, it's hard for any team to find consistent success. Pagan is the Giants' leadoff hitter. He gets on base regularly, and he creates scoring opportunities for his team. Despite having a severe hamstring injury, Pagan has outstanding speed, so he, along with Hunter Pence, represent the only stolen-base threats for the Giants. Back injuries can be detrimental to a player's career, and a return date can be difficult to predict. Unless Pagan can return quickly, general manager Brian Sabean perhaps should look to acquire another leadoff hitter before the non-waiver Trade Deadline.
But Wednesday afternoon belonged to Lincecum. It was Lincecum's second no-hitter, both coming against the Padres. Last July, in the middle of a difficult season, Lincecum had control problems, but the Padres found him unhittable. After his first no-hitter where he threw over 140 pitches, people criticized manager Bruce Bochy for leaving in Lincecum to complete the no-hitter. Luckily, Lincecum didn't have an injury after the no-hitter, even though he had a couple of ineffective performances.
This no-hitter was completely different. Even in the ninth inning, Lincecum appeared to be calm and in complete control of the situation. Any time a pitcher hurls a no-hitter, it's nerve-wracking for everyone on the field and in the stands. On Wednesday, Lincecum had terrific control and walked just one batter, enabling him to use only 113 pitches.
Lincecum made his Major League debut in 2007, only one year after being drafted by the Giants. He immediately became an elite starter when he earned the NL Cy Young Award in 2008 and '09. Then, Lincecum, with his unorthodox mechanics, developed delivery problems that affected his control.
To the Giants' credit, no matter how frustrated they felt, they always used Lincecum. During the 2012 postseason, Bochy elected to use Lincecum as a reliever instead of in his customary starting role. Lincecum embraced the new role, and showed a sense of maturity and a willingness to help his team in any way to win a World Series championship.
Even after the 2012 World Series, Lincecum has been an ineffective starter because he hasn't been able to find a cure for his wildness. This year Lincecum has issued the ninth most walks in the NL and has an ERA over 4.00.
One of Lincecum's problems has been believing that he needs to strike out everyone to be successful. Trying to get strikeouts causes pitchers to have high pitch counts. On Wednesday, Lincecum struck out only six Padres. He had all four of his pitches working and moving in the strike zone. The Giants and Lincecum hope this no-hitter will symbolize a change of pitching style, where he will rely on his defense more and the new pitching style will produce more favorable results for the Giants and him.
Sarah D. Morris can be reached at sarahmorris27@gmail.com. This story was not subject to the approval of Major League Baseball or its clubs.