MLB.com Columnist
Anthony Castrovince
It's never too soon to think about trades
Many teams have holes to fill as they look toward deep postseason runs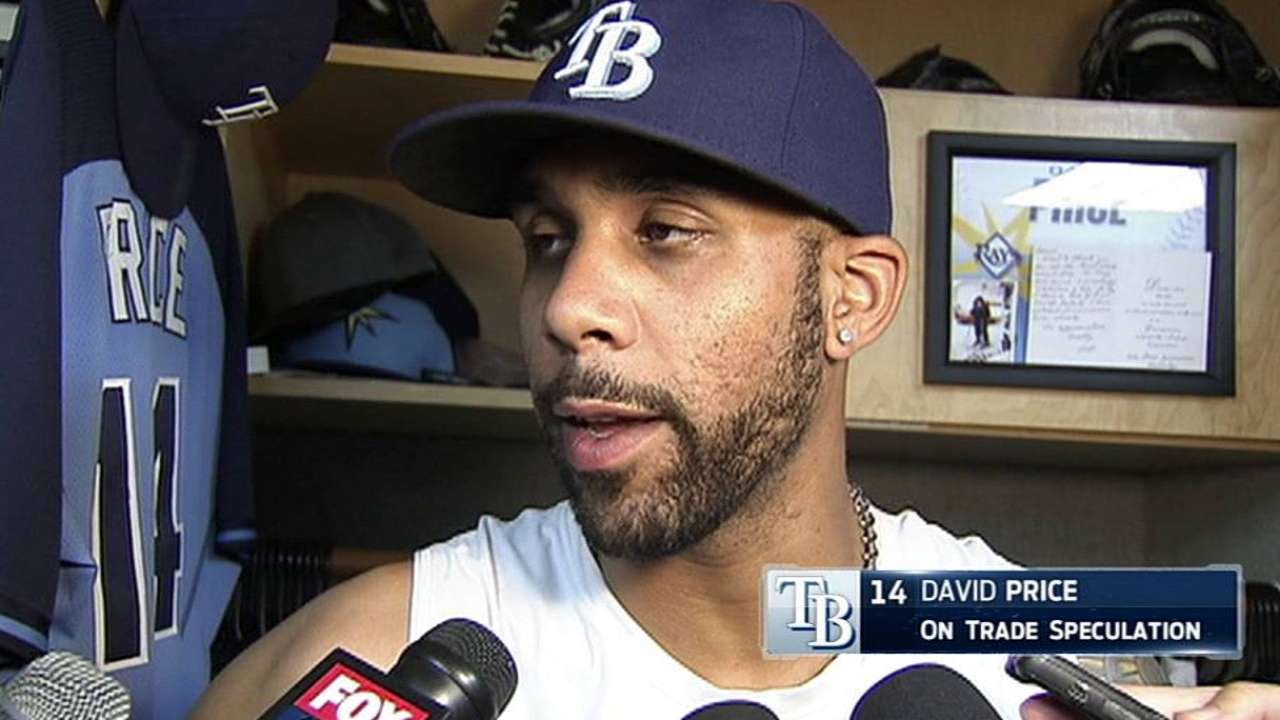 Two scouts walked out of an A's game earlier this season, having come to the same conclusion most of us have reached about the club with the best record in baseball.
The A's, they surmised, are an impressive squad.
"But," one scout said to the other, "there's one piece of the puzzle they're missing right now: a legitimate No. 1 starter. They're missing Games 1, 4 and 7 of a seven-game series."
The scout could be correct, given the fragile nature of pitching in general, and Oakland's situation in particular. We really don't know how well staff ace Sonny Gray will hold up in the second half of his first full season. Or, for that matter, what Scott Kazmir (who hasn't thrown 200 innings since 2007) and Jesse Chavez (who has already reached a career high in innings pitched) will have left in the tank come October. The A's found a serviceable starter in the $1 bargain bin when they landed Brad Mills to replace the injured Drew Pomeranz, but they might need to do something bigger and bolder if they want to reach the World Series.
Really, Oakland is illustrative of the bigger-picture point of the 2014 season. Every club within shouting distance of a postseason spot has reason to be attentive at the Trade Deadline, which is now less than five weeks away. During a year in which all but a handful of squads are contenders, nobody's perfect.
With that in mind, let's take a look at the other clubs at or above .500 and evaluate their most pressing needs.
Brewers: Their biggest need might actually be to beef up the bench, which has contributed a minus-0.7 WAR in pinch-hit situations. How about some bop off the bench in the form of the Astros' Chris Carter?
Giants: They've shown an interest in the top-tier starting market, and that could come to fruition. But as far as glaring needs go, the second-base hole left behind by Marco Scutaro has proved to be a gaping one. Right now, they're hoping the newly promoted Joe Panik (San Francisco's No. 14 prospect) acclimates immediately, but veteran options like the Phillies' Chase Utley (who, as a player with at least 10 years in the big leagues and five years with his current team, has trade veto rights) or the Mets' Daniel Murphy would be intriguing.
Tigers: A 7.16 ninth-inning ERA speaks for itself. Even if Joe Nathan captures his old consistency, it's clear Detroit is going to need reinforcements in its beleaguered bullpen. The Tigers seem content with Eugenio Suarez at shortstop, because the goal all along was a defense-first mentality at that position.
Angels: Their bullpen really is about as bad as it gets for a legit contender, and the Halos will be on the hunt for multiple relief arms. They'll certainly be in the market for a left-hander, and possible targets include Arizona's Joe Thatcher and Oliver Perez, Houston's Tony Sipp and Darin Downs, Texas' Neal Cotts and the Cubs' James Russell. As far as closers go, Huston Street and Joaquin Benoit are just down the road in San Diego.
Dodgers: Given the potential for some second-half falloff from Josh Beckett and/or Dan Haren, the Dodgers could be big players in the starting-pitching market. Trouble is, going after the top-flight options could be more difficult with prized outfield prospect Joc Pederson on the shelf with a separated shoulder.
Blue Jays: Realistically, they're going to need another starter to provide innings and upside, because hoping for Brandon Morrow to come back and be effective is just that -- a hope, not a plan. Toronto investigated the David Price and Jeff Samardzija markets over the winter and could play in those fields if the club is willing to deal premium pitching prospects Aaron Sanchez and/or Daniel Norris. For now, the Jays are more likely to look for a short-term rental at a more affordable price.
Cardinals: A Cards club motivated to improve could really shake up the market, because they definitely have the young pieces (Oscar Taveras chief among them) to get a blockbuster done. And now that both Michael Wacha and Jaime Garcia are on the shelf, they could be in prime position to make a play for Price. Will they?
Orioles: In a perfect world, they'd find a viable everyday catcher to replace the injured Matt Wieters and an ace to front their middling rotation. More realistically, they might have to root for replacement-level offense from Caleb Joseph (a terrific defender) and Nick Hundley and a strong second-half return from top prospect Dylan Bundy while addressing their offensive hole at second base. The D-backs' Aaron Hill might be an interesting option, in addition to the aforementioned Murphy.
Mariners: The M's have climbed into contention this season, but their need for an offensive upgrade remains apparent, as they're getting below-average production from five spots (first base, shortstop, left field, center field and designated hitter) and weren't able to work something out with Kendrys Morales. If they look for power, Adam Dunn, Justin Morneau or Carlos Quentin are possibilities. Or maybe they'll wind up with Morales after all.
Nationals: Nothing in the trade market is going to help them quite as much as getting Bryce Harper back, as his return also directly impacts the second-base slot (with Ryan Zimmerman returning to third and Anthony Rendon shifting to second). But the Nats might be in the market for another left-handed bat off the bench.
Yankees: Someone has to take the weight off Masahiro Tanaka's shoulders in that rotation, and the ongoing injury issues involving CC Sabathia and Michael Pineda underscore the need to add an arm. But because most of the Yanks' best prospects are in the lower levels of the Minors, it stands to reason that they might have to settle for middle-tier possibilities (maybe Jason Hammel or Jorge De La Rosa or an Ian Kennedy reunion).
Braves: With a losing record in May and June, Atlanta is definitely in position to try to fortify its roster. Gavin Floyd's injury creates a potential starting need. The Braves could also be in on the Hill market (if it develops), depending on how the experiment with prospect Tommy La Stella goes, and they're going to be on the hunt for bullpen help, as their once-stout relief staff has taken (and given up) some hits this season.
Reds: The bullpen is a concern, but so is the unproductive mix-and-match job taking place out in left field. The Twins' Josh Willingham or the Padres' Seth Smith would both be a good fit here, if they get dangled.
Royals: Nori Aoki has been an offensive disappointment, and now he's hurt, too. Kansas City will be in the market for right-field help, especially if it's a bat that can help the Royals in the two-hole, where they have a .581 OPS.
Pirates: Ideally, they'd add an impact starter under control beyond this year. That's the only way a small-market club hovering around .500 could justify the prospect expense.
Anthony Castrovince is a reporter for MLB.com. Read his columns and follow him on Twitter at @Castrovince. This story was not subject to the approval of Major League Baseball or its clubs.