Pipeline preview: California League's top arms ready
Appel, Urias, Shipley among Class A Advanced hurlers slated to start on Friday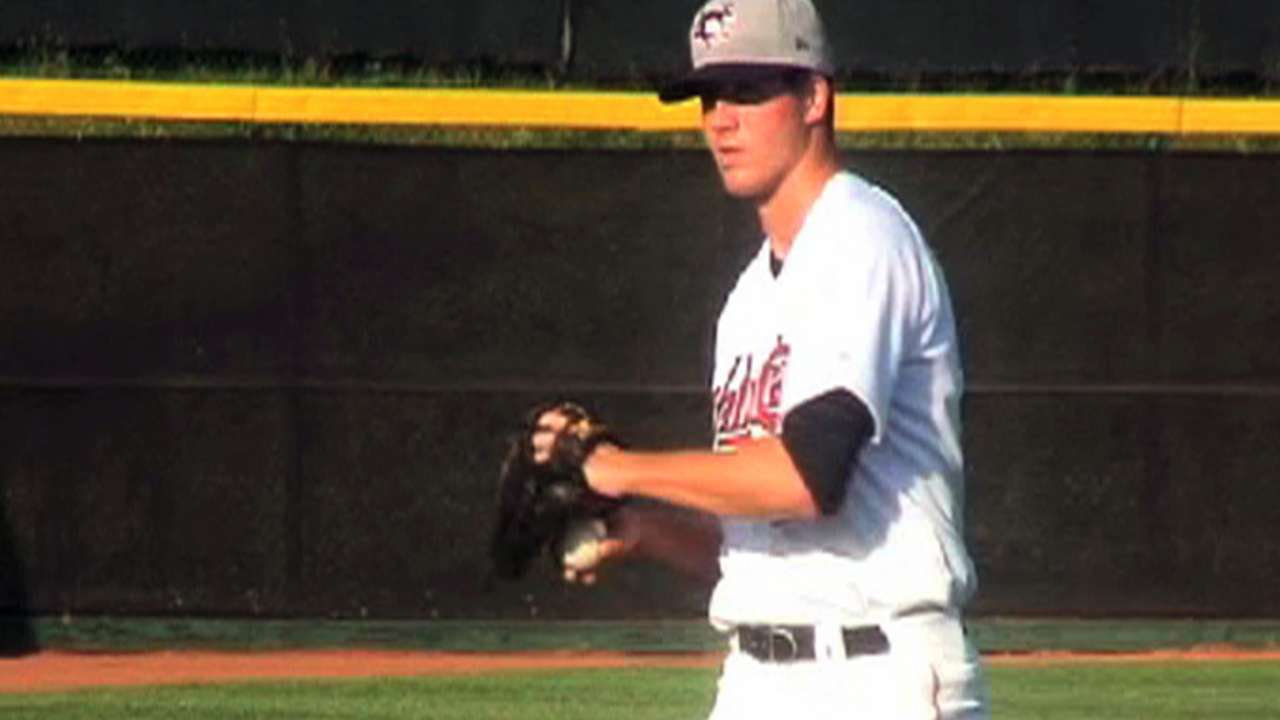 The California League is typically thought of as a hitters' league, and it has lived up to its reputation this year. A little more than halfway through the season, California League teams have combined to average 5.15 runs per game, the highest of any full-season league.
Friday night, however, will be a night for the league to showcase its pitchers. Mark Appel, Julio Urias and Braden Shipley, all of whom are ranked on MLBPipeline.com's Top 100 Prospects list, are scheduled to start, as well as several other pitchers ranked among their team's Top 20 lists. The first game of the night begins at 9:30 p.m. ET, when Appel, the Astros' No. 2 prospect, and Class A Advanced Lancaster host Lake Elsinore. The final game of the night features the A's No. 18 prospect Seth Streich and Stockton visiting Bakersfield and the Reds' No. 9 prospect Ismael Guillon, who will be making his second start for the Blaze.
Appel, ranked No. 14 on the Top 100, has struggled this season to make the transition to professional baseball after the Astros made him the No. 1 overall pick of the 2013 First-Year Player Draft. He began the season with Lancaster but was sent back to extended spring camp in late April to build up his stamina. Appel has lost all three starts he has made since returning to the JetHawks' rotation May 31, and he is 0-3 with a 10.48 ERA overall.
Urias, the Dodgers' No. 3 prospect and No. 52 on the Top 100, is by far the youngest player in the California League at 17. But he has held his own against the older competition, and he enters Friday's game at Inland Empire with a 1-1 record and a 3.35 ERA in 14 games. Urias has struck out 48 batters and walked 21 in 45 2/3 innings. Urias will face right-hander Mark Sappington, the Angels' No. 3 prospect.
Shipley, the D-backs' No. 2 prospect and No. 61 on the Top 100, began the season late due to right shoulder soreness. But once he got on the mound, the 15th overall pick in the 2013 Draft has pitched well. He went 4-2 with a 3.74 ERA in eight starts with Class A South Bend, earning himself a promotion to Class A Advanced Visalia. There, Shipley is 1-1 with a 2.81 ERA and 34 strikeouts in 25 2/3 innings. Shipley will lead Visalia against San Jose and the Giants' No. 7 prospect Chris Stratton. That game can be seen on MiLB.TV, beginning at 10 p.m. ET.
Away from the California League, several other pitchers ranked in the Top 100 are slated to start Friday, including Robert Stephenson (No. 16), Allen Webster (No. 38), Jimmy Nelson (No. 66), Robbie Ray (No. 80) and Pierce Johnson (No. 83). Fans can watch Webster, Nelson and Ray on MiLB.TV, beginning with Webster and Triple-A Pawtucket taking on Norfolk at 7:05 p.m.
Top prospect probables
Cody Anderson (Indians' No. 3), Akron vs. Harrisburg
Mark Appel (Astros' No. 2), Lancaster vs. Lake Elsinore
Parker Bridwell (Orioles' No. 15), Frederick vs. Winston-Salem
Dylan Covey (A's No. 13), Beloit vs. Kane County
Jonathon Crawford (Tigers' No. 4), West Michigan vs. Bowling Green
Zach Davies (Orioles' No. 12), Bowie at Richmond
Brian Flynn (Marlins' No. 6), New Orleans at Nashville
Domingo German (Marlins' No. 20), Greensboro at Asheville
J.R. Graham (Braves' No. 6), Mississippi at Birmingham
Joan Gregorio (Giants' No. 12), Augusta at Lexington
Ismael Guillon (Reds' No. 9), Bakersfield vs. Stockton
David Holmberg (Reds' No. 6), Louisville at Charlotte
Jake Johansen (Nationals' No. 12), Hagerstown vs. Delmarva
Brian Johnson (Red Sox's No. 12), Portland at Reading
Pierce Johnson (Cubs' No. 7), Kane County at Beloit
Cody Kukuk (Red Sox's No. 16), Salem vs. Carolina
Adalberto Mejia (Giants' No. 3), Richmond vs. Bowie
Jimmy Nelson (Brewers' No. 1), Nashville vs. New Orleans
Victor Payano (Rangers' No. 14), Myrtle Beach vs. Potomac
Tyler Pike (Mariners' No. 9), Jackson vs. Tennessee
Robbie Ray (Tigers' No. 1), Toledo at Gwinnett
Adrian Sampson (Pirates' No. 20), Altoona vs. Binghamton
Mark Sappington (Angels' No. 3), Inland Empire vs. Rancho Cucamonga
Braden Shipley (D-backs' No. 2), Visalia at San Jose
Robert Stephenson (Reds' No. 1), Pensacola at Chattanooga
Chris Stratton (Giants' No. 7), San Jose vs. Visalia
Seth Streich (A's No. 18), Stockton at Bakersfield
Nick Travieso (Reds' No. 7), Dayton vs. Lake County
Lewis Thorpe (Twins' No. 6), Cedar Rapids vs. Clinton
Julio Urias (Dodgers' No. 3), Rancho Cucamonga at Inland Empire
Allen Webster (Red Sox's No. 2), Pawtucket vs. Norfolk
Mike Wright (Orioles' No. 5), Norfolk at Pawtucket
Teddy Cahill is a reporter for MLB.com. Follow him on Twitter at @tedcahill. This story was not subject to the approval of Major League Baseball or its clubs.