Wainwright stellar, but outdueled by Dodgers' Beckett
Craig thrown out at home in seventh as bats quieted behind ace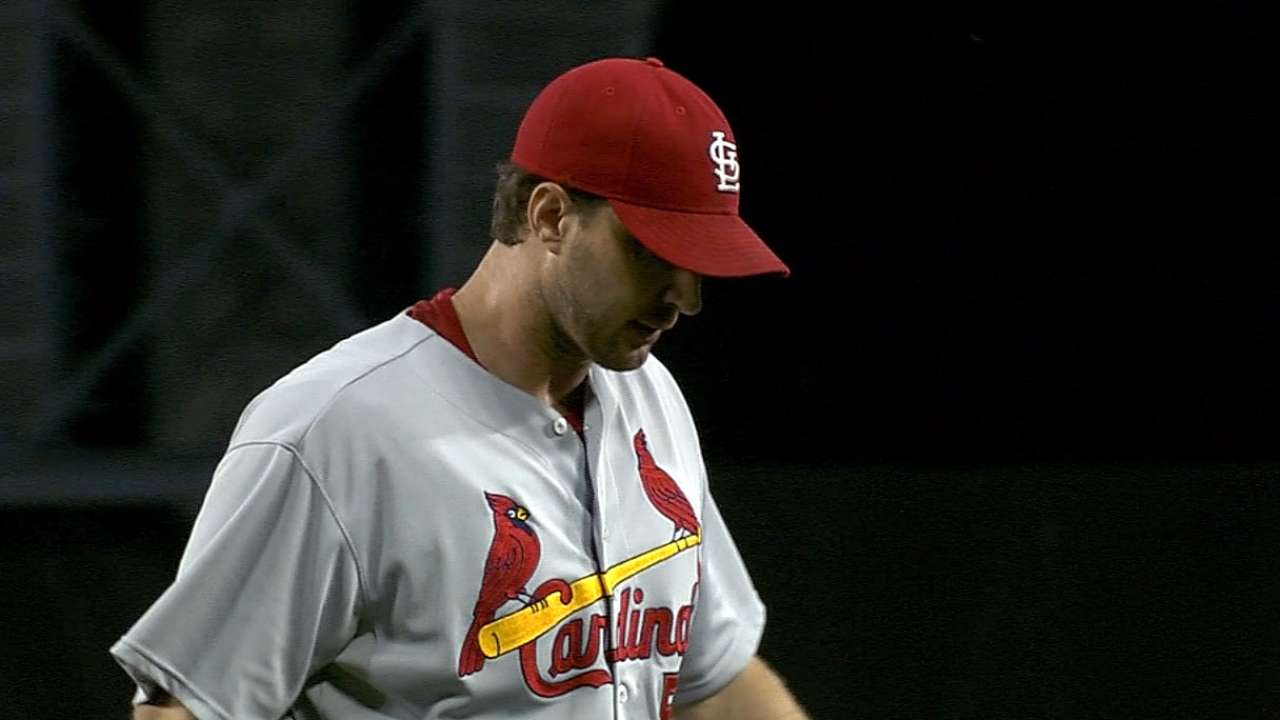 LOS ANGELES -- In the minutes after the Cardinals' 1-0 loss to the Dodgers, manager Mike Matheny was talking about inches, Allen Craig about split seconds and Adam Wainwright about how two of his 100 pitches cost him on Thursday.
It was a night in which the smallest margin of error loomed large.
Wainwright was again dominant, taking a no-hit bid into the sixth and looking poised to become the National League's first 11-game winner. But that would have required some offensive support, of which the Cardinals had none.
A duel between two of the NL's best featured Wainwright and Josh Beckett trading zeros for seven innings. Beckett wouldn't go any further. Wainwright would, but stumbled. A trio of eighth-inning singles gave Los Angeles the only run it would need to open a four-game series with a win in front of 48,624 at Dodger Stadium.
"That's a tough loss, obviously," Wainwright (10-4) said afterward. "I feel like I threw the ball very well most of the time. And just unfortunately, when you're going up against a very tough pitcher and a very tough team, sometimes it comes down to a matter of pitches."
Pitches… and inches.
The Cardinals, poised to dent the scoreboard in the seventh, watched a perfect throw from left fielder Matt Kemp beat Craig in his slide. A spark in the ninth was then snuffed out when pinch-runner Peter Bourjos popped off second after sliding in safely. He became the inning's second out and final serious threat.
"That one," Matheny said, "that one hurt."
Wainwright was unhittable early, retiring 15 straight after allowing a leadoff walk. He worked around a pair of singles in the sixth and had thrown only 83 pitches when he took the ball in the eighth.
Juan Uribe lined a single on pitch No. 84, a cutter Wainwright later lamented as catching too much of the plate. Uribe advanced to second on a sacrifice and then to third when shortstop Miguel Rojas skipped a ball that shortstop Jhonny Peralta could only keep from trickling into the outfield.
With runners on the corners, the Cardinals drew their middle infielders in, positioning that Dodgers pinch-hitter Justin Turner exploited when he snuck the game-winning hit through the hole between short and third.
"It was kind of like a playoff game, honestly," Dodgers manager Don Mattingly said. "It was one of those games where you feel like you can't make a mistake. And if you make up a mistake and give up a run, it's going to cost you."
Wainwright closed the inning by stranding a pair of runners in scoring position. He would be credited with his third complete game of the season, the 19th of his career, and has now been on the losing end of three.
"It's one of those things that it's disappointing but I'm not going to hang my head about it," Wainwright said. "We ran up against a tough pitcher and a tough ballpark to win in. You just got to tip your hat to the Dodgers."
He has gone at least eight innings deep in half of his 16 starts this season and lowered his ERA to 2.01 with the quality start. Just behind him with a 2.11 ERA is Beckett, who matched Wainwright.
Beckett scattered four hits and dealt with multiple baserunners in an inning just twice. It happened in the fourth, which Beckett closed with a strikeout of Craig, and then in the seventh.
The Cardinals' best chance to score came in that seventh inning, which was extended by Craig's two-out double to right. Jon Jay followed with a single to left, and third-base coach Jose Oquendo waved Craig home.
A perfect throw by left fielder Kemp just beat Craig, who was confirmed out after an umpire-initiated review determined there was no violation of Rule 7:13, which requires that the catcher leave a lane to the plate for a baserunner.
"Initially, I felt that it was so close that I felt like I had beaten it," Craig said. "I just wanted to be safe so bad because that's one of those games where it felt like one run was going to do it the way Adam was pitching. It's just a frustrating deal."
"I didn't think they were going to get him," added Matheny. "Great throw from Kemp."
The out closed the book on Beckett, who watched as Brian Wilson and Kenley Jansen secured the shutout. The Cardinals threatened against Jansen, as Matt Adams reached as the potential tying run with a one-out single. Bourjos swiftly replaced him and went to swipe second, only to come off the base while shortstop Rojas held his tag.
"There is a lot of momentum going in there," Bourjos said, "and I lost my balance."
The Cardinals challenged the call unsuccessfully, after which Peralta flew out to end the game. The shutout was the seventh thrown against St. Louis this season.
Jenifer Langosch is a reporter for MLB.com. Read her blog, By Gosh, It's Langosch, and follow her on Twitter @LangoschMLB. This story was not subject to the approval of Major League Baseball or its clubs.