Turner comes through after Beckett's strong outing
Pinch-hit RBI single in eighth spurs LA in playoff-like pitchers' duel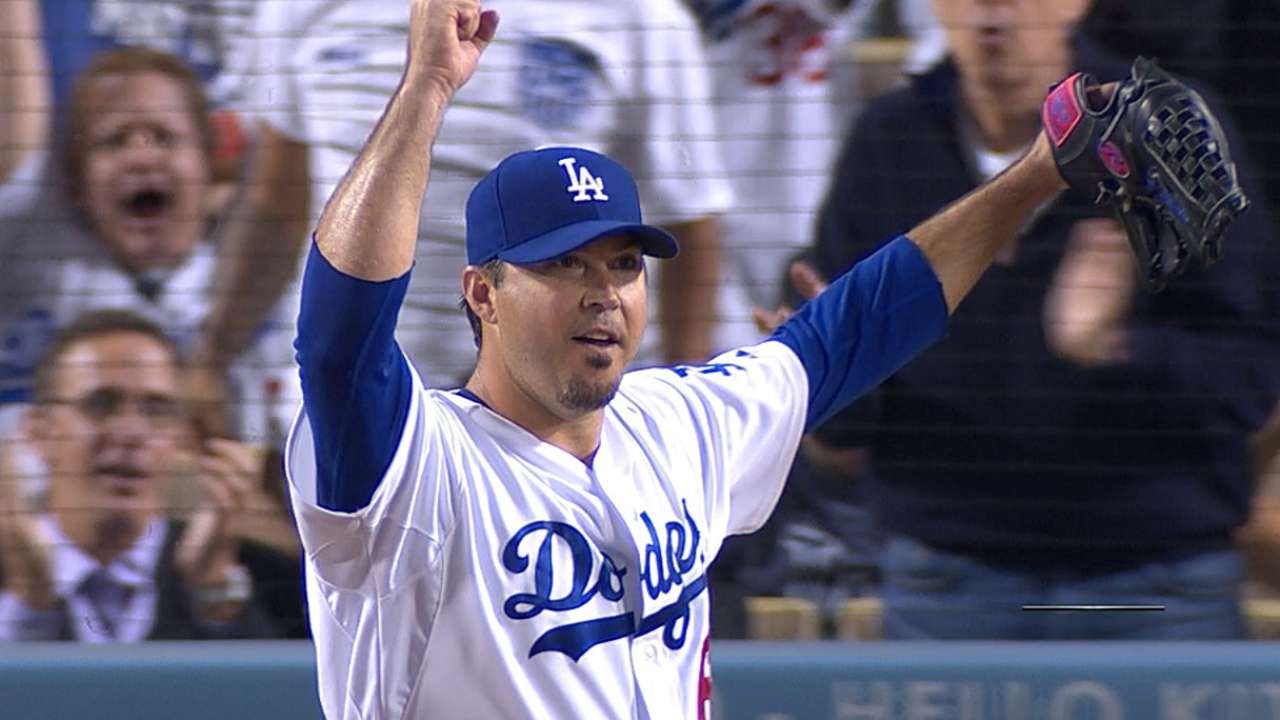 LOS ANGELES -- Dodgers manager Don Mattingly turned to pitching coach Rick Honeycutt and made a promise.
"We'll get you one, somehow," Mattingly said to Honeycutt. "We'll try to get one, and that's going to have to be enough."
Mattingly could see early on Thursday that Cardinals starter Adam Wainwright oozed Cy Young-caliber dominance on the mound, and he could see that his own starter, right-hander Josh Beckett, was matching Wainwright pitch-by-pitch. The last time the Dodgers faced the Cardinals was during last year's National League Championship Series.
Thursday night may as well have been Game 7.
Pitching and defense ruled. The margin for error was razor thin. And Mattingly turned out to be exactly right -- one run was enough. It came in the bottom of the eighth, a pinch-hit, ground-ball single by Justin Turner that scored Juan Uribe from third and ultimately delivered the Dodgers a 1-0 win, pulling them to two games back of the Giants in the National League West.
"It was kind of like a playoff game, honestly" Mattingly said. "It was one of those games where you feel like you can't make a mistake. And if you make up a mistake and give up a run, it's going to cost you."
The base hit has become a rarity of sorts at Dodger Stadium -- surely something that shouldn't be wasted. A little more than a week after Clayton Kershaw delivered the 22nd no-hitter in Dodgers' history, the Dodgers returned home Thursday in danger of being no-hit themselves -- going five innings without tallying a knock against Wainwright. And Beckett was nearly as dominant, surrendering only two hits through his first six frames.
The game all came down to execution -- taking advantage of the hits and opportunities that were few and far between. The Dodgers took advantage of theirs in the eighth, but the Cardinals weren't as fortunate.
In the top of the seventh, St. Louis right fielder Allen Craig ripped a two-out double to the wall in right field -- just the third hit the Cardinals had mustered against Beckett. Center fielder Jon Jay then followed with a sharply hit single to left, but a strong throw from left fielder Matt Kemp caught Craig at home, eliciting an animated fist pump from Beckett as he returned to the dugout. The play was reviewed and confirmed.
"Right there, later in the innings, it's do or die," Kemp said. "If [the throw's] off to the left or off to the right, he may be safe. But I'm just glad that it was right there, he caught it and tagged him out."
The throw signaled the end for Beckett on the mound. He was relieved by right-hander Brian Wilson in the eighth, who earned his first win of the year a night after he earned his first save. Beckett (5-4, 2.11 ERA) allowed just four hits and two walks through seven innings but was saddled with a no-decision as he went up against one of the NL's finest.
"I knew it was going to be tough," Beckett said. "I don't think I deserve very much of the credit. My defense really picked me up today, and we got a late run off a pretty tough pitcher."
Wainwright was masterful early. He walked leadoff hitter Dee Gordon, then retired the next 15 batters before allowing a Miguel Rojas single to lead off the sixth inning.
Wainwright's only significant blemish came in the eighth. Uribe -- who came off of the disabled list Thursday to start at third base -- led off the inning with a single up the middle, advancing to second on catcher Drew Butera's sacrifice bunt and motoring into third on an infield single by Rojas. Rojas and Turner would later advance to second and third on a wild pitch, but Wainwright struck out Gordon and Yasiel Puig to dance out of trouble.
He finished the game allowing just five hits, one walk and striking out seven in an eight-inning complete game. He earned the loss, dropping him to 10-4 on the season with a 2.01 ERA.
Closer Kenley Jansen worked a scoreless ninth, earning his 24th save and capping off a game that was won through clutch hitting, strong pitching and key defense -- the kind of game that is usually played in October.
"Defense honestly won us the game today," Kemp said. "We made some good defensive plays today, and we got that one run that we needed to win the game."
Just as Mattingly promised.
Michael Lananna is an associate reporter for MLB.com. This story was not subject to the approval of Major League Baseball or its clubs.