Voting contenders strengthen All-Star campaigns
Cabrera, Utley highlight list of stars with big performances on Thursday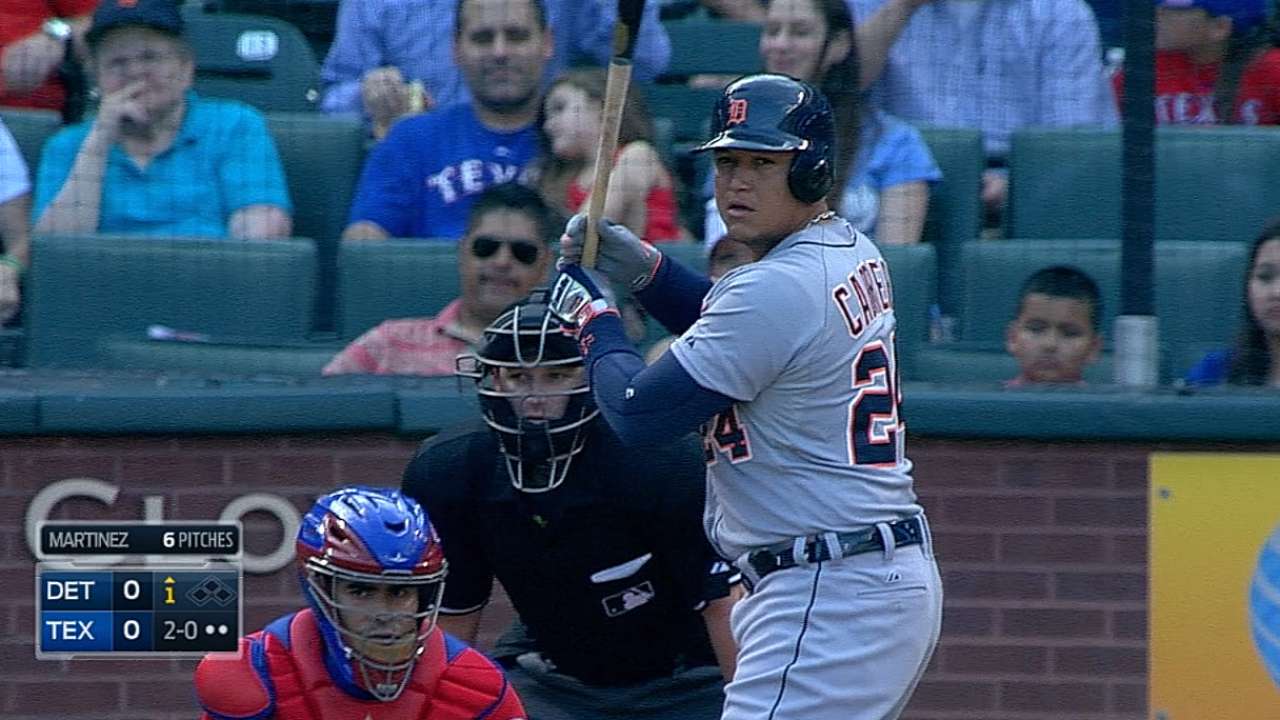 Stars in action around the league on Thursday continued to make their case for the 17 All-Star Game starting spots to be decided by the fans.
Perhaps none made a louder statement than Miguel Cabrera, who went 4-for-5 with a double, knocking in a run and scoring one himself. The Detroit slugger leads American League first basemen balloting by more than one million votes.
Blue Jays shortstop Jose Reyes also had a four-hit night, though he sits in fourth place among AL shortstops. White Sox shortstop Alexei Ramirez, who trails New York's Derek Jeter by approximately 400,000 votes, went 0-for-4 with a pair of strikeouts. His teammate, Jose Abreu, who's second to Cabrera in the race at first base, went 1-for-4 in the 7-0 loss to Toronto.
Another AL first baseman, Albert Pujols, went 3-for-4 with two RBIs and a double.
A quartet of Brewers involved in tight races were also integral to their team's win Thursday night. Though far removed from the top spot at second base, Rickie Weeks fell just a triple shy of the cycle. Aramis Ramirez, who leads at third base by the slimmest of margins over David Wright, homered and drove in a pair. Ryan Braun, on the outside looking in on the outfield, knocked a couple of hits and walked twice. Finally, Carlos Gomez, clinging to the last outfield spot, also added a base hit.
Jose Altuve, who finds himself trailing three players in the AL's second baseman race despite his .334 batting average, went 2-for-4 with a pair of stolen bases. Altuve would need to surpass Seattle's Robinson Cano, Detroit's Ian Kinsler, who also collected a couple of hits Thursday, and Boston's Dustin Pedroia to earn the nod. Cano's lead is a commanding one, though, and he has more than double the number of votes that Houston's Altuve has accumulated.
In the NL second base hunt, Neil Walker of the Pirates had as rough of a night as any All-Star Game contender. In need of a late burst to catch Philadelphia's Chase Utley, Walker went 0-for-4 with two strikeouts and grounded into a double play.
Meanwhile, Utley went to the plate seven times in the Phillies' 14-inning win over the Marlins and racked up three base hits, including a walk-off two-run homer.
Miami's Giancarlo Stanton, who is fourth in the NL outfield race, went 2-for-4 with a home run and two walks. Andrew McCutchen, who is in second in the same race, doubled in Pirates' 5-2 win over the Mets.
Baseball's leading vote-getter, Toronto's Jose Bautista, again rested a strained hamstring.
Fans can cast their votes for starters at MLB.com and all 30 club sites -- online or on a mobile device -- using the 2014 All-Star Game MLB.com Ballot Sponsored by Experian until Thursday, July 3, at 11:59 p.m. ET.
Fans may submit up to 25 online ballots, but they can also earn a one-time bonus of 10 additional online ballots. To access these additional online ballots, you must be logged into your MLB.com account when you submit any online ballot. If you do not have an MLB.com account, register on the site in accordance with the enrollment instructions for a free MLB.com account.
Fans this year once again can participate in the Home Run Derby Fan Poll. Fans will have the opportunity to select three players in each league who they would most like to see participate in the Home Run Derby. The 2014 Gillette Home Run Derby will be broadcast live on ESPN, ESPN HD, ESPN Deportes and ESPN Radio in the United States beginning at 8 p.m. ET on Monday, July 14.
The 2014 AL and National League All-Star teams will be unveiled on the 2014 MLB All-Star Game Selection Show during the weekend of July 5-6, with further details to follow on MLB.com. Immediately following the announcement of the AL and NL All-Star rosters, fans can begin voting to select the final player for each league's 34-man roster via the 2014 All-Star Game MLB.com Final Vote Sponsored by Experian. Fans will cast their votes from a list of five players from each league over the balloting period.
And the voting doesn't end there. The final phase of All-Star Game voting will again have fans participating in the voting for the Ted Williams All-Star Game Most Valuable Player Award presented by Chevrolet. During the Midsummer Classic, fans will vote exclusively online at MLB.com via the 2014 All-Star Game MLB.com MVP Vote Sponsored by Pepsi, and their voice will represent 20 percent of the overall vote that determines the recipient of the Arch Ward Trophy.
MLB.com will provide extensive online coverage of the All-Star Week festivities. The 85th All-Star Game will be televised nationally by FOX, in Canada by Rogers Sportsnet and RDS, and worldwide by partners in more than 200 countries via MLB International's independent feed. ESPN Radio and ESPN Radio Deportes will provide national radio coverage of the All-Star Game. MLB Network and SiriusXM will also provide comprehensive All-Star Week coverage. For more information, please visit allstargame.com.
Matt Slovin is an associate reporter for MLB.com. This story was not subject to the approval of Major League Baseball or its clubs.