Focus shifts to digital as in-stadium ASG voting wraps
Ballots can be cast online or via mobile for final week of fan participation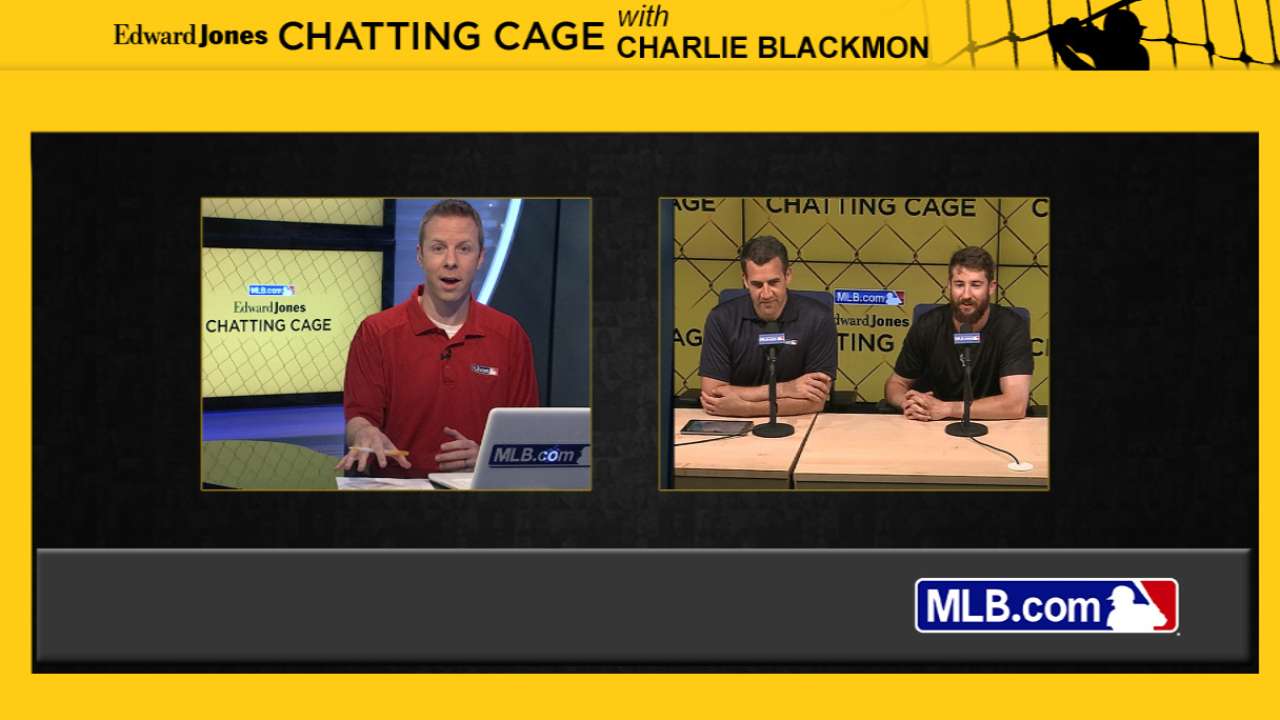 It's all about the All-Star Game MLB.com Ballot Sponsored by Experian now.
With the last paper ballots punched and collected during the Nationals-Cubs game on Thursday night at Wrigley Field, in-stadium voting is done and the largest All-Star balloting program in sports now comes down to its furious final week, exclusively online or via mobile.
Can two-time All-Star Aramis Ramirez of the Brewers hold off David Wright of the Mets at third base in the National League -- or will Pablo Sandoval of the Giants pass them both? Does Miami's Giancarlo Stanton have the power to push his way back into a starting NL outfield position? Will Yoenis Cespedes of the A's, Adam Jones of the Orioles or Michael Brantley of the Indians bump Toronto's Melky Cabrera from that last American League outfield spot?
There are a number of questions like those that will be decided by millions of votes still to come, as you continue deciding starters for the 85th Midsummer Classic on July 15 at Target Field in Minneapolis. You can cast up to 25 ballots, with updated stats and videos there to help.
"It's going good," nine-time All-Star David Ortiz of Boston said of the balloting on Thursday, during his off-day before a series at Yankee Stadium. "There are a lot of guys doing well, and the fans appreciate the fact that they can see those players in the All-Star Game."
Can Red Sox Nation give its 2013 World Series MVP a big finish to make up the 800,000 or so votes separating him from leader Nelson Cruz in the last AL update? Victor Martinez and Edwin Encarnacion also are hovering behind Ortiz, both with big seasons so far. History has shown that the massive volume of final-week votes makes those huge late leapfrog moves possible.
In fact, there is some degree of last-week repositioning almost every year since fans have voted digitally. Remember just three summers ago, when Alex Avila and Jose Reyes overtook Russell Martin and Troy Tulowitzki in the final week of balloting at AL catcher and NL shortstop, respectively? Leads that seem solid sometimes have disappeared quickly.
For starters, no one knows what happens when the many final in-stadium paper ballots are lumped into the overall pool. And hashtags have been created for players in tight races, so Twitter and social media will play a role as well, as campaigns are mounted at the wire.
Rosters will be unveiled on the 2014 MLB All-Star Game Selection Show during the weekend of July 5-6, with further details to follow on MLB.com. Immediately following the announcement of the teams, you can begin voting to select the final player for each league's 34-man roster via the 2014 All-Star Game MLB.com Final Vote Sponsored by Experian. You'll be able to cast your votes from a list of five players from each league over the balloting period.
The final phase of All-Star Game voting will again have fans participating in the voting for the Ted Williams All-Star Game Most Valuable Player Award presented by Chevrolet. During the Midsummer Classic, you can vote exclusively online at MLB.com via the 2014 All-Star Game MLB.com MVP Vote Sponsored by Pepsi, and the fans' voice will represent 20 percent of the overall vote that determines the recipient of the Arch Ward Trophy.
The Home Run Derby Fan Poll is also in its final week on your All-Star ballot. Select three players in each league you would most like to see participate on July 14 in the Gillette Home Run Derby. Jose Bautista of Toronto and Tulowitzki of Colorado are captains for their respective leagues in that event, and fan input is used as a barometer of public interest as they decide each five-man field along with MLB.
MLB.com will provide extensive online coverage of the All-Star Week festivities.
The 85th All-Star Game will be televised nationally by FOX, in Canada by Rogers Sportsnet and RDS, and worldwide by partners in more than 200 countries via MLB International's independent feed. ESPN Radio and ESPN Radio Deportes will provide national radio coverage of the All-Star Game. MLB Network and SiriusXM will also provide comprehensive All-Star Week coverage. For more information, please visit allstargame.com.
Mark Newman is enterprise editor of MLB.com. Read and join other baseball fans on his MLB.com community blog. This story was not subject to the approval of Major League Baseball or its clubs.