Error opens door for Phillies in Marlins' 14-inning loss
Baker miscue allows tying run in 7th; Miami stifled after solo homers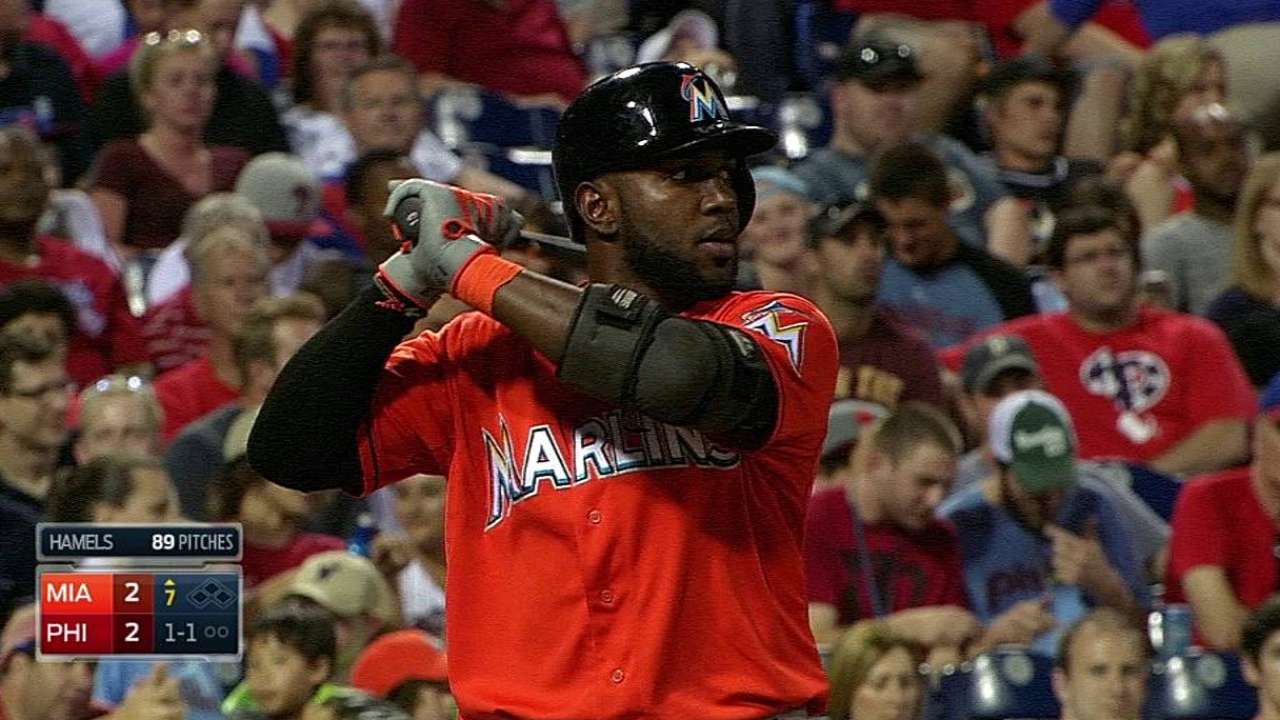 PHILADELPHIA -- It took 14 innings, but the Phillies finally made the Marlins pay for extending the game.
Chase Utley blasted a two-run, walk-off homer off Chris Hatcher after four hours and 41 minutes of baseball on Thursday night, as Philadelphia beat Miami, 5-3.
"The guys in front of me came in and did their job," Hatcher said. "Unfortunately, you know, I tried to get a ball up above the zone and it didn't get there, and Utley did what he's supposed to do with it. Tough to end that way."
The Marlins stumbled into Citizens Bank Park on Monday in the wake of a 3-7 homestand. But with parity up and down the National League East this season, a four-game division series was just the opportunity Miami needed to turn the page.
But after the Marlins' fifth error of the series proved costly Thursday night, Miami had to settle for a split.
In a 3-2 game in the seventh inning, Philly got a runner to third with two outs. Jimmy Rollins came to the plate and hit a grounder sharply to first baseman Jeff Baker, who knocked it down but had trouble picking it up off the dirt. Rollins reached safely on the error and Domonic Brown came around to score the tying run.
"It's a routine play I should've made," Baker said. "The ball's hit one step to my right.
"Our pitchers pitched well enough to win. That's a play I have to make. I take pride in going out there and making routine plays, being involved defensively and being prepared, and I just missed it tonight. Unfortunately, it ended up costing us."
Up until Hatcher allowed the game-winner in the 14th, the Miami bullpen hadn't allowed an earned run in 14 innings this series.
"They've done everything we've asked," Marlins manager Mike Redmond said.
Bryan Morris, Mike Dunn, Kevin Gregg, A.J. Ramos and Hatcher all threw at least an inning of relief. In his 1 2/3 innings, Ramos tossed 50 pitches, while Hatcher threw 44 in his 2 1/3 innings.
"We've been using those guys a lot and again [on Thursday]," Redmond said. "We've played some long games over the last few weeks and that takes its toll. We'll see where we're at [on Friday]."
Phillies left-hander Cole Hamels, who posted an MLB-best 1.66 ERA over his last nine starts, entered Thursday night's contest having allowed just four home runs in 81 2/3 innings this season. The left-hander hadn't surrendered a homer in his last five outings.
Miami hitters obviously didn't think much of those stats, belting three homers against Hamels. In the fourth and fifth, Jarrod Saltalamacchia and Giancarlo Stanton each had leadoff round-trippers.
Stanton's laser home run was his 138th career blast, which ties him with Miguel Cabrera for fourth in Marlins franchise history.
Tom Koehler, who went six innings and allowed two runs on seven hits while striking out six and walking none, did his part to hold the Phils in check.
In two of his previous three outings, the right-hander pitched effectively until the sixth, where he gave up three-run leads. He nearly fell victim to the big inning again on Thursday night, this time in the fourth. Three of the first batters he faced in the frame reached base on a single. But with the bases loaded and one out, Koehler got Carlos Ruiz to fly out -- a sac fly that made it 2-1 -- before getting John Mayberry Jr. swinging to limit the damage to a single run.
But with Hamels limiting the Marlins to solo home runs, the Phils manufactured an equalizing run in the fifth. Ben Revere singled, stole second base and was advanced to third on a groundout before Utley pulled a single to right field to drive him in.
The teams then exchanged runs in the seventh. Marcell Ozuna's leadoff homer against Hamels in the top of the inning allowed Miami to reclaim the lead, but Baker's error evened the score again.
Another runner wouldn't touch home until Utley's game-winner seven innings later.
"That's what happens when you end up playing a long night," Redmond said. "We battled. We had a lot of great efforts pitching-wise, and guys were battling to the end. It was just we couldn't get that big hit, and they got it."
Erik Bacharach is an associate reporter for MLB.com. This story was not subject to the approval of Major League Baseball or its clubs.