Utley ends Fireworks Night with shot in 14th
After Hamels allows three homers, lights-out 'pen sets up late heroics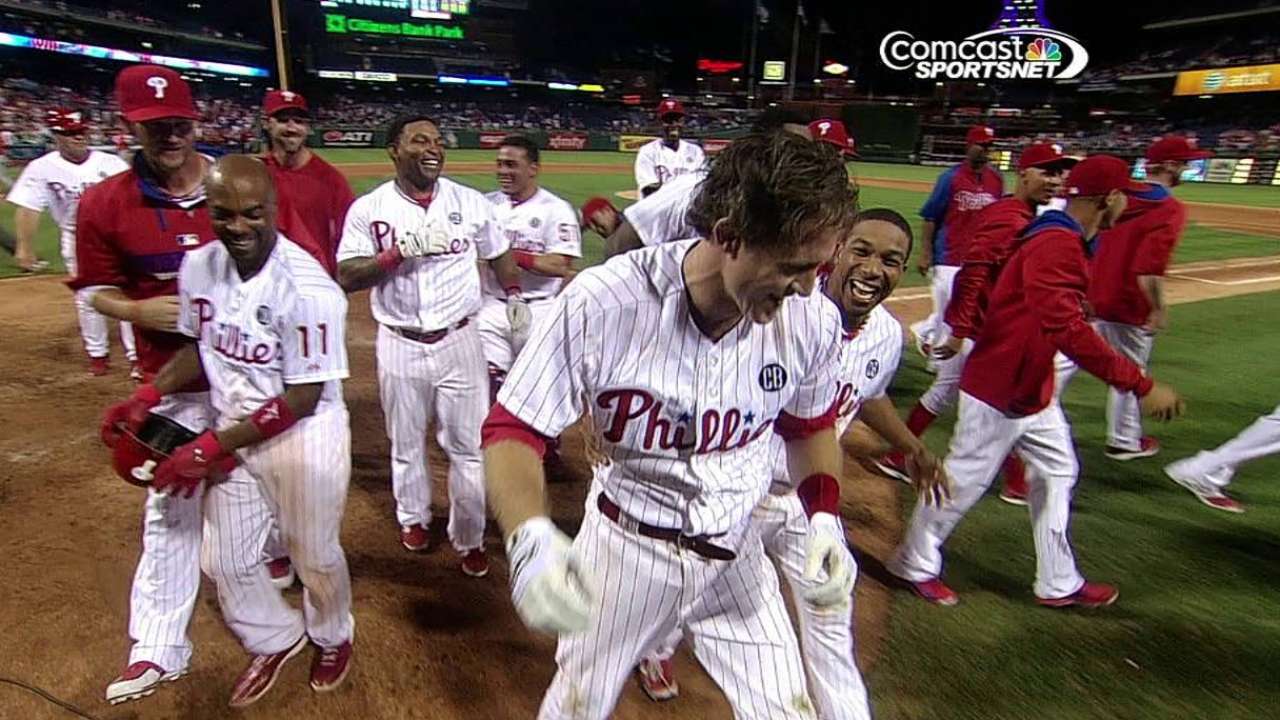 PHILADELPHIA -- Finally.
Following seven solid innings from Cole Hamels, seven scoreless innings from the Phillies' bullpen, two spectacular defensive plays from Cody Asche, one 14th-inning stretch and one two-run, walk-off home run from Chase Utley in Thursday night's 5-3 victory over the Marlins in 14 innings, the Phillies finally shot fireworks into the air at Citizens Bank Park.
"I tried to square one up, go home," Utley said after the four-hour, 41-minute contest.
It had been a long time coming for Utley, in more ways than one.
He entered the night hitting .225 with one double, one home run, seven RBIs and a .568 OPS in 92 plate appearances since June 2, so he was due for a big hit, if not a big hit at a big moment.
"I'm trying to build some comfort at the plate," he said. "You go through some funks and you try to battle through them."
It was Utley's sixth walk-off hit of his career, but his first since Aug. 30, 2007, when he singled against Mets closer Billy Wagner to score Tadahito Iguchi in a memorable 11-10 victory in a memorable run to the postseason. It was the third walk-off homer of Utley's career, his first since Sept. 4, 2006, against Houston's Dave Borkowski.
Utley fouled off a first-pitch fastball from Marlins right-hander Chris Hatcher, but swung and missed badly at an 0-1 fastball.
He recovered nicely, sending the third pitch into the seats.
"It was good to see him regroup, get a pitch he can really handle," Phillies manager Ryne Sandberg said. "He's a grinder. Three RBIs on the game, scrapped out a hit and a big shot at the end. Right man at the right spot."
Hamels pitched well enough to win, but picked up another no-decision. He allowed six hits, three runs and struck out seven in seven innings, but three solo home runs hurt him.
Hamels has pitched seven or more innings in each of his last 10 starts, posting a 1.88 ERA (15 earned runs in 72 innings) in that span. But the Phillies are just 5-5 in those games and Hamels is just 2-2. Hamels was so frustrated following his previous start Saturday in a 4-1 loss to the Cardinals at Busch Stadium that he stormed out of the visitors' clubhouse without a word.
It has not been fun.
But the Phillies tied the game. Utley scored a run in the fourth on a sacrifice fly from Carlos Ruiz to make it 2-1. Ben Revere singled, stole second, advanced to third on a fielder's choice and scored in the fifth on a single from Utley to tie it.
Marcell Ozuna homered to left in the seventh to make it 3-2. But Domonic Brown started the bottom of the seventh with a pinch-hit single. He eventually made his way to third and scored the tying run when Marlins first baseman Jeff Baker booted a routine ground ball from Jimmy Rollins, who reached safely on the two-out error.
"It's a routine play I should've made," Baker said. "The ball's hit one step to my right."
Jake Diekman, Jonathan Papelbon, Antonio Bastardo, Ken Giles, Mario Hollands and Justin De Fratus combined to allow three hits and four walks while striking out five in seven scoreless innings of relief. If not for them and a couple of great defensive plays from Asche, Utley might not have gotten his opportunity.
"The bullpen was great," Sandberg said. "Really kept the game in check and gave us a chance for Chase's big swing at the end."
The Phillies' bullpen has a 1.10 ERA since June 2, which is the best in baseball.
Asche dove to his right in the 12th to prevent a double by Jarrod Saltalamacchia and leaped in the air to catch a ball from Donovan Solano with runners on first and second with two outs in the 14th.
"It seems like he's getting better every day," Utley said about Asche. "He's a hard worker and I imagine he's going to continue to improve. Not only defensively but offensively. He's going to be fun to watch."
The fireworks were fun, too. But they were made even better following Utley's blast, which helped the Phillies split the series.
Todd Zolecki is a reporter for MLB.com. This story was not subject to the approval of Major League Baseball or its clubs.