Polanco showcases total package in win over Mets
Phenom homers, steals base, tallies four RBIs to back strong Worley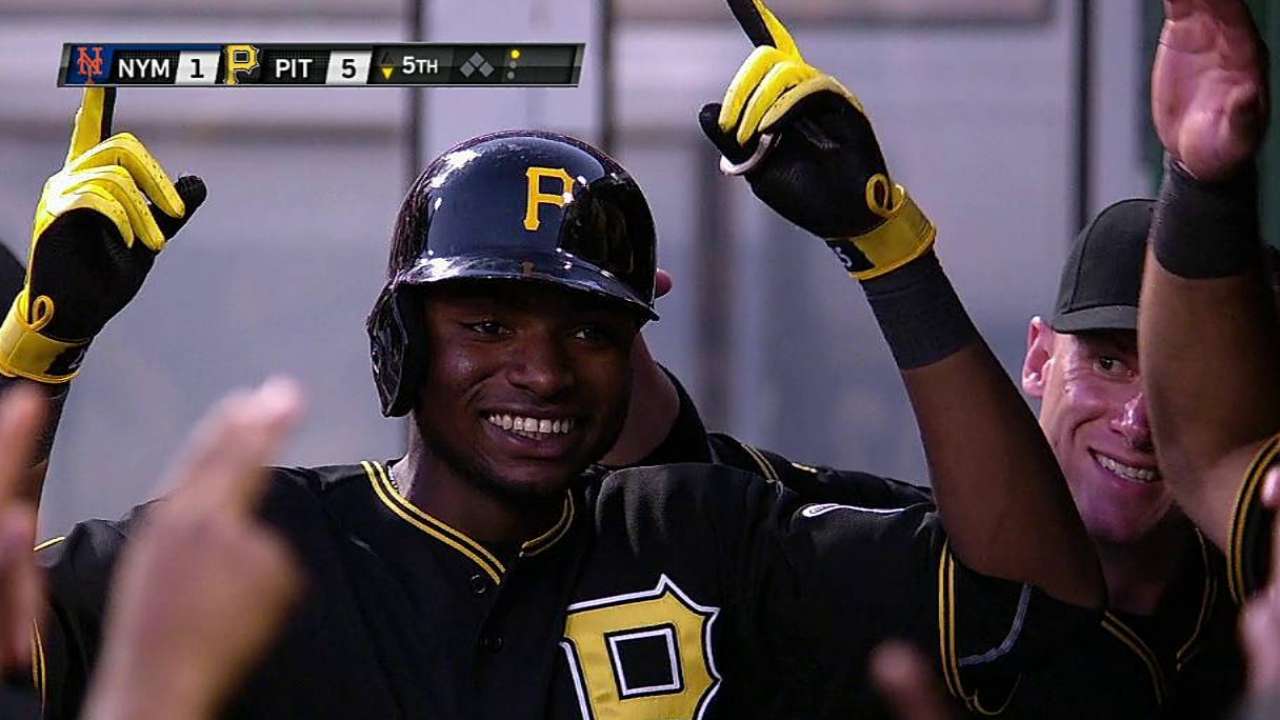 PITTSBURGH -- When Mother Nature brings the heat, so do the Pirates. Summer is hitting season, and the Bucs, playing their first home game of the summer, followed through on Thursday.
It's easy, of course, with Gregory Polanco on the scene.
Polanco's first home run in home whites, a majestic three-run blow in the fifth, sparked the Pirates to a 5-2 win over the Mets at PNC Park.
"It's a good time for him to be on our club," said manager Clint Hurdle, "and obviously he's making a difference since he's been up here."
The differential: The Pirates are 10-6 with Polanco, a big reason the home crowd got to see them finish a game with a winning record for the first time since April 6. The victory before 36,647 -- the fifth sellout crowd of the season -- lifted the Bucs to 40-39, as well as their National League-best record since May 6 to 28-19.
Polanco did not pick on an easy target for his second big league homer: It came off Daisuke Matsuzaka, the rejuvenated right-hander who had surrendered only one homer in his previous 51 innings.
Meanwhile, Vance Worley turned PNC Park into Vanimal House.
The bespectacled righty (@Vanimal_46) allowed one run in seven innings, on a Lucas Duda homer in the fourth. He scattered six other hits, walked two, struck out three and was helped by a couple of double plays -- the Pittsburgh infield's sixth and seventh in the last four games.
Polanco connected on a full-count pitch following singles by Pedro Alvarez -- subsequently erased on Jordy Mercer's grounder -- and Worley. The drive, which soared into the upper half of the right-field seats beyond The Clemente Wall, was estimated at 418 feet and culminated an eight-pitch battle between a seasoned pitcher and a young batter.
"I just fight, fight, fight, trying to make contact," Polanco said. "I stayed with my approach. Then when he throws the ball in the middle, I have to hit it. Yeah, I knew [it was gone]."
"One thing he has consistently shown," Hurdle said of Polanco's Minor League upbringing, "is selective aggressiveness in the strike zone. He has very good strike-zone discipline for a young hitter. He put a good swing on a breaking ball over the plate."
Not the pitch New York catcher Travis d'Arnaud wanted Matsuzaka to throw.
"I actually shook off d'Arnaud on that pitch, and it ended up being a big mistake," Matsuzaka noted. "I need to apologize to him about it."
Polanco had already driven in the Pirates' first run on a third-inning grounder. He added his fourth steal of the season to complete the total effort.
Worley clipped off his second seven-inning effort in three starts for the Bucs; he went 6 2/3 in the other outing.
"He'd be the first to tell you he wasn't as sharp as previously," Hurdle said. "But he was able to go to his working pitches and stay in good locations. You saw a man who had to go out there and wrestle."
That point should drive home the Pirates' fresh "Yes! Yes! Yes!" celebration.
"It's good to be out there, giving those guys what they want to see," Worley said following his first home appearance for the Bucs. "You rather have them cheering for you and not against you."
Mark Melancon secured his 14th save -- an opportunity that arose when David Wright ripped an RBI double in the eighth off Tony Watson. That was the first earned run allowed by the lefty reliever since April 22, a stretch covering 26 appearances and 26 1/3 innings.
Tom Singer is a reporter for MLB.com and writes an MLBlog Change for a Nickel. He can also be found on Twitter @Tom_Singer. This story was not subject to the approval of Major League Baseball or its clubs.